Jewish World Review June 7, 2007 / 21 Sivan, 5767
Making up time for doing nothing
By Rabbi Dr. Asher Meir



http://www.JewishWorldReview.com | Q: I work for a consulting company. Most of the time I have nothing to do. Since our main client is the government, we have to fill out time sheets. I am allowed to make up time if I have to. My question is: how do I make up time for doing nothing? If I leave an hour early one day, do I have to stay longer the next day doing nothing?

A: Just think — if you had my job then you could count as work hours the time you spend trying to figure out the right thing to do.

Getting to the point, falsifying time sheets is unethical, not to mention illegal. I presume you're wondering if it's really "falsifying" to record the time you spend filing your nails at home, since you are legitimately allowed to record the time you spend filing your nails at work.

This is not an ethical question so much as a contractual one — what does the government demand of its contractors? I checked this out and it seems that you do indeed have to stay longer the next day doing nothing if you want to get paid for a full week of work. I guess the rationale is that if you're getting paid to work, you can count hours spent at home if you're doing your work there. But if you're not doing any real work, then you are getting paid for showing your face at work and being on hand in case you may be needed.

Of course, you may want to consider if this job really involves the maximal use of your talents. G-d gives each person a unique potential, and the time we spend earning a living should also be part of our contribution to the world. Let's strive to make the best possible use of our time.
SOURCE: Avos 2:15
Every weekday JewishWorldReview.com publishes inspiring articles. Sign up for our daily update. It's free. Just click here.
---
JWR contributor Rabbi Dr. Asher Meir, formerly of the Council of Economic Advisers in the Reagan administration, is Research Director of the Business Ethics Center of Jerusalem, Jerusalem College of Technology. To comment or pose a question, please click here.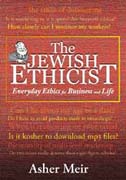 THE JEWISH ETHICIST, NOW IN BOOK FORM
You've enjoyed his columns on JWR for years. Now the Jewish Ethicist has culled his most intriguing — and controversial — offerings in book form.
HARDCOVER
PAPERBACK
Sales help fund JWR.
© 2007, The Jewish Ethicist is produced by the JCT Center for Business Ethics