Jewish World Review July 18, 2003 / 18 Tamuz, 5763

Jeff Jacoby
The frenzy-of-the-month club
http://www.NewsAndOpinion.com | George W. Bush's political foes and their cheerleaders in the press are in a lather these days over the president's prewar claim that Saddam Hussein tried to buy uranium oxide in Africa. So what else is new? In their perpetual campaign to convince the rest of us that the administration's foreign policy is a disastrous failure, Bush's enemies and their media allies always seem to be in a lather about something.
Let's see. Before the current frenzy over those 16 dubious words in the State of the Union address, there was the frenzy over the inability of allied troops in Iraq to find a weapons of mass destruction "smoking gun" — stockpiles of banned nerve gas and lethal biological agents.
Before that, there was the frenzy over the administration's failure to prevent the post-liberation pillaging of more than 170,000 treasures from the Iraqi National Museum — a frenzy that faded when it turned out the real number was closer to 50.
During Week 2 of the three-week Iraq War, we had the frenzy over the Pentagon's supposedly incompetent battle plan and the Vietnam-like quagmire into which US troops were being sucked. That was in addition to the anxious alarums about the hostility with which ordinary Iraqis would greet American troops. Newsweek, quoting Vice President Dick Cheney's prewar forecast — "We will be greeted as liberators" — pronounced it, in its April 7 issue, "an arrogant blunder for the ages." On April 9, Iraqis in Baghdad were toppling statues of Saddam Hussein and joyfully mobbing US soldiers.
Before the war began, of course, the frenzy of anti-Bush condemnation was deafening. From a host of Democrats, journalists, and left-wing activists came anguished cries about the administration's "unilateralism," warnings that fighting Saddam would jeopardize the war against terrorism, and repeated demands that the UN inspectors be given more time.
Earlier still, the administration was loudly charged with having failed to "connect the dots" pointing to the Sept. 11 massacre. A media frenzy last spring accused Bush himself of not having taken warning signs seriously. "At the White House tonight," Tom Brokaw began one broadcast on NBC, "the administration tries to cope with a storm of criticism boiling up from the news that . . . a month before 9/11, the President had on his desk an intelligence report that warned of airline hijackings and mentioned Osama bin Laden by name."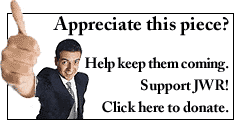 The effort to keep "a storm of criticism boiling up" continues unabated, amplified now by a herd of Democratic presidential candidates eager to tarnish Bush's reputation — and to draw attention to themselves. That last is certainly understandable: According to the latest CBS News poll, 66 percent of Democratic voters still cannot name even one of the Democratic challengers.
But do Democrats really imagine that the way to unseat Bush is to run against the war?
However unpopular Bush and the war to liberate Iraq might be among the leftist Democratic base, both retain solid support among the nation as a whole. In the new Washington Post/ABC poll, 57 percent of respondents judge the war to be worth the costs, 62 percent believe it contributed to the long-term security of the United States, and 72 percent want US troops to remain in Iraq until civil order is restored.
Americans are not dismayed that the United States led a successful war to crush a savage dictatorship. Their opinion is reinforced with every newly discovered mass grave — the most compelling evidence of Saddam's mass destruction. And their opinion is not likely to change because of anything the president did or didn't say about uranium in January.
That doesn't excuse Bush's use of a possibly bogus factoid in arguing for regime change, and it certainly wouldn't excuse any knowing distortion of intelligence data by his subordinates. Instead of stonewalling, Bush should acknowledge any wrongdoing forthrightly, invoke Truman's famous dictum — "the buck stops here" — and apologize.
And then he should go back to focusing on something that really does matter: the momentous process of transforming Iraq from a land of blood and horror into the Arab world's first constitutional democracy.
The new Iraqi governing council made its debut this week, a key milestone on the road to freedom and sovereignty. Its 25 members are a snapshot of the Iraqi people — they comprise men and women, Sunnis and Shiites, Arabs and Kurds, returning exiles and liberated residents, even an Assyrian Christian and a Turkmen. And the first official act of this new representative council was to abolish Saddam's Baathist holidays and to proclaim April 9 — the date US forces liberated Baghdad — as Iraq's new national day.
The council understands: The defeat of Saddam was a very good thing — good for Iraq, good for the world. The frenzy-of-the-month-club notwithstanding, most Americans understand it, too.
Like this writer's work? Why not sign-up for the daily JWR update. It's free. Just click here.

Jeff Jacoby is a Boston Globe columnist. Comment by clicking here.
07/14/03: The death of American racism
07/09/03: Same-sex marriage vs. society's ideal
07/07/03: The lull before the storm
06/30/03: The 'benefits' of race-based admissions
06/20/03: An uprising to cheer 06/11/03: Musings, random and otherwise
06/09/03: A growing rift with Europe
05/27/03: Preferences, racial and otherwise
05/23/03: The bottom line for teachers unions
05/12/03: Castro's cheerleaders
05/08/03: In 'enlightened' New England, it hurts to give
05/06/03: Help the living before the dead
04/25/03: The search for the 'smoking gun'
04/21/03: Trading truth for access?
04/14/03: Kerry's abortion litmus test
04/11/03: Meanwhile, in Cuba, the tyranny goes on
04/07/03: Explaining the war to a six-year-old
03/31/03: Empowering a terroristocracy in the name of 'peace'?
03/27/03: America the liberator
03/10/03: THE UNITED NATIONS, RIP
03/10/03: Changing the definition of marriage
03/07/03: Liberate Iraq -- even with unclean hands
03/03/03: Why talk radio tilts right
02/21/03: A boost for Saddam
02/10/03: On outing Kerry
02/06/03: The neverending voyage
02/03/03: This hasn't been a 'rush to war'
01/31/03: Killing the terror regimes
01/29/03: How not to win the war
01/24/03: The UN's moral irrelevance
01/22/03: Musings, random and otherwise
01/17/03: The Sharpton hypocrisy
01/13/03: The fig leaf of 'diversity'
01/10/03: Israeli restraint makes terrorism more likely
01/02/03: The double standard on political hate speech
12/30/02: Good for the spirit, good for the body
12/23/02: The college president who owes a greater duty to a fugitive serial killer than the public or to the law
12/20/02: The death penalty by the numbers
12/16/02: Yes, Virginia, there is (still) a liberal media bias
12/03/02: On the brink of regime change --- in Iran
11/27/02: Light's victory over darkness
11/25/02: A 'Republican' lesson from a Democratic convention
11/22/02: The slippery senator
11/18/02: The campus 'diversity' fraud
11/14/02: MURDER AT A KIBBUTZ
11/01/02: Saddam's shop of horrors
10/24/02: Musings, random and otherwise
10/17/02: Jimma's ignoble prize
10/14/02: New Jersey's bigot laureate
10/11/02: Today it is libs who are most likely to demand the silencing of speech they disapprove of
10/04/02: Learning English from Day 1
09/30/02: The world will follow us to war
09/27/02: The face of antisemitism
09/20/02: Starving time in Zimbabwe
09/14/02: Against moral confusion / 9-12-2002
09/03/02: With 'eternal friends' like these
08/30/02: Enriching survivors was a costly mistake
08/26/02: John Kerry's absent passion
08/23/02: Bonnie, get your gun
08/19/02: A screenwriter's remorse
07/29/02: The real abortion extremists
07/26/02: Another round of Kemp-Roth
07/19/02: Jews among Arabs, Arabs among Jews
07/15/02: Musings, random and otherwise
07/12/02: The new civil rights champions
07/03/02: Riding the rails
07/01/02: The prerequisite to peace
06/24/02: Frisking AlGore
06/17/02: Offense, not defense, is the key to homeland security
06/14/02: Looking at the horror
06/07/02: The cost of a death-penalty moratorium
06/03/02: Executing 'children,' and other death-penalty myths
05/29/02: A real threat?
05/24/02: The message in Arafat's headdress
05/20/02: (Mis)playing the popularity card
05/10/02: Outspoken, Muslim -- and moderate
05/10/02: The heroes in Castro's jails
05/06/02: The disappearing history term paper
05/03/02: Musings, random and otherwise
04/29/02: The canary in Europe's mine
04/15/02: Powell's crazy mission
04/12/02: The slavery reparations hustle
04/08/02: Peace at any price = war
03/26/02: Decency matters most, Caleb
03/22/02: The U.S. embargo and Cuba's future
03/19/02: The keepers of Cuba's conscience
03/15/02: A walk in Havana
02/26/02: Buchanan's lament
02/12/02: What 'peace' means to Arafat
02/08/02: STEVEN EMERSON AND THE NPR BLACKLIST
02/05/02: Antismoking: Who pays?
02/01/02: Turn the Saudis
01/25/02: Making MLK cry
01/21/02: Ted to tax cut: Drop dead
01/18/02: Musings random and otherwise
01/14/02: An ultimatum to Saudi Arabia
01/11/02: Friendship, Saudi-style
01/07/02: Shakedown at Harvard
01/04/02: More guns, more safety
01/02/02: Smears and slanders from the Left
12/28/01: Congress gives to others -- and itself
12/24/01: The littlest peacemakers
12/20/01: How to condemn terror
12/18/01: Greenland once was
12/14/01: Parents who never said ''no''
12/11/01: Wit and (economic) wisdom
12/07/01: THE PALESTINIANS' MYTH
12/04/01: The war against Israel goes on
11/30/01: Tribunals, motorcycles -- and freedom
11/19/01: Friendship and the House of Saud
11/12/01: The Justice Department's unjust monopoly
11/09/01: Muslim, but not extremist
11/02/01: Too good for Oprah
10/29/01: Journalism and the 'neutrality fetish'
10/26/01: Derail these subsidies
10/22/01: Good and evil in the New York Times
10/15/01: Rush Limbaugh's ear
10/08/01: With allies like these
10/01/01: An unpardonable act
09/28/01: THE CENSORS ARE COMING! THE CENSORS ARE COMING!
09/25/01: Speaking out against terror
09/21/01: What the terrorists saw
09/17/01: Calling evil by its name
09/13/01: Our enemies mean what they say
09/04/01: The real bigots
08/31/01: Shrugging at genocide
08/28/01: Big Brother's privacy -- or ours?
08/24/01: The mufti's message of hate
08/21/01: Remembering the 'Wall of Shame'
08/16/01: If I were the editor ...
08/14/01: If I were the Transportation Czar ...
08/10/01: Import quotas 'steel' from us all
08/07/01: Is gay "marriage" a threat?
08/03/01: A colorblind nominee
07/27/01: Eminent-domain tortures
07/24/01: On protecting the flag ... and drivers ... and immigrants
07/20/01: Dying for better mileage
07/17/01: Why Americans would rather drive
07/13/01: Do these cabbies look like bigots?
07/10/01: 'Defeated in the bedroom'
07/06/01: Who's white? Who's Hispanic? Who cares?
07/02/01: Big(oted) man on campus
06/29/01: Still appeasing China's dictators
06/21/01: Cuban liberty: A test for Bush
06/19/01: The feeble 'arguments' against capital punishment
06/12/01: What energy crisis?
06/08/01: A jewel in the crown of self-government
05/31/01: The settlement myth
05/25/01: An award JFK would have liked
05/22/01: No Internet taxes? No problem
05/18/01: Heather has five mommies (and a daddy)
05/15/01: An execution, not a lynching
05/11/01: Losing the common tongue
05/08/01: Olympics 2008: Say no to Beijing
05/04/01: Do welfare mothers a kindness: Make them work
05/01/01: Another man's child
04/24/01: Sharon should have said no
04/02/01: The Inhumane Society
03/30/01: To have a friend, Caleb, be a friend
03/27/01: Is Chief Wahoo racist?
03/22/01: Ending the Clinton appeasement
03/20/01: They're coming for you
03/16/01: Kennedy v. Kennedy
03/13/01: We should see McVeigh die
03/09/01: The Taliban's wrecking job
03/07/01: The No. 1 reason to cut taxes
03/02/01: A Harvard candidate's silence on free speech
02/27/01: A lesson from Birmingham jail
02/20/01: How Jimmy Carter got his good name back
02/15/01: Cashing in on the presidency
02/09/01: The debt for slavery -- and for freedom
02/06/01: The reparations calculation
02/01/01: The freedom not to say 'amen'
01/29/01: Chavez's 'hypocrisy': Take a closer look
01/26/01: Good-bye, good riddance
01/23/01: When everything changed (mostly for the better)
01/19/01: The real zealots
01/16/01: Pardon Clinton?
01/11/01: The fanaticism of Linda Chavez
01/09/01: When Jerusalem was divided
01/05/01 THEY NEVER FORGOT THEE, O JERUSALEM
12/29/00 Liberal hate speech, 2000
12/15/00Does the Constitution expect poor children be condemned to lousy government schools?
12/08/00 Powell is wrong man to run State Department
12/05/00 The 'MCAS' teens give each other
12/01/00 Turning his back on the Vietnamese -- again
11/23/00 Why were the Pilgrims thankful?
11/21/00 The fruit of this 'peace process' is war
11/13/00 Unleashing the lawyers
11/17/00 Gore's mark on history
40 reasons to say NO to Gore
© 2002, Boston Globe