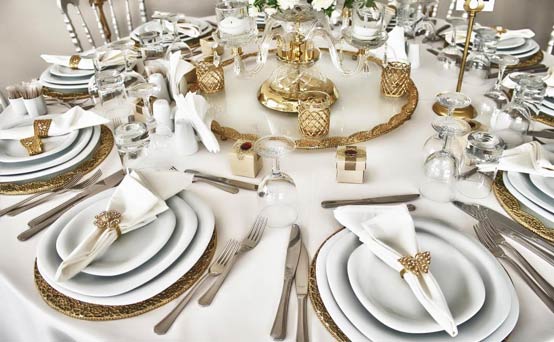 When the fasting, contemplation and solemn soul-searching of Yom Kippur is over, we might break the fast at synagogue with orange juice, wine and cake. But the meal we look forward to with anticipation is at home with family and friends.
Growing up in Scotland, we broke the fast simply --- with club soda, spritzed from an old-fashioned siphon and my mother's home-made pickled herring. Only then, did we sit down to a dairy meal of blintzes, gefilte fish, cakes and kugels.
Today, three thousand miles away, I make sure we have a plentiful supply of chilled club soda, in bottles, and the bowls of pickled herring are from the delicatessen.
In the menu below, in keeping with contemporary lifestyles, pickled herring, whitefish salad, blintzes, pita bread and challah are storebought. Addressing the concern for good healthy eating, fruits, vegetable and grain salads are included. All dishes are quick, easy and may be made a day or so ahead or the ingredients may be ready to assemble as in a cleansing palate pleaser, pear-pomegranate ice in wine glasses --- shaved ice topped with grated lime-scented pear and garnished with pomegranate seeds, the latter symbolizing the hope that we will be able to do as many good deeds as the pomegranate has seeds.
A selection of salads inspired by my friend Sima and break-fasts in Israel are low calorie with full-bodied flavors. The coleslaw, with only a tablespoonful of mayonnaise, is practically no-fat. The sesame seed garnish symbolizes fertility and fruitfulness. Cutting up the fruit for salad is boring and time consuming. Not so if you buy a container of cut up melon, then toss in fruits such as grapes and berries or canned pineapple chunks.
At the last minute, set out pitchers of juices, and plug in the coffee pot. Plenty of hot, brewed coffee will take care of any caffeine withdrawal headaches.
Recipes for starred items only.
MENU
Pear-pomegranate ice*
Sima's eggplant spread*
Micro-fat coleslaw with fresh green herbs*
Arabian lentil salad with cumin and mint*
Warm pita bread and challah
Bowls of pickled herring and whitefish salad
Blueberry blintzes with maple cream whip*
Sweet challah kugel with cherries*
Silken tapioca with date and ginger conserve*
Fresh fruit salad

RECIPES
PEAR-POMEGRANATE ICE (PAREVE)
SERVES 6

2 large d'Anjou pears, unpeeled and cored
2 tablespoons fresh lime juice
2 tablespoons confectioners sugar
2-3 tablespoons pomegranate seeds
Shaved ice
Grate the pears on large side of a grater. Place in a small bowl and toss with lime juice. May be covered and refrigerated at this point. To assemble: half fill wine glasses with shaved ice. Top with pear mixture. Sift confectioners sugar over and garnish with pomegranate seeds. Serve at once.
SIMA'S EGGPLANT SPREAD (PAREVE)

MAKES ABOUT 3 1/2 CUPS
1 large (about 1 1/2 pounds) eggplant
2 tablespoons olive oil
1 large onion, coarsely chopped
1 (8-ounce) can tomato sauce 1 tablespoon catsup
Juice of 1/2 lemon
1 1/2 teaspoons dried sweet basil
>White pepper and salt to taste
Cut the stem end from the eggplant. Prick in half a dozen places with a fork. Wrap loosely in paper towels. Microwave at High for 12 minutes or until soft. Set aside to cool.
Heat the olive oil in a medium saucepan over medium heat. Add the chopped onion. Cook for 5-10 minutes until golden brown. Remove the skin from the cooled eggplant. Add to the onion and mash with a fork. Stir in the tomato sauce, catsup, lemon juice and dried basil. Reduce heat to low. Cover and simmer 10 minutes. Mixture should be thick. If too liquidy, uncover and cook 5-10 minutes longer. Season to taste with pepper and salt.
Serve chilled or at room temperature.
MICRO-FAT COLESLAW (PAREVE)
SERVES 6
1 (16-ounce) package shredded cabbage or coleslaw mix
3/4 teaspoon salt
1 1/2 teaspoons sugar
1/2 bunch parsley
1/2 bunch dill
1 cup fresh basil leaves, packed
2 green onions, cut in 2-inch pieces
1-tablespoon mayonnaise
Juice of 1 lemon
Salt and pepper to taste
Toasted sesame seeds for garnish
Place the shredded cabbage in a large bowl. Sprinkle the salt and sugar over. With your hands, work the salt and sugar into cabbage for 2-3 minutes to blend thoroughly. Set aside. In the food processor, place the parsley, dill, basil and green onions. Process to chop coarsely. Add to the cabbage along with the mayonnaise and lemon juice.
Mix well. Cover and refrigerate. Before serving sprinkle generously with toasted sesame seeds.
ARABIAN LENTIL SALAD WITH PISTACHIOS AND MINT (PAREVE)
SERVES 6-8

2 cups dried lentils
1 rib celery, thinly sliced
1/2 cup dried currants
1/3 cup coarsely chopped pistachios
3 tablespoons chopped red onion
1/4 cup sweet and sour dressing
2 tablespoons honey
2 tablespoons balsamic vinegar
1 1/2 tablespoons cumin
1 1/4 cups finely shredded mint leaves
Salt and fresh ground pepper to taste
Rinse lentils. In a medium saucepan, bring 5 cups water to a boil. Add the lentils. Simmer, uncovered, for 20 minutes, stirring occasionally. Lentils should still be slightly chewy. Place in a colander. Run cold water over and drain well. Transfer to a large bowl. Add the celery, currants, pistachios, onion, dressing, honey, balsamic vinegar and cumin. Stir to mix. Lastly fold in 1 cup shredded mint. Season to taste with salt and pepper.
Spoon into a bowl. Garnish with remaining mint. Serve at room temperature.
MAPLE CREAM WHIP (DAIRY)
MAKES ABOUT 2 CUPS
Serve with blintzes, sweet kugels or to top fruit salad or compotes
1 1/2 cups part skim ricotta cheese
1/4 cup low fat vanilla yogurt
1/4 cup plus 2 tablespoons lite cream
3 tablespoons maple syrup or to taste
Pinch ground nutmeg
In the processor, blend ricotta cheese, yogurt, heavy cream, maple syrup and nutmeg until smooth. Spoon into a serving dish. Serve chilled or at room temperature
SWEET CHALLAH KUGEL WITH CHERRIES (DAIRY)
SERVES 8
8 slices challah, about 1/2-inch thick*
6 tablespoons unsalted butter
1/2 cup brown sugar
2 cups pitted cherries, canned or frozen
1/2 cup white chocolate chips
4 eggs
1 1/2 cups milk
1/2 cup chocolate milk
1 teaspoon vanilla extract
2 tablespoons cinnamon sugar

*cut from center of loaf
Remove crusts from challah (save for crumbs for later use). Cut in 1-inch pieces. Set aside. In a 9-inch square baking dish, place 4 tablespoons butter, cut in four pieces. Microwave for 2 minutes on high, or until almost melted. Remove from oven and stir to melt completely. Stir in the brown sugar. Spread half the challah pieces to cover the brown sugar mixture. Sprinkle cherries and chocolate chips over. Cover with remaining challah. Set aside. In a bowl, whisk together the eggs, milk, chocolate milk and vanilla. Pour over the challah, pressing down with a wooden spoon to soak. Dot with remaining butter. Sprinkle with cinnamon sugar. Let stand at room temperature 15 minutes or cover and refrigerate overnight. Bake in a preheated 350F oven 45 minutes - 1 hour or until firm in center, puffed and golden brown. Or, slip into the oven as soon as you get home from synagogue . If baked ahead, the kugel will fall but will taste just as delicious covered and reheated 20 minutes at 350F.
SILKEN TAPIOCA (DAIRY)

SERVES 6
6 tablespoons tapioca
2 cups milk
1 cup light cream
1 tablespoon rosewater (optional)
In a medium saucepan, combine the tapioca, milk and cream. Let stand at room temperature for 10 minutes. Cook over medium high heat, stirring constantly until mixture comes to a boil. Remove from heat. Stir in the rosewater (optional). Pour into a serving dish and refrigerate. Serve with a dish of date and ginger conserve to spoon over.
DATE AND GINGER CONSERVE (DAIRY)
MAKES ABOUT 2 1/2 CUPS

1 teaspoon unsalted butter
2 tablespoons chopped fresh ginger root
1 cup fresh or packaged pitted dates, thinly sliced
6 tablespoons orange juice
1 ripe banana, sliced
Scant 1/2 cup unsweetened applesauce
2 tablespoons fresh lemon juice
Heat the butter in a small saucepan over medium high heat. Add the chopped ginger and cook stirring constantly until beginning to brown, about 2 minutes. Reduce heat to low. Add the dates and orange juice and cook until dates are soft and beginning to break down.
Stir in the banana, mashing with a fork to blend thoroughly. Add the applesauce and lemon juice. Serve at room temperature.
JWR contributor Ethel G. Hofman is the former president of the International Association of Culinary Professionals, whose members include the likes of Julia Child. She is the author, most recently, of "Everyday Cooking for the Jewish Home: More Than 350 Delectable Recipes". (Click HERE to purchase. Sales help fund JWR.)