Jewish World Review March 1, 2004 / 8 Adar, 5764

George Will
The GOP's Latina Weapon

http://www.NewsAndOpinion.com | LOS ANGELES — Chaos theory suggests that the beating of a butterfly's wings in Brazil can set in motion effects that include, in time, a tornado in Topeka. Imagine a butterfly effect from Californians' votes on Tuesday. Reverberations might help President Bush become competitive for the state's 55 electoral votes, forcing his opponent to at least spend significant time and money here.
Disregard the Democrats' presidential primary. Begin with the Republican primary to pick an opponent for Sen. Barbara Boxer, a San Francisco liberal seeking a third term.
Gov. Arnold Schwarzenegger, succumbing to the vice of gratitude, endorsed Bill Jones, the former secretary of state who did Schwarzenegger (and himself) the favor of not running for governor during the recall of Gov. Gray Davis. Jones, a right-to-life conservative, has decent name recognition, having run statewide three times, yet looks like a probable loser in this socially liberal state.
But suppose Republican voters, half of whom a recent poll showed to be undecided, create the year's most mesmerizing Senate race by nominating Rosario Marin. She is the 45-year-old former U.S. treasurer and mayor of Huntington Park, a 95 percent Latino town of 60,000 in southeast Los Angeles County, where Democrats have a 5-to-1 registration advantage.
Today, when biography serves as political philosophy, Marin's suits this nation within the nation. At 14 she emigrated from Mexico with her parents, a janitor and a seamstress, speaking no English. She graduated near the top of her high school class, worked her way through college and took her effervescence to Sacramento, where she worked for seven years for Gov. Pete Wilson. But in 1994 she opposed Proposition 187, the initiative — anathema to immigrants — that, had courts not eviscerated it after it passed, would have denied public schooling and other services to illegal immigrants.
After her first child was born with Down syndrome, she counseled pregnant women facing difficult choices. She says the experience left her unwilling to foreclose for others the choice of abortion. But when she became pregnant a second time — she and her husband now have three children — she refused to have amniocentesis because, she says, no test result would have caused her to have an abortion. Her second pregnancy miscarried. The child had Turner syndrome, a serious chromosomal disorder.
Bill Simon, Davis's Republican gubernatorial opponent in 2002, lost by 5 percentage points, getting the votes of just 24 percent of Latinos and 37 percent of women. With 40 percent of Latinos and 2 percent more women, he would have won. Boxer's 1998 opponent won just 23 percent of Latinos. In last October's gubernatorial vote, 40 percent of the Latino vote went for Republicans (31 for Schwarzenegger, 9 for state Sen. Tom McClintock). Is Boxer nervous about the Latino vote? Her biography recently noted her membership in "the Senate's Hispanic Caucus." It is nonexistent.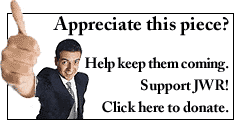 A recent poll showed Jones just four points stronger than Marin against Boxer. Marin campaigning at Bush's side this autumn — in 2000, he lost California by 1.3 million votes, losing by 1.5 million among women and winning just 22 percent of Latinos — would give him huge help with both Latino and women voters.
At Bush's other side will be another immigrant, Schwarzenegger. He will still be riding high — if on Tuesday his 61 percent job approval translates into voter approval of the linked Propositions 57 and 58.
The former would authorize up to $15 billion to pay accumulated debt ($4 billion of it accumulated by his repeal of the car tax increase that catalyzed the recall of Davis, and another $600 million added last week because the U.S. Supreme Court let stand a ruling that some California corporation taxes are unconstitutional). Borrowing to finance current services is appalling, but Proposition 58 would make amends by requiring the budget to be balanced every year without borrowing, and requiring creation of a "rainy day" budget reserve.
If Proposition 57 fails, so does 58, and so, perhaps, does Schwarzenegger's governorship, for two reasons. The policy results would include what he correctly calls "Armageddon cuts" in the budget and severe pressure for tax increases as the state runs out of cash within five months. Also, his power to persuade the legislature depends on the credibility of his threat to submit to voter initiatives important policies the legislature refuses to adopt.
Schwarzenegger's campaigning probably will pass 57 and 58. The nomination of Marin — the beating of butterfly wings — would complete a trifecta, creating optimal conditions for Bush to put California in play.

Every weekday JewishWorldReview.com publishes what many in Washington and in the media consider "must reading." Sign up for the daily JWR update. It's free. Just click here.

George Will's latest book is "With a Happy Eye but: America and the World, 1997-2002" to purchase a copy, click here. Comment on this column by clicking here.

© 2003, Washington Post Writer's Group