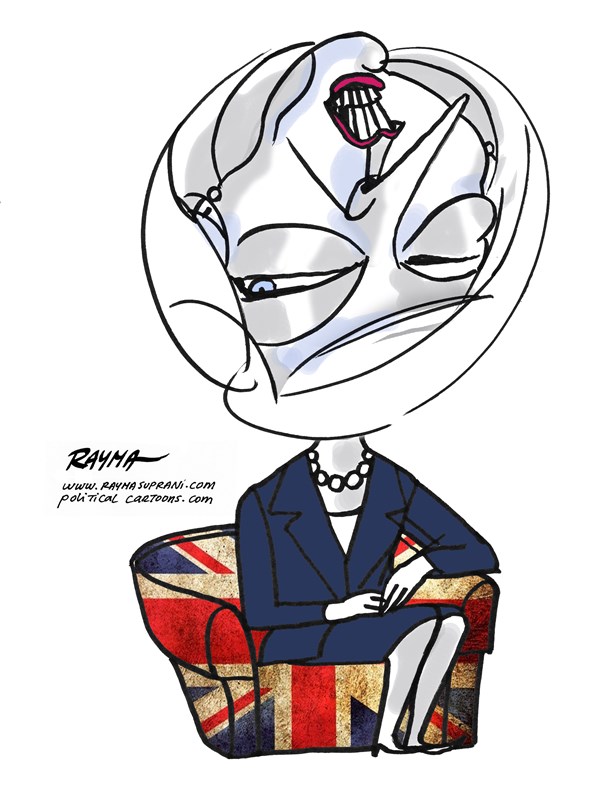 And you think we've got it bad. We have the chaotic confusion over counting votes from the elections in Florida (what else is new?), Robert Mueller's endless pursuit of Donald Trump (or someone), heartbreak over a television reporter's attempt to mount a coup from the White House press lounge, whether Maxine Waters will like the curtains in her big new office, and whether a new congresswoman-elect from the Bronx, can scrape together enough money to rent an apartment in Washington, where rents are higher than she expected.
All sad, of course, but we should consider the plight of our cousins in Old Blighty, if only to make ourselves feel a little better. Britain and the envious Europeans are discovering that breaking up is hard to do, particularly when the Europeans want to keep the house, the car, the bank account and hand over only the kids. The particulars of the deal were written by the British themselves, so you might not understand they wouldn't like it.
Prime Minister Theresa May finally forged an offer on how to leave the European Union, which she in her heart of hearts doesn't want to do despite the referendum that revealed that most Britons do. The deal must be ratified by Parliament, then accepted by the Europeans, and it was immediately so unpopular that the man who actually wrote the fine print, Dominic Raab, quit Mrs. May's government and said he could not support it.
When the prime minster nevertheless tried to reassure Parliament on Thursday that "we will leave the E.U. in an orderly way," everybody laughed. The deal is clearly a real stinker.
The dilemma, though it isn't usually described that way, is that some of the people who are trying to find a way out that will satisfy both the Europeans and the British don't really want to leave. The problem outsiders have understanding all this is that we keep expecting to hear echoes of Winston Churchill's telling Europe that "England will never surrender" and what we hear is that "everything will be peaceful in our time." Alas, Mr. Churchill is dead, and so is nearly everyone else who was in that movie.
The deal that Mrs. May is wary of even submitting to Parliament was doomed before she started because she set out to please everybody but those who wanted a clean break with Europe. Weak leadership invites failure, but the governing elites often don't understand this. If Mrs. May presented a strong vision and prepared Britain for leaving the EU without a deal Britain would not be in such a humiliating position. But she didn't, because elites everywhere find it difficult to believe the peasants could be so dumb as to want to think for themselves.
"Ever since the results of the referendum in June 2016 were announced, there has been a political campaign under way to derail Brexit," writes Madeleine Kearns writes from London for National Review, "the 17.4 million who voted to leave the European Union rightly see this as a betrayal. The weak leadership of Theresa May has enabled this, and it is genuinely hard to see a way out. Mrs. May's attempt is a deal no one wanted and no one voted for. It is infinitely worse than staying in the E.U."
The politics of the deal are so chaotic it's difficult even to see what's next for Britain. The prime minister may salvage enough support to get her deal, or a modified version of it, through Parliament. Leaving without a deal might cost jobs (or it might not) or trigger a recession (or it might not). Both the Tories and Labor opposed leaving the EU but most of the elites swallowed hard and agreed to respect the results of the referendum. How could they not? But if there's no deal there won't be a shortage of elites to say "we told you do."
Some serious Britons are beginning to talk about a "do over," another referendum, to give everyone a chance to think again about leaving and maybe vote to stay. Jo Johnson, the younger brother of Boris Johnson once called "the serious Johnson" because he has little of his brother's wicked wit, but mostly because he agrees with the elites' willingness to abide the scorn of the Europeans, quit his job as Transport minister to protest the Mrs. May's exit scheme.
He said she had offered Britain a choice between becoming a vassal state under European rules, Â or the "chaos" of leaving Europe without a deal to make the exit and smooth one, this to leave the kingdom to struggle as best it could with food and fuel shortages, grounded airliners and life as the West Germans lived it during the Berlin Airlift. No one wants to abide that.
(COMMENT, PLEASE, BELOW)
JWR contributor Wesley Pruden is editor emeritus of The Washington Times. His column has appeared in JWR since March, 2000.