Jewish World Review July 6, 2004/ 17 Tamuz, 5764

Wesley Pruden
A grave offense against the faith
http://www.NewsAndOpinion.com | Touring the heartland is fatiguing for a monsieur, but John Kerry's a trouper. (He's a Vietnam veteran, too, so the story line goes.)

He spent the holiday weekend out in the heartland, alien territory for a Massachusetts man, having mounted an expeditionary force to scout out prospects where only Lewis & Clark were brave enough to go before.

He attended a barbecue, rode in a Fourth of July parade, played a game "somewhat resembling cricket" in a famous Iowa field of dreams, dropped in with camera crews for Mass and to receive Communion ("without incident," according to the New York Times) at the Church of the Resurrection in Dubuque, and did it all, or most of it, in English. A round of applause seems well deserved.

He hinted that he might announce this week, maybe even as early as today, who he wants as his running mate. Tom Vilsack, the governor of Iowa, is still available. So is John Edwards, Joe Biden and Dick Gephardt. Did someone mention that John Edwards is still available? Monsieur Kerry actually still wants John McCain, and would settle for Hillary even if Teresa gives him a hard time about it, but appears resigned to a third or even fourth choice. Life gets tough when it's time for the tough to get going, and you have to pull up your socks.

When a reporter trailing him at a barbecue in Independence, Iowa, asked whether he was ready to disclose his choice, Monsieur Kerry replied, with a coy smile: "I'm going to get lunch and choose something to drink." Then he wandered off alone in search of chateaubriand sauce Bearnaise, grilled just so, on a flaky croissant with a crisp leaf of Boston lettuce and just a touch of Grey Poupon, and petits pois. He had to settle for a burger medium well on a bun, with cole slaw and a side of beans. It's not easy being a monsieur in the heartland. (We're not in Georgetown anymore, Toto.)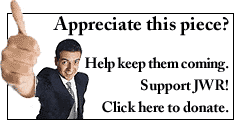 Monsieur Kerry admonished President Bush to pipe down about his religious faith with an extended lecture in Independence about his own religious faith. "I'm a person of faith," he said, "and I know I'm surrounded by people of faith." Some of the reporters looked around to see who he could be talking about. "But there's nothing conservative about allowing your administration to cross that beautiful line drawn by the Founding Fathers that separates affairs of church and state in the United States of America." A Catholic candidate who manages to receive Communion — "without incident" — naturally feels confident about offering homilies to the weak in the faith.

But if a trial for heresy conducted by his church is of no concern, Monsieur Kerry is flirting with danger far more lethal than any peril plotted in Rome. Trying to demonstrate just what a religious freethinker he is, he ran afoul of the first article of the coldest and most unforgiving catechism of all.

"I oppose abortion, personally," he told editors and reporters of the Dubuque Telegraph. "I don't like abortion." Bad enough, but he then he spake the unpardonable sin: "I believe life does begin at conception." You could hear the gasps that rolled across the cornfields like claps of thunder, audible all the way to Waterloo, or at least Cedar Rapids. "But I can't take my Catholic belief, my article of faith, and legislate it on a Protestant or a Jew or an atheist ... who doesn't share it. We have separation of church and state in the United States of America."

Monsieur Kerry seems not to know what he hath wrought. We do indeed have separation of church and state in the United States of America, but we do not have separation of abortion and Democratic presidential candidates. The monsieur, in his pursuit of a Sister Souljah moment, scorned the rite held most holy to the uncompromising feminists who comprise the bishopric of the most fanatical if not the most essential pillar of his party. Abortion is to the sisters of Our Lady of the Scalpel what the rite of Communion is to the faithful at the Church of the Resurrection. The bishops at the Vatican may forgive him, but the ex-virgins of Vesta won't.

The Bush campaign leaped on Monsieur Kerry's gaffe with enthusiasm, and got it all wrong. "John Kerry's efforts to mislead voters in the heartland are offensive," said a spokesman. "His rhetoric is at odds with a long record of opposing common-sense measures like the ban on partial-birth abortion."

True enough. But that's not the constituency he must worry about. The constituents he must fear are the ladies with the feathers and tar buckets, or if he's lucky, the riding rail. The monsieur has done what any country parson could have warned him against. He's done quit preachin' and gone to meddlin'.
Enjoy this writer's work? Why not sign-up for the daily JWR update. It's free. Just click here.
JWR contributor Wesley Pruden is editor in chief of The Washington Times. Comment by clicking here.
© 2004 Wes Pruden