Jewish World Review June 15, 2004/ 26 Sivan, 5764

Wesley Pruden
The class reunion for 'Forty-one'
http://www.NewsAndOpinion.com | HOUSTON — Mix together Mikhail Gorbachev, John Major, Brian Mulroney, Dan Quayle, Rush Limbaugh, Dick Cheney and several dozen stars of yesteryear in a room for four hours with all they can eat and drink and what do you get?

Something like the most spectacular high-school class reunion Texas had ever seen. The only notabilities missing were the quarterback and the homecoming queen.

The occasion was the bash to celebrate the 80th birthday of George H.W. Bush — "Forty-one," they call him here — and spectator tickets cost a minimum of a million dollars, which entitled the ticket-holder to bring a few guests. Only the "rich millionaires," as Texans define money, the men with the cattle to go with the hats, could afford it. A reception for "poor millionaires," who bought tickets discounted at half-price, was held separately. The money goes to Forty-one's three favorite charities, the Points of Light Foundation, the M.D. Anderson Cancer Center in Houston and his presidential library on the campus of Texas A&M at College Station, 75 miles up the Union Pacific Railroad tracks.

The organizers set out to raise $41 million, a figure chosen to honor the 41st birthday, and in the event the final figure was $55 million. Sometimes a president can indulge a little inflation without complaint or compromise.

But how do you put on a party in Houston in June without melting everything? Nobody, not even Englishmen and mad dogs, goes out into the sun in Houston in early summer, so the organizers got everyone into Minute Maid Park, a baseball stadium (if you can call a building with a roof a legitimate baseball park) where everything is kept at a comfortable 72 degrees. The guests were told to show up at 4 for the reception, to be followed by entertainment at 8.

But the real entertainment was watching the political celebrities, and the Reagan funeral had drawn dozens of them to the United States, most of them contemporaries of the 41st president as well, and some of them returned home via Houston. Never was Perle Mesta's famous observation — "Hang a lamb chop in the window and they will come to dinner" — more apt. And there were, in fact, little lamb chops, not in a window but along a buffet line that included crab cakes, steaks, spring rolls, lobster, clam chowder, tandoori chicken, peach cobbler and even little pots of crème brulee — all delicacies from places where the 41st president had served — as fisherman at Kennebunkport, torpedo-bomber pilot in the Navy, congressman from Houston, ambassador in Beijing, director of the CIA in Washington, and finally as president of the United States.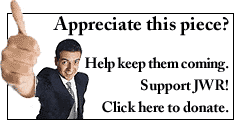 When "Forty-three" dropped in shortly after 7 to honor his father, neither his father nor his mother were there. Dick Cheney and his entourage had just left. When the president arrives everyone usually moves, shamelessly, to get as close to the presence as possible, to get in range of media cameras, to get a handshake, a fleeting word, eye contact or just to breathe some of the recycled presidential oxygen. But not on this Saturday night.

Everyone wanted to get in a photograph with Mikhail Gorbachev. Even Rush Limbaugh looked around for a friendly face with a digital camera. Ronald Reagan's dancing partner for the last waltz of the Cold War accommodated everyone with good cheer, asking through his interpreter only to be left alone to finish his barbecued Chinese sparerib. Then, wiping the last bit of barbecue sauce from his fingers, the man who during a Washington summit stopped traffic on Connecticut Avenue to plunge into a crowded sidewalk to press the flesh, endured the popping of flashes that would put his image in family photo albums from Dalhart to Dallas, taking a place of honor next to fading snapshots of great-grandma by the arborvitae bush.

He got his revenge three hours later, at the end of the evening after the likes of Wynonna Judd, Randy Travis, Crystal Gayle and the Oak Ridge Boys had sung their last notes and a team of Army airborne had parachuted through the hole in the roof. The visiting exes were called to the stage with Forty-one and Mr. Gorbachev was designated to deliver the last of the birthday greetings. He delivered as well a not-so-brief history of his relationship with the 41st president, stopping just short of an exposition of the third five-year potato plan.

Then it was off to College Station to watch George H.W. Bush make his fifth parachute jump. Mr. Gorbachev had the good sense to decline an invitation to take a flying leap with him. Brit Hume of Fox News and movie actor Chuck Norris didn't. "I was afraid of two things," Mr. Hume recalled yesterday. "I was afraid I would jump, and afraid that at the last minute I wouldn't."

What a week. Only in America.
Enjoy this writer's work? Why not sign-up for the daily JWR update. It's free. Just click here.
JWR contributor Wesley Pruden is editor in chief of The Washington Times. Comment by clicking here.
© 2004 Wes Pruden