Jewish World Review Sept. 20, 2004/ 5 Tishrei, 5765

Charles Krauthammer
Nowhere Left to flop
http://www.NewsAndOpinion.com | If the election were held today, John Kerry would lose by between 88 and 120 electoral votes. The reason is simple: The central vulnerability of this president — the central issue of this campaign — is the Iraq war. And Kerry has nothing left to say.
Why? Because, until now, he has said everything conceivable regarding Iraq. Having taken every possible position on the war, there is nothing he can say now that is even remotely credible.
If he had simply admitted that he had made a mistake in supporting the war, he might have become an antiwar candidate. But having taken a dozen positions, he has nowhere to go.
He now calls Iraq "the wrong war in the wrong place at the wrong time." But, of course, he voted to authorize the war. And shortly after the fall of Baghdad he emphatically repeated his approval of the war: "It was the right decision to disarm Saddam Hussein. And when the president made the decision, I supported him."
When Don Imus asked him this week, "Do you think there are any circumstances we should have gone to war in Iraq, any?" Kerry responded: "Not under the current circumstances, no. There are none that I see. I voted based on weapons of mass destruction. The president distorted that." But just last month he said that even if he had known then what he knows now, he would have voted for the war resolution.
Is Iraq part of the war on terrorism or a cynical distraction from it? "And everything [Bush] did in Iraq, he's going to try to persuade people it has to do with terror, even though everybody here knows that it has nothing whatsoever to do with al Qaeda and everything to do with an agenda that they had preset, determined."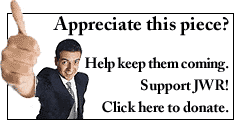 That was April 2004. Of course, shortly after Sept. 11, Kerry was saying the opposite. "I think we clearly have to keep the pressure on terrorism globally," he said in December 2001. "This doesn't end with Afghanistan by any imagination. . . . Terrorism is a global menace. It's a scourge. And it is absolutely vital that we continue [with], for instance, Saddam Hussein."
So then Hussein was part of the war on terrorism — a "for instance" in fighting "terrorism globally." Kerry temporarily returned to that position last week when he marked the 1,000th American death in Iraq by saying the troops have "given their lives on behalf of their country, on behalf of freedom, in the war on terror."
How did Kerry get to this point of total meltdown? He started out his political career voting his conscience on national security issues. During the 1980s he was a consistent, dovish liberal Democrat: pro-nuclear freeze, anti-Star Wars, against the Reagan defense buildup, against the war in Nicaragua. And then he joined the overwhelming majority of his party in voting against the Persian Gulf War.
That turned out to be a mistake. And Kerry suffered for it. The very next year he had to watch as Al Gore, who got the Gulf War right, was chosen for the 1992 Democratic ticket, a spot for which Kerry had been on the short list.
Kerry learned his political lesson. Or thought he did. So when the Iraq war came around, he did not want to be caught on the wrong side of another success. He voted yes.
But then things went wrong both for the war and for him. What did he do? With Howard Dean rocketing toward the Democratic nomination, Kerry played to his deeply antiwar party by voting against the $87 billion to fund the occupation.
Two months later, with Saddam Hussein caught and the war looking better, Kerry maneuvered again, slamming Dean with: "Those who doubted whether Iraq or the world would be better off without Saddam Hussein, and those who believe today that we are not safer with his capture, don't have the judgment to be president or the credibility to be elected president."
Kerry is now back to the "wrong war in the wrong place at the wrong time," a line lifted from Dean himself. So we are not better off with Hussein deposed after all.
These dizzying contradictions — so glaring, so public, so frequent — have gone beyond undermining anything Kerry can now say on Iraq. They have been transmuted into a character issue. When Kerry went off windsurfing during the Republican convention, Jay Leno noted that even Kerry's hobbies depend on wind direction. Kerry on the war has become an object not only of derision but of irreconcilable suspicion. What kind of man, aspiring to the presidency, does not know his own mind about the most serious issue of our time?
Every weekday JewishWorldReview.com publishes what many in Washington and in the media consider "must reading." Sign up for the daily JWR update. It's free. Just click here.

Comment on Charles Krauthammer's column by clicking here.

© 2002, WPWG