Jewish World Review August 5, 2003 / 7 Menachem-Av 5763

David Horowitz
Challenging the racist Dems in California
http://www.NewsAndOpinion.com | Everybody knows — but no one wants to say — that the Democratic Party has become the party of special interest bigots and racial dividers. It runs the one-party state that controls public services in every major inner city, including the corrupt and failing school systems in which half the students — mainly African American and Hispanic — are denied a shot at the American dream. It is the party of race preferences that separate American citizens on the basis of skin color providing privileges to a handful of ethnic and racial groups in a nation of nearly a thousand. The Democratic Party has shown that it will go to the wall to preserve the racist laws which enforce these preferences, and to defend the racist school systems that destroy the lives of millions of children every year.
On the other side of the aisle, the Republican Party has shown itself to be tongue-tied and lame-brained when it comes to opposing this racist stain on American life. Republicans rarely mention the millions of young victims claimed by the Democrats' racist school policies every year. They are too cowardly to openly challenge race preferences that constitute a true American apartheid. Consequently, for nearly a decade it has been left to one man and those he inspires to take on these injustices and he is doing so again in the upcoming California recall election.
Ward Connerly has placed Proposition 54 - - the Racial Privacy Initiative — on the October California ballot. The new law would bar the government from inquiring into a citizen's racial identity. The Constitution does not mention race or use the words "black" and "white" to describe its citizens. The census was divised by the founders to set the number of congressional districts, not to balkanize America into racial categories. Democrats have turned it into a system to define Americans by skin color. Every Democrat legislator and every so-called "liberal" spokesperson is opposed to Connerly's proposition because it would threaten their apartheid programs. The time has come to challenge this system and set Americans — particularly African and Hispanic Americans who its prime victims — free.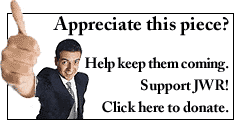 Every weekday JewishWorldReview.com publishes what many in Washington and in the media consider "must reading." Sign up for the daily JWR update. It's free. Just click here.
---
JWR contributor David Horowitz is editor of Front Page Magazine and the author of several books, including, The Art of Political War and Other Radical Pursuits, Hating Whitey, Art of Political War, Radical Son : A Generational Odyssey . To comment, please click here.

07/21/03: The Party of Sabotage
07/09/03: The Trouble with 'Treason'
05/05/03: Taking On The Neo-Coms, Part II
05/01/03: Taking On The Neo-Coms
04/29/03: Everything the Left Said About the War Is Wrong (Including the Claim that It Was Right)
04/16/03: The Doctrine Pre-Emption, a Strategy Under Attack
04/14/03: The next screwing
04/08/03: As a former 'radical,' I see the threat of militant Islam on American campuses
04/03/03: The war refutes the opposition
03/31/03: Moment of Truth (for the anti-American Left)
03/24/03: The Second Front
03/17/03: The Fifth Column Left Declares War
02/18/03: The march to save Saddam
02/10/03: Secessionists against the war
01/21/03: They want to place America under siege
01/15/03: Another political lynching
12/31/02: As we look towards a future filled with the clouds of war
12/17/02: Trent Lott must go
09/04/02: The problem with America's colleges --- and the solution
08/26/02: Ted Koppel's Spin Zone: How Nightline Controls What You See
08/19/02: Reparations buffoons on the Washington Mall
07/30/02: The Destructive Romance of the Intellectuals
07/24/02: Port Huron and the War On Terror
07/08/02: Disturbing holiday thoughts
06/24/02: Know The Enemy (And What He Believes)
06/18/02: Missing diversity
06/06/02: Free the FBI: A plea from a former 'radical'
04/10/02: A Middle East history primer
03/12/02: Appreciating the Commander-in-Chief
02/14/02: Bill Clinton's State of the World
01/17/02: Why Israel Is The Victim And The Arabs Are The Indefensible Aggressors In the Middle East
10/01/01: I know a thing or two about college protest --- and this time the students are dead wrong
09/06/01: Pardoned, but unforgiving
08/07/01: Social Security Reactionaries and Reformers
07/24/01: White, Blind, and Proud
07/11/01: Progressive Crime Wave
06/26/01: Issues that dare not speak their name
06/12/01: The 20th Anniversary of an American Killing Fields
05/23/01: The Triumph of 'Multicultural' Thugs
05/08/01: How Leftists Play the Race Card Against Conservatives – And Increase the Flow of Drugs to the Inner City At the Same Time
03/13/01: Provocative, and proud of it
03/06/01: Dubya's Tax Plan: Don't Feed the Beast
02/21/01: Lazy daze
02/13/01: V-day
02/05/01: You gotta have faith
01/23/01: The Democrat inquisition
01/09/01: Perfect mirror-images of what libs profess to fear
12/12/00: Party without a conscience
12/05/00: Al Gore has poisoned the body politic --- for generations to come
11/14/00: Al Gore is not fit
10/31/00: Party of fear, politics of hate
10/16/00: Dems are lucky to have Gore
09/19/00: A Miracle the Press Will Not Report
09/14/00: It's the Character, Stupid!: Further Thoughts On "Why Gore Will Lose"
09/06/00: The Death of the Civil Rights Movement
08/22/00: Back to the Future
08/09/00: Bush will win
07/25/00: Conason Unleashed
07/12/00: Our nation's heritage is under attack in our classrooms, so why doesn't anybody care'
07/03/00: Hillary and "The Third Way": How America's First Lady of the Left Has Bamboozled Liberals and Conservatives Alike
06/27/00: AlGore's Missile-Defense Dodge
06/20/00: In the Enemy Camp
06/12/00: Feminism's Dirty Secret
05/18/00: Look who's leading the Virtue Squad in its crusade to purge the House of campaign finance excess
05/08/00: The Mind of the Left From an Amazon Perspective
05/01/00: America's Totalitarian Shame
04/19/00: Political child molesting
04/04/00: What Hillary won't 'fess up to --- and why
03/29/00: No reason To Glorify the Left's Legacy of Violence
03/27/00: Smoke and Mirrors
03/20/00: Deafening Silence
03/15/00: The Lead Investigator Strikes Back
03/08/00: Racial Killings & Gun Control
02/28/00: Primary Lessons
02/22/00: Racial Shakedowns
01/25/00: Intellectual Class War
01/03/00: A faith that ruined whole continents and destroyed a world of human lives
12/28/99: Brain Dead Till the End
12/14/99: Letter to the past
12/07/99: Why Republicans Lose
11/23/99: MLK is no doubt spinning in his grave
11/10/99: Finding the American Center
11/02/99: Reflections on The Road Taken and Not

© 2000, David Horowitz