Jewish World Review Sept. 30, 2003 / 4 Tishrei, 5764

Frank J. Gaffney, Jr.
A call to greatness
http://www.NewsAndOpinion.com | Seen from Baghdad, the debate now unfolding in the United States about whether to approve President Bush's proposal to invest $20 billion in the future of a Free Iraq is utterly disconnected from reality on the ground there. The perspective offered by a just-completed trip to that city, Tikrit, Mosul and Babylon suggests the critics are not only oblivious to the considerable progress made to date in consolidating the liberation of that country. Worse yet, by their petty parsimony, they risk squandering a once-in-a-generation opportunity to do very well strategically by doing good.
Swift congressional approval of the requested funding can do much to transform Iraq, while affirming the greatness of a new generation of Americans -- just as the Marshall Plan was a crowning achievement for what has been called "the Greatest Generation." It will build on - and powerfully reinforce - the extraordinary efforts made over the past four months by civilian administrators and particularly by intrepid military commanders, aimed at securing and rebuilding that long-suffering country. It is important to note that such progress is being made on a far more accelerated schedule than our fathers were able to effect in their post-World War II occupation and reconstruction of Germany and Japan.
Another interesting parallel should be borne in mind. Given the relatively backwards condition of America's infrastructure after the Second World War, it doubtless could have been argued that this country's development needs should take precedence over helping friends and former foes. Yet, the Greatest Generation understood that the sacrifice entailed in winning that war would be for naught if a further, financial sacrifice were not made to secure the peace in Europe and East Asia. This insight is, if anything, at least as true with respect to the Iraqi front in the current global War on Terror.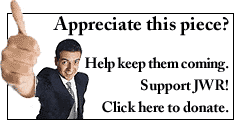 In particular, the executive and legislative branches should act with urgency on the replenishment and considerable expansion of what are called Commander's Emergency Relief Funds (CERF). These are discretionary accounts that senior officers have been able to draw upon to lubricate the process of transforming Iraq. In talking with visitors, these commanders point with pride to the tangible effects investments of $100,000 here and there have made towards rebuilding critical bridges and highways, restoring power grids, restarting water and sewage treatment plants, reopening factories that provide desperately needed employment and refurbishing schools.
Until now, the CERFs have been drawn from frozen Iraqi assets, regime money caches and Saddam's bank accounts seized in the course of liberating the country. As such sources are now nearly exhausted, military officers on the front lines of freedom face the prospect of being unable to help kick-start new projects or, worse yet, failing to complete some of those already underway. Should that happen, the confidence of the Iraqi people in American commitment, resolve and helpfulness that has been earned over the past four months could be squandered - playing into the hands of regime loyalists and foreign Islamists who want Free Iraq to die aborning.
The determination of our adversaries underscores the stakes here. What is at issue is not simply the future character of the government of Iraq. It is a question of whether we can help create a template for other Arab and/or Muslim nations that, if emulated, can produce a different sort of Middle East than any we have known to date. Denying today's authoritarians and terrorists the success they seek in Iraq is no less important than was securing Germany, Japan and Western Europe for democracy half a century ago.
Of course, Congress, with its power of the purse, has the right and the responsibility to oversee the use and efficiency of President Bush's $20 billion request. Still, a protracted debate about every line item, with haggling about whether this or that amount requested for an indisputably worthy activity (for example, a witness protection program or small business training) are excessive would be counterproductive - possibly catastrophically so.
Congressional Democrats in particular should be careful as they seek to make a distinction between the $66 billion sought to underwrite military operations and the $20 billion for reconstruction. Our service personnel in Iraq are under no illusion: Both of these requests are, in fact, necessary to "support the troops" - the former as they fight the war on terror, the latter no less so as they work to secure the peace.
Like post-war Germany, Japan, France, Italy and Great Britain - principal beneficiaries of the Greatest Generation's largesse - Iraq has the potential to be an enormously prosperous and stable friend of the United States. Even a short visit unfailing impresses one with the country's human and natural resources. An investment in that future is not only prudent. It will be tangible evidence of the present American generation's ability to undertake great things - and to see them through to completion.
As with the late 1940s, such an expression of resolve and magnanimity in our own time may prove to be the key not only to the securing of a Free Iraq, but a decisive factor in making the world safer for democracy in the decades to come.
Every weekday JewishWorldReview.com publishes what many in Washington and in the media consider "must reading." Sign up for the daily JWR update. It's free. Just click here.

JWR contributor Frank J. Gaffney, Jr. heads the Center for Security Policy. Send your comments to him by clicking here.

09/23/03: Muslim fifth column?
09/09/03: 'No more war in '04'
09/03/03: The Air Force's new lease on life
08/26/03: Don't go wobbly, George
08/12/03: Divided loyalties
08/05/03: The dot-connector
07/31/03: Wishful thinking about Islamist terror
07/22/03: Horatius Pipes
07/15/03: Making Saddam's day
06/17/03: UNDESIRABLE INFLUENCE
05/29/03: 'ROAD TRAP' FOR AMERICA, TOO
05/20/03: Saudi terror watch 05/13/03: 'Transformation, part deux'
04/29/03: Shooting the messenger
04/22/03: ISLAMIST POWER PLAY
04/15/03: Who's next?
04/08/03: Winning the peace
04/01/03: 'EMBED' FREE IRAQIS, NOW!
03/05/03: A friend in need
02/25/03: The plot thickens
02/18/03: Who's 'with' President Bush?
02/11/03: Islamists' White House gatekeeper
02/04/03: The Powell report
01/28/03: Bush's finest hour
01/14/03: North Korean scorecard
01/07/03: Nuclear meltdown
12/17/02: Serious about defending America
12/03/02: Defining 'regime change'
11/26/02: With friends like the Saudis...
11/19/02: The Jayna Davis files
11/12/02: Could Israel die of thirst?
11/04/02: Against us
10/22/02: Too clever by half?
10/17/02: 'Drain the swamps'
10/08/02: The temptations of George Bush
10/01/02: Return of the San Francisco Dems
09/24/02: The next crusader?
09/17/02: It is no accident that advocates of coercive inspections have opposed prez's goal of regime change
09/10/02: A model for Iraq
08/27/02: Beware 'consensus leadership'
08/20/02: To Iraq or not to Iraq?
08/13/02: Trading with the 'enemy'
07/30/02: Who's trashing Ashcroft?
07/23/02: Wall Street's 'poisoned apples'
07/16/02: Back on the China front
07/09/02: See no evil?
07/02/02: Rethinking peacekeeping
06/25/02: Political moment of truth on defense
06/19/02: Inviting losses on two fronts
06/12/02: Make missile defense happen
06/04/02: The next 'Day of Infamy'?
05/29/02: Bush's Russian gamble
05/21/02: The 'next war'
05/15/02: Ex-presidential misconduct
05/07/02: When 'what if' is no game
05/02/02: Careful what we wish for
04/24/02: The real 'root cause' of terror
04/02/02: First principles in the Mideast
03/26/02: 'Renounce this map'
03/20/02: The inconvenient ally
03/12/02: Adults address the 'unthinkable'
03/05/02: The Saudi scam
02/26/02: Rumsfeld's 'now hear this'
02/19/02: Where's the outrage?
02/12/02: Post-mortem on 'Pearl Harbor II'
02/05/02: Spinning on the 'Evil Axis'
01/29/02: A challenge for the history books
01/22/02: Who pulled the plug on the Chinese 'bugs'?
01/15/02: No 'need to know'
01/08/02: Sentenced to de-nuclearize?
12/18/01: Missile defense mismanagement?
12/11/01: Is the Cold War 'over'?
12/04/01: A moment for truth
11/29/01: Send in the marines -- with the planes they need
11/27/01: 'Now Hear This': Does the President Mean What He Says?
11/20/01: Mideast 'vision thing'
11/13/01: The leitmotif of the next three days
11/06/01: Bush's Reykjavik Moment
10/30/01: Say it ain't true, 'W.
10/23/01: Getting history, and the future, right
10/16/01: Farewell to arms control
10/05/01: A time to choose
09/25/01: Don't drink the 'lemonade'
09/11/01: Sudan envoy an exercise in futility?
09/05/01: Strategy of a thousand cuts
08/28/01: Rummy's back
08/21/01: Prepare for 'two wars'
08/14/01: Why does the Bush Administration make a moral equivalence between terrorist attacks and Israel's restrained defensive responses?
08/07/01: A New bipartisanship in security policy?
07/31/01: Don't go there
07/17/01: The 'end of the beginning'
07/10/01: Testing President Bush
07/03/01: Market transparency works
06/27/01: Which Bush will it be on missile defense?
06/19/01: Don't politicize military matters
06/05/01: It's called leadership
06/05/01: With friends like these ...
05/31/01: Which way on missile defense?
05/23/01: Pearl Harbor, all over again
05/15/01: A tale of two Horatios
05/08/01: The real debate about missile defense
04/24/01: Sell aegis ships to Taiwan
04/17/01: The 'hi-tech for China' bill
04/10/01: Deal on China's hostages -- then what?
04/03/01: Defense fire sale redux
03/28/01: The defense we need
03/21/01: Critical mass
03/13/01: The Bush doctrine
03/08/01: Self-Deterred from Defending America
02/27/01: Truth and consequences for Saddam
02/21/01: Defense fire sale
02/13/01: Dubya's Marshall Plan
02/05/01: Doing the right thing on an 'Arab-Arab dispute'
01/30/01: The missile defense decision
01/23/01: The Osprey as Phoenix
01/17/01: Clinton's Parting Shot at Religious Freedom
01/09/01: Wake-up call on space
01/02/01: Secretary Rumsfeld
12/27/00: Redefining our Ukraine policy
12/19/00: Deploy missile defense now
12/12/00: Sabotaging space power
12/05/00: Preempting Bush
11/28/00: What Clinton hath wrought
11/21/00: HE'S BAAAACK
11/14/00: The world won't wait

© 2001, Frank J. Gaffney, Jr.