Jewish World Review Sept. 3, 2003 / 6 Elul, 5763

Frank J. Gaffney, Jr.
The Air Force's new lease on life
http://www.NewsAndOpinion.com | When Senate Commerce Committee Chairman John McCain opens a hearing today [Wednesday] on an Air Force proposal to lease 100 Boeing 767 tanker aircraft, he will cast himself as a defender of the public interest against wasteful defense spending. It is, therefore, no small irony that this hearing - and the dilatory, many-months-long process it culminates, is the real waste of time and energy, to the detriment of the national security.
After all, as members of the Commerce Committee surely know, most Americans understand full well the nature of leasing. Tens of millions of them have taken advantage of this practice to make use immediately of cars and other products that they could not otherwise afford to buy for some time, if ever.
The commercial aviation industry has also employed this approach to fleet modernization for years. It is a prime example of the sort of Best Business Practices that the Bush-Rumsfeld team has been trying to use to maximize the Pentagon's proverbial bang-for-the-procurement buck.
In particular, the centerpiece of Senator McCain's criticism of the Pentagon's tanker acquisition initiative - the contention that it will cost somewhat more to lease these planes (with an opportunity to buy them later) than it would to purchase them immediately - will hardly surprise either the consumers or businesspeople the Senate Commerce Committee is supposed to serve. They appreciate that this is the way leases generally work. They also know, though, that if the money is not available to buy a needed product in the near term, leasing is often the only way it can be obtained, usually with the desirable effect enhancing an individual American's safety, productivity and/or quality of life or improving the competitiveness of U.S. companies.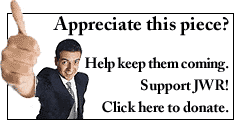 Rarely has an acquisition been more necessary, however, than is the case with aerial-refueling tankers. Such aircraft are the sine qua nonof U.S. power projection. As the recent efforts to liberate Afghanistan and Iraq have underscored, the rapid and sustained deployment of American forces to the world trouble-spots depends heavily on airlift. Airlift, in turn, depends critically on tankers. Shortfalls in the tanker fleet very rapidly translate, literally, into an inability to support the troops.
Unfortunately, such shortfalls are currently acute and projected to become even more so in the years ahead. The average age of the existing tanker fleet is some forty-years old, making many of the KC-135 aircraft that continue to be the backbone of the refueling inventory older than their pilots. A third are in the hanger for repairs at any given time. And even when they are flying, their performance is severely limited.
For example, the obsolescent KC-135Es cannot refuel every aircraft in the U.S. inventory. The KC-767 can. The 135Es require very long runways to take off with a full load of fuel, something made necessary by their inability to be refueled when airborne. The 767 tanker can use over 1100 more airfields and be aerially refueled.
In addition, the new tanker can carry 20% more fuel and more than three times the amount of palletized cargo and passengers - a valuable force-multiplier given chronic U.S. airlift shortfalls. The refueling variant of the widely used and exceptionally reliable 767 jetliner also means that they can be maintained at airfields all over the world.
In short, the need for modernization of the KC-135 fleet has been obvious for years and the virtues of accomplishing it via the modified 767 are equally so.
Yet, for too long, a succession of administrations and Congresses have chosen to put off to the future the daunting task of funding such an upgrade program. Evidently, some foolishly believe that this continues to be a responsible and safe thing to do.
The good news is that the common sense and hard experience of most Americans - and solid majorities of the four congressional defense committees (three of whom have already approved the Air Force lease; the fourth, the Senate Armed Services Committee, is expected to do so on Thursday) - enables them to appreciate the folly of perpetuating such a practice. They recognize that tankers, like old cars, computers, manufacturing machinery and expensive household items, tend to be less reliable than new ones. Certainly, the costs of maintaining the former greatly exceed the latter.
This is especially true with respect to products that have not been produced for decades - as has been the case with the venerable Boeing 707, the commercial variant of the KC-135.
Not surprisingly, critics of the Air Force's tanker lease proposal tend to ignore the costs entailed in keeping the oldest KC-135s operational. This may help their analysis, but it does not reflect reality. If, instead of using new 767 airframes over the next ten years, the Pentagon has to try to keep the oldest of its tankers safe and serviceable, the price tag will be staggering. By some estimates, it could run as high as $5 billion.
The real world requires that such additional costs be taken into account in any net assessment of leasing tankers versus preserving the status quo. When such costs are considered, the argument for a lease is a slam-dunk. That is even more true when augmented by such considerations as the enormous operational advantages of quickly securing the use of higher-performing tankers.
Of course, the cost-avoidances described above could also be achieved were we simply to purchase the needed tankers outright and they could be delivered right away. But neither Senator McCain nor anyone else in Congress seems willing to provide the additional billions of dollars that would be needed up front in order to buy, rather than lease, these aircraft. Even if they did, it will take years longer to get new, rather than modified 767s. As a result, the alternative to the lease currently on the table is to condemn our servicemen and women to a no-kidding Mission Impossible - waging a global war on terror without the aerial-refueling assets indispensable to defeating the myriad enemies who wish to do us harm.
As the legislative branch works to help President Bush and Defense Secretary Rumsfeld "transform" the U.S. military in order to fight and win the Nation's 21st Century wars, there are few actions Congress can take that will have a greater, near-term transformative effect than would its approval this week of the lease of 100 new tankers. The American people surely understand the transaction that will make such an acquisition possible. They are unlikely, however, to comprehend - or forgive - further, unwarranted interference with its prompt execution.
Enjoy this writer's work? Why not sign-up for the daily JWR update. It's free. Just click here.

JWR contributor Frank J. Gaffney, Jr. heads the Center for Security Policy. Send your comments to him by clicking here.

08/26/03: Don't go wobbly, George
08/12/03: Divided loyalties
08/05/03: The dot-connector
07/31/03: Wishful thinking about Islamist terror
07/22/03: Horatius Pipes
07/15/03: Making Saddam's day
06/17/03: UNDESIRABLE INFLUENCE
05/29/03: 'ROAD TRAP' FOR AMERICA, TOO
05/20/03: Saudi terror watch 05/13/03: 'Transformation, part deux'
04/29/03: Shooting the messenger
04/22/03: ISLAMIST POWER PLAY
04/15/03: Who's next?
04/08/03: Winning the peace
04/01/03: 'EMBED' FREE IRAQIS, NOW!
03/05/03: A friend in need
02/25/03: The plot thickens
02/18/03: Who's 'with' President Bush?
02/11/03: Islamists' White House gatekeeper
02/04/03: The Powell report
01/28/03: Bush's finest hour
01/14/03: North Korean scorecard
01/07/03: Nuclear meltdown
12/17/02: Serious about defending America
12/03/02: Defining 'regime change'
11/26/02: With friends like the Saudis...
11/19/02: The Jayna Davis files
11/12/02: Could Israel die of thirst?
11/04/02: Against us
10/22/02: Too clever by half?
10/17/02: 'Drain the swamps'
10/08/02: The temptations of George Bush
10/01/02: Return of the San Francisco Dems
09/24/02: The next crusader?
09/17/02: It is no accident that advocates of coercive inspections have opposed prez's goal of regime change
09/10/02: A model for Iraq
08/27/02: Beware 'consensus leadership'
08/20/02: To Iraq or not to Iraq?
08/13/02: Trading with the 'enemy'
07/30/02: Who's trashing Ashcroft?
07/23/02: Wall Street's 'poisoned apples'
07/16/02: Back on the China front
07/09/02: See no evil?
07/02/02: Rethinking peacekeeping
06/25/02: Political moment of truth on defense
06/19/02: Inviting losses on two fronts
06/12/02: Make missile defense happen
06/04/02: The next 'Day of Infamy'?
05/29/02: Bush's Russian gamble
05/21/02: The 'next war'
05/15/02: Ex-presidential misconduct
05/07/02: When 'what if' is no game
05/02/02: Careful what we wish for
04/24/02: The real 'root cause' of terror
04/02/02: First principles in the Mideast
03/26/02: 'Renounce this map'
03/20/02: The inconvenient ally
03/12/02: Adults address the 'unthinkable'
03/05/02: The Saudi scam
02/26/02: Rumsfeld's 'now hear this'
02/19/02: Where's the outrage?
02/12/02: Post-mortem on 'Pearl Harbor II'
02/05/02: Spinning on the 'Evil Axis'
01/29/02: A challenge for the history books
01/22/02: Who pulled the plug on the Chinese 'bugs'?
01/15/02: No 'need to know'
01/08/02: Sentenced to de-nuclearize?
12/18/01: Missile defense mismanagement?
12/11/01: Is the Cold War 'over'?
12/04/01: A moment for truth
11/29/01: Send in the marines -- with the planes they need
11/27/01: 'Now Hear This': Does the President Mean What He Says?
11/20/01: Mideast 'vision thing'
11/13/01: The leitmotif of the next three days
11/06/01: Bush's Reykjavik Moment
10/30/01: Say it ain't true, 'W.
10/23/01: Getting history, and the future, right
10/16/01: Farewell to arms control
10/05/01: A time to choose
09/25/01: Don't drink the 'lemonade'
09/11/01: Sudan envoy an exercise in futility?
09/05/01: Strategy of a thousand cuts
08/28/01: Rummy's back
08/21/01: Prepare for 'two wars'
08/14/01: Why does the Bush Administration make a moral equivalence between terrorist attacks and Israel's restrained defensive responses?
08/07/01: A New bipartisanship in security policy?
07/31/01: Don't go there
07/17/01: The 'end of the beginning'
07/10/01: Testing President Bush
07/03/01: Market transparency works
06/27/01: Which Bush will it be on missile defense?
06/19/01: Don't politicize military matters
06/05/01: It's called leadership
06/05/01: With friends like these ...
05/31/01: Which way on missile defense?
05/23/01: Pearl Harbor, all over again
05/15/01: A tale of two Horatios
05/08/01: The real debate about missile defense
04/24/01: Sell aegis ships to Taiwan
04/17/01: The 'hi-tech for China' bill
04/10/01: Deal on China's hostages -- then what?
04/03/01: Defense fire sale redux
03/28/01: The defense we need
03/21/01: Critical mass
03/13/01: The Bush doctrine
03/08/01: Self-Deterred from Defending America
02/27/01: Truth and consequences for Saddam
02/21/01: Defense fire sale
02/13/01: Dubya's Marshall Plan
02/05/01: Doing the right thing on an 'Arab-Arab dispute'
01/30/01: The missile defense decision
01/23/01: The Osprey as Phoenix
01/17/01: Clinton's Parting Shot at Religious Freedom
01/09/01: Wake-up call on space
01/02/01: Secretary Rumsfeld
12/27/00: Redefining our Ukraine policy
12/19/00: Deploy missile defense now
12/12/00: Sabotaging space power
12/05/00: Preempting Bush
11/28/00: What Clinton hath wrought
11/21/00: HE'S BAAAACK
11/14/00: The world won't wait

© 2001, Frank J. Gaffney, Jr.