Jewish World Review March 29, 2001/ 5 Nissan, 5761

Suzanne Fields

Making marriage glamorous


http://www.jewishworldreview.com -- RUSSELL CROWE is a bit of a rogue. Everybody knows that. He stole Meg Ryan from her husband and then dumped her, and got the reputation of a bad boy. Roguishness never kept any good (or not-so-good) actor from getting an Academy Award, and in Hollywood it might even help.

Steve Martin, in tweaking Russell Crowe about his womanizing, tried to give marriage equal time. From his comedy pulpit at the 73rd Annual Academy Awards, he noted that Tom Hanks, twice best actor, had one of the best and longest marriages in Tinseltown. If that's not equal time, at least it's time.

But marriage doesn't have much voice in movies these days. In "Erin Brockovich,'' Julia Roberts plays a single mother. Marcia Gay Harden, who won the Oscar for supporting actress, plays a woman in "Pollock'' whose husband abuses her. The "Gladiator'' pays homage to a love marriage as a moral reference point, but husband and wife rarely see each other. Action is more important than romance. Epic plays bigger than intimacy. Marriage doesn't sell and cynicism abounds on and off the screen.

"Rules III: Time-tested secrets for making your marriage work'' is just out, following two best-selling books of advice to women about how to get and keep a man. The latest volume, unfortunately, coincides with the announcement that one of its two authors is getting a divorce. Ellen Fein joins the celebrated pontificators who must insist: "Do as I say, not as I do.'' No longer can we believe "A Rules Marriage Is Forever.''

The Rules books were to women of the '90s what "The Feminine Mystique'' was to women of the '60s. If Betty Friedan wrote a radical treatise for liberating women for work, Ellen Fein and Sherri Schneider, the authors of "Rules I'' and "Rules II,'' provided a reactionary blueprint for liberating a woman from spinsterhood. Women should be all that men fantasize them to be, which requires them to act aggressively passive and to fake subservience.

With several ironic twists, the character of Lee Krasner in "Pollock'' was like that of a Rules girl. She always put the needs of her husband first. She nurtured genius, not marriage.

What's clear in 2001 is that there is no map, movie or advice book to tell women how they should act to guarantee a happy marriage. The stresses on marriage, for better and for worse, come from many directions. The sexual revolution has made monogamy more difficult for both men and women, and the two-paycheck family brings in more money but offers less time for nourishing family life.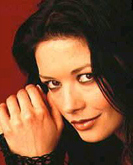 Jones
Even the tax structure is harder on the 25 million married couples who pay higher taxes as a couple than if each were single. President Bush and Congress are talking about ways to eliminate this marriage penalty, but it hasn't happened yet. At the same time, married mothers who don't work are the Rodney Dangerfields of society: They don't get no respect.
Adam Phillips, a psychotherapist who writes provocative books about the arts of the flirt and the kiss, also wrote a book on monogamy in which he suggests that monogamy must be made more glamorous. But how do we do that? Catherine Zeta-Jones got a prenuptial agreement from her new husband Michael Douglas, a notorious adulterer in his first marriage, to pay $5 million each time he's unfaithful to her. That's quite an insurance policy for monogamy, but brides probably have to look like the new Mrs. Douglas to get that kind of payoff. (And what would the adulteress have to look like to be worth $5 million?)
Frank Keating, the governor of Oklahoma, suggests a more mundane prenuptial approach. He's proposed a $10 million "marriage initiative'' program in which a "scholar-in-residence'' would conduct "marriage research'' for prenuptial training classes. Several other states are looking for ways to teach "marriage skills,'' but if these classes are taught anything like academic skills in public schools, it doesn't sound promising.
Still, it's no longer trendy among the "experts,'' feminist and otherwise, to say that women are better off when they're not married. On significant measurements of health, wealth and well being, married women and men score higher than their single counterparts. If that's not glamorous, it's not bad. You could ask Tom Hanks and the missus.

03/27/01: Crime and punishment on the small screen
03/23/01: When speech isn't free
03/19/01: Russell Crowe doesn't wear a Black Beret
03/15/01: 'The little intimidator' of the breakfast table
03/13/01: "We are asking the Creator for clemency"
03/08/01: Saving El Salvador with dollars and sense
02/27/01: The last cowboys of their craft
02/23/01: When Bubba graduates to Bobo
02/16/01: Clarence Thomas addresses an imperfect world
02/12/01: Ariel Sharon, not by Steven Spielberg
02/07/01: Profaning the sacred with the political
02/05/01: What's the Creator got to do with it?
02/01/01: Live like the snopses, leave like the snopses
01/29/01: It's education, stupid
01/25/01: "You don't need a weatherman to know which way the wind blows"
01/22/01: Poetry and religion in the Bush administration
01/18/01: Ashcroft can't dance (don't ask him)
01/15/01: Clothes make the First Lady
01/11/01: Pity Jerusalem in the 'peace' process
01/08/01: Laying the political race card
01/04/01: 'What women want' in the new millennium
01/02/01: This year, looking ahead is sure sweeter than looking back
12/21/00: Black power with a Republican face
12/21/00: First impressions of two First Ladies
12/18/00: Challenge for the 'better angels of our nature'
12/14/00: What we've lost sight of
12/13/00: Hillary in the lion's den
12/08/00: Return of the 'second sex' on campus
12/04/00: Politics as entertainment today
11/30/00: Winner vs. whiner
11/27/00: Measuring against history
11/23/00: Memories of Thanksgiving past
11/17/00: In defense of the Electoral College
11/16/00: More than one way to win an election
11/13/00: Sexual politics squared
11/09/00: A Middle East legacy
11/06/00: Filling in the dots at campaign's end
11/02/00: His own man in full
10/30/00: The Oval Office, through a glass brightly
10/23/00: There'll always be an England. Maybe.
10/19/00: The celebrity candidate
10/16/00: 'Ladies night' at the second debate
10/12/00: Gore vs. Bush: Volvo vs. Maserati
10/10/00: We weep for Rami for he is dead
10/05/00: Looking at Lieberman from inside the 'ghetto'
10/02/00: Campaigns, candidates, and kissy-face
09/28/00: Laughing and crying over Joe Lieberman
09/21/00: Targeting teenagers for money
09/21/00: Sexual politics in New York
09/18/00: Surviving the stereotypes and debates
09/14/00: Gloria Steinem runs cheerfully into captivity
09/12/00: Sex in the eye of the partisan
09/07/00: 'Sex and death' on the college campus
09/05/00: Joe Lieberman as a 'Menorah Man'
08/31/00: Rising suns of the conventions
08/17/00: Changing icons: From Loretta Young to Hillary Clinton
08/14/00: The Creator returns to the public square
08/10/00: Bursting with pride, but caution too
08/07/00: Brains, beauty and beastly politics
08/03/00: A candidate with a superego
07/31/00: The sizzling Lynne Cheney
07/27/00: The party of the aging Playboys
07/24/00 Hillary drives the Jewish wagon into a ditch
07/20/00 Conservatives gone fishin'
07/17/00: Snoop Doggy Dogg was a founding father, wasn't he?
07/13/00: When a teenager doesn't need a prime minister
07/10/00: Abortion as cruel and unusual punishment
07/06/00: Surviving 'survivor' TV
07/03/00: Independence Day with Norman Rockwell
06/29/00: Here comes 'something old'
06/26/00: Waiting too long for the baby
06/22/00: Good teachers, curious students and oxymorons
06/19/00: Wanted: Some ants for Gore's pants
06/15/00: Like father, like daughter
06/12/00: Culture wars and conservative warriors
06/08/00: Return of the housewife
06/05/00: Hillary and Al -- playing against type
05/31/00: The sexual revolution confronts the SUV
05/25/00: Waiting for the movie
05/22/00: Pistol packin' mamas
05/18/00: Journalists and the 'new time' religion
05/15/00: There's nothing like a (military) dame
05/11/00: 'The Human Stain' on campus
05/09/00: We've come a long way, Betty Friedan
05/04/00: From George Washington to Mansa Masu
05/01/00: Gore's ruthless doublespeak
04/28/00: Doing it Castro's way
04/24/00: Women's studies beget narrow minds
04/17/00: The slippery slope of anti-Semitism
04/13/00: A villain larger than life
04/10/00: When mourning becomes an economic tragedy
04/03/00: The last permissible bigotry
03/30/00: Seeking the political Oscar
03/23/00: The gaying of America
03/20/00: Pointy-eared quadrupeds on campus
03/16/00: The shocking art of the establishment
03/13/00: Sawdust on the campaign trail
03/10/00: Campaign rhetoric of manhood
03/06/00: The Amphetamine of the People
03/02/00: Elegy for Amadou
02/29/00: With only a million, what's a poor girl to do?
02/24/00: The changing politics of change
02/16/00: Tip from Hillary: 'Let 'em eat eggs'
02/10/00: No seances with Eleanor
02/07/00: Campaigning like our founding fathers
02/03/00: When neo-Nazis have short memories
01/31/00: George W. -- 'Ladies man' and 'man's man'
01/27/00: Dead white males and live white politicians
01/25/00: Smarting over presidential smarts
01/21/00: A post-modern song for `The Sopranos'
01/19/00: When personality is a long-distance plus
01/13/00: French lessons in amour --- and marriage
01/10/00: Reaching for the Big Golden Apple
01/07/00: Liddy Dole as the face of feminism
01/04/00: Hillary: From victim to victor
12/30/99: 'Dream catchers' for the millennium
12/27/99: In search of a candidate with strength and eloquence
12/21/99: The president as First Lady
12/16/99: Columbine with blurred hindsight
12/09/99: Homeless deserve discriminating attention
12/07/99: Casual censors and deadly know-nothings
12/02/99: Why mom didn't make general: A reality tale
11/30/99: Potholes on the road to the Promised Land
11/25/99: A feast for the spirit and the stomach
11/23/99: Fathers need to say 'I (can) do'
11/18/99: Adventures of a conservative pundit
11/15/99: Traveling with Jefferson on the information highway
11/11/99: Wanted: 'Foliage of forbiddinness' for the oval office
11/09/99: Eggs, art and rotten commerce
11/05/99: Al Gore, 'Alpha Male'. Bow wow.
11/01/99: Gay love
10/28/99: Lose one Dole, lose two
10/26/99: Rebels with a violent cause
10/21/99: Reforming parents, reforming schools
10/19/99: The male mystique -- he shops
10/13/99:The campaign of the Teletubbies
10/08/99: Money is in the eye of the art dealer
10/01/99: Lincoln's 'Almost Chosen People'
09/29/99: Introducing Bill and Hillary Bickerson
09/27/99: Must we wait for the next massacre?
09/24/99: Miss America meets Miss'd America
09/21/99: Princeton's 'professor death'
09/16/99: The Cisneros lesson
09/13/99: No clemency for personal politics
09/08/99: M-M-M is for manhood
08/30/99: Blocking the schoolhouse door
08/27/99: No kick from cocaine
08/23/99: Movies don't kill people
08/19/99: A rude awakening
08/16/99: Dubyah and that 'language' thing
08/09/99: Chauvinist sows -- oink oink

©1999, Suzanne Fields. Distributed by Los Angeles Times Syndicate