Jewish World Review July 22, 2004/ 4 Menachem-Av, 5764

Larry Elder
What media bias?
http://www.NewsAndOpinion.com | What media bias?
When reporters admit bias or when polls — like the recent one by The Pew Research Center — show that reporters are four to five times more likely to self-describe as liberal vs. conservative, media defenders use their fallback argument. Elaine Povich, for example, former Capitol Hill reporter for the Chicago Tribune, said, "One of the things about being a professional is that you attempt to leave your personal feelings aside as you do your work."
Really?
Consider Bruce Morton's recent CNN piece. He compared Vice President Dick Cheney to Sen. John Edwards, D-N.C., just chosen as Sen. John Kerry's, D-Mass., running mate: "Well, they're different. Boy, are they different. Vice President Cheney — Mr. Inside, Mr. War (emphasis added), once an aide to young Congressman Donald Rumsfeld, was President Gerald Ford's chief of staff, was a congressman, was the first President Bush's secretary of defense, was — well, you get the idea. Believes in secrecy, believes in a link between al Qaeda and Saddam Hussein (emphasis added), whether the 9/11 Commission agrees with him or not."
CNN's "American Morning" anchor compared an upcoming Kerry campaign speech to one being given on the same day by President George W. Bush: "President Bush heads to the swing state of Florida today. He'll be in Tampa appealing to conservative voters (emphasis added) with an address on human trafficking and then to a rally in Beckley, West Virginia. . . . And John Kerry will be in Washington speaking to the American Federation of Teachers.
He's promising full funding for the No Child Left Behind Act. Later he'll hold a rally in Arlington, Virginia." And exactly what kind of voters did Kerry aim for in his teachers union speech? "Liberal" voters, perhaps?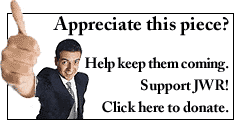 On the same day, "CNN Headline News" compared the two speeches: "Earlier today, in Tampa, the president addressed the Justice Department conference on human trafficking. He says it's a global problem that the U.S. must tackle head-on.
It's also an issue many conservative (emphasis added) voters say is important in November's election. . . . Bush's Democratic opponent is talking to teachers in the nation's capital today. Right now, John Kerry is addressing the American Federation of Teachers. The Democratic candidate says he would fully fund the No Child Left Behind education reforms authorized by Congress."
Wait a sec. Again, Kerry's speech before the teachers union, apparently, does not count as a pitch to his "liberal" base? And when did the issue of human trafficking concern primarily "conservatives"?
CNN's Judy Woodruff, host of "Inside Politics," moments later echoed the same theme: "This hour, John Kerry is here in Washington to accept an endorsement by the American Federation of Teachers and to criticize the president's education policy in the process. . . . Over on the Republican side, President Bush has a rally in West Virginia the next hour, after stopping in another showdown state, Florida, this morning. In Tampa, Mr. Bush urged aggressive law enforcement to combat the crime of human trafficking, an important issue for evangelical Christians (emphasis added), a big part of his political base." Move over, "conservative." Now the "evangelicals" care about human trafficking. Once again, no word on whether Kerry aimed his teachers union speech at his "liberal" constituency.
Compare the way ABC, CBS and NBC covered the first day in office of President Bill Clinton and President George W. Bush. In Clinton's case, he reversed an anti-abortion policy of his predecessors, Presidents Reagan and Bush-41. In Bush's case, he reversed a pro-abortion policy of Clinton's.
Peter Jennings, ABC News, 1993: "President Clinton kept a promise (emphasis added) today on the 20th anniversary of the Supreme Court decision legalizing abortion. Mr. Clinton signed presidential memoranda rolling back many of the restrictions imposed by his predecessors."
Peter Jennings, ABC News, 2001: "One of the president's first actions was designed to appeal to anti-abortion conservatives (emphasis added). The president signed an order reinstating a Reagan-era policy . . . "
Tom Brokaw, NBC News, 1993: "Today, President Clinton kept a campaign promise (emphasis added), and it came on the 20th anniversary of Roe v. Wade legalizing abortion."
Tom Brokaw, NBC News, 2001: "We'll begin with the new president's very active day, which started on a controversial note (emphasis added)."
Dan Rather, CBS News, 1993: "Today, with the stroke of a pen, President Clinton delivered on his campaign promise (emphasis added) to cancel several anti-abortion regulations of the Reagan-Bush years."
Dan Rather, CBS News, 2001: "This was President Bush's first day at the office, and he did something to quickly please the right flank (emphasis added) in his party: He reinstituted an anti-abortion policy . . . "
Clinton simply followed through on his promises. Bush, on the other hand, threw a bone to his "conservative" base. So, what to do? Long-term, more non-liberals need to go into journalism. Short-term, consult alternative news sources. And, as always, read and watch the news defensively.
Enjoy this writer's work? Why not sign-up for the daily JWR update. It's free. Just click here.

JWR contributor Larry Elder is the author of, most recently, "Showdown: Confronting Bias, Lies and the Special Interests That Divide America." (Proceeds from sales help fund JWR) Let him know what you think of his column by clicking here.

© 2002, Creators Syndicate