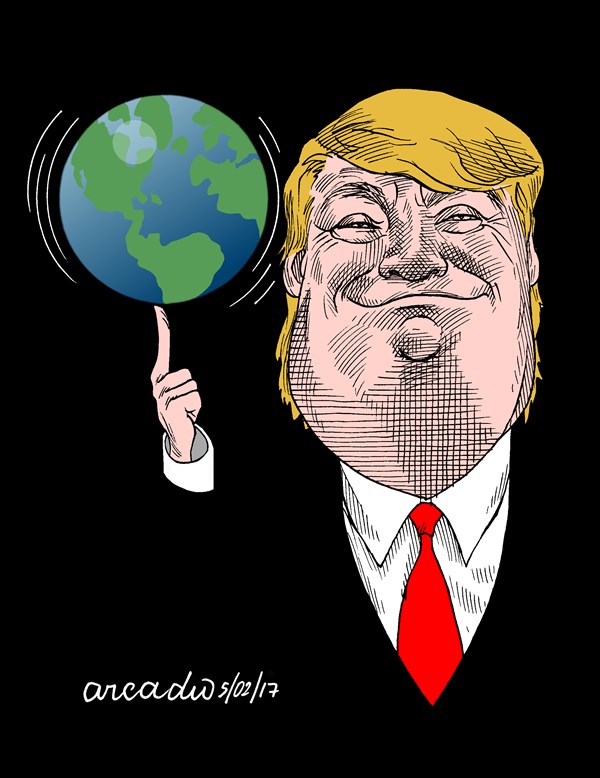 President Trump took a few steps into North Korea and walked into the history books for all time.
President Trump became the first sitting American commander in chief to set foot in North Korea this past Sunday as he greeted Kim Jong-un, the country's leader, at the heavily fortified Demilitarized Zone and the two agreed to send their negotiators back to the table to seek a long-elusive nuclear agreement.
Even Pope Francis praised the meeting of the two leaders.
"I salute the protagonists, with a prayer that such a significant gesture will be a further step on the road to peace, not only on that peninsula, but for the good of the entire world," he told thousands of people in St. Peter's Square during his weekly address and blessing.
Of course our press has played this down, as they do with any accomplishment of President Trump's.

But there's no getting around the fact that, say what you will about the man, Donald Trump knows stagecraft, drama, people, and diplomacy like no one else around today. He knows how to work a crowd, he knows how to work with all kinds of people, and he knows who to shrug off and ignore when he wants to, like the mainstream media and his political opponents. He considers his strength is in making deals, but his real strength is in his diplomatic abilities.
If life were fair President Trump should be given the Nobel Peace Prize, but don't hold your breath. He's got as much chance getting that as New York mayor Bill de Blasio has in getting the Democrat nomination for president. Barak Obama received the Peace Prize because É.why? Oh, because he became president.
Al Gore got the Nobel Prize because he didn't become president. Terrorist Yasser Arafat was given the Nobel Peace Prize too. Don't be surprised if the next person to get the prize is Alexandria Ocasio-Cortez.
If you're looking for the Nobel Peace Prize executive offices, you'll find them on the far, far left side of the street.
President Donald Trump is perhaps the least politically correct man ever to serve in the White House. He is less of a politician than anyone who has ever held public office. And yet, when it comes to foreign policy, President Trump has proven to be the most diplomatic president America has ever had. It's an amazing thing to watch.
He has his own way, a style that's part New York brash, rich-guy-I-don't-give-a-damn, coupled with straight-talking no BS rhetoric. He can charm (if he wants to) and he can insult in a way that cuts deeply. Many times his bloviating doesn't match his actions and deeds, and in evaluating the man it's important to separate the two. He's willing to meet with the most horrendous of dictators but until he gets what he wants for America, he doesn't give an inch. Trump smiles and speaks nicely to North Korea's Kim, but the tough sanctions remain. He has made no concessions, he has given him nothing.
President Trump has done one other thing that few, if any, past presidents have ever done. He fulfills his campaign promises. He told us before the election what he intended to do and ever since then he has either done what he said he would do, or made the attempt. His enemies in Washington have also made a promise to the American people. They have promised to keep President Trump from achieving his goals. They are the "resisters" and they are proud to say so.
Even with all the democrats working against him, Trump has mostly been successful in his endeavors. He's gotten America out of the Paris climate change agreement, the Iran nuclear deal, and the Trans-Pacific Partnership. He has renegotiated NAFTA, replacing it with a brand new agreement between the US, Canada, and Mexico. He moved the U.S. Embassy to Jerusalem and our country now officially refers to the Golan Heights as "Israeli-controlled" rather than "occupied," and it also removed the "occupied" wording from separate references to the West Bank and Gaza Strip. The list goes on.
Most importantly he has opened talks with North Korea for their complete nuclear disarmament, a diplomatic task that can only be described as herculean. He continues to engage with China in serious trade issues that will ultimately help U.S. businesses and consumers.
Far from being a warmonger, President Trump would much rather argue across a boardroom table than drop bombs on foreign countries. He does not believe in nation building abroad and he has stated many times he doesn't want America embroiled into another years long conflict in the Middle East.
Donald Trump is quite an interesting individual to say the least. In the political world he defies description and labeling. He's no traditional Republican or Democrat and he's no predictable ideologue. Because of that people from both sides hate him.
But there's really no enigma to President Trump when you stop and think about it. He is a determined man who loves America and loves making deals and getting things done for America. He truly likes working with people, even those (or maybe especially those) who disagree with him.
And that makes President Trump the ultimate diplomat.
Every weekday JewishWorldReview.com publishes what many in the media and Washington consider "must-reading". Sign up for the daily JWR update. It's free. Just click here.
(COMMENT, BELOW)
Comment by clicking here.
JWR contributor Greg Crosby, former creative head for Walt Disney publications, has written thousands of comics, hundreds of children's books, dozens of essays, and a letter to his congressman. He's been a JWR contributor since 1999.