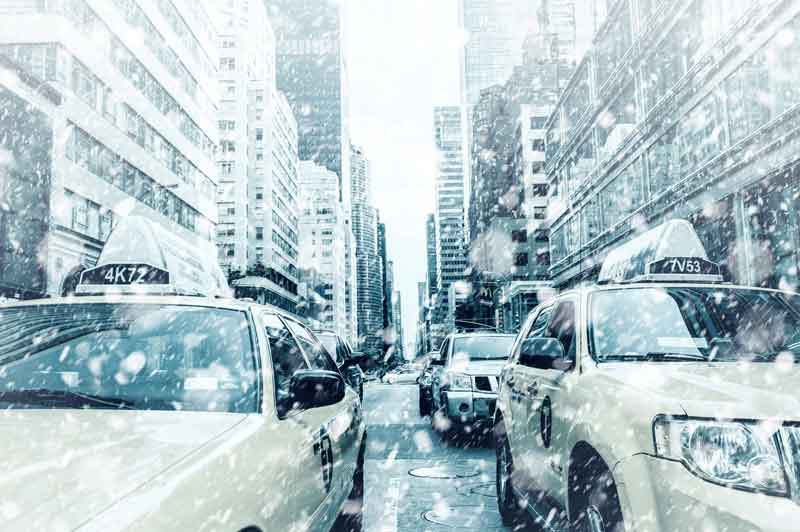 It snowed big-time in New York last week and overnight the city was transformed from gritty realism to a TV special, the city hushed and magical, skaters skating in Central Park and every sled or saucer, garbage can lid, flattened cardboard, employed in sliding.
For the old man, walking flat-footed in tiny steps on an icy sidewalk, sliding feels treacherous but still the snow brings back memories of Minnesota and homemade hockey rinks, using magazines for shin pads and lawn chairs for goals. We had no laptops or video games then. Indoors belonged to grown-ups so we went outside for independence. It was joyful. I still look at snow and feel joyful.
As a Minnesotan, I've known people who felt oppressed by snow and cold and escaped, as people once escaped from behind the Iron Curtain, so they could sit outdoors in January and barbecue steaks and drink mai tais. I never longed for the patio lifestyle.
People sit on patios in the sunshine and they yell at their kids and complain about schools and taxes and their neighbor's lawn ornaments. People who sit in a cozy living room on a cold day experience gratitude.
They pull a quilt over their lap and feel comforted. They look out the window at snow falling and feel joyful.
I went to the post office the other day and stood in a long slow line and felt endangered by the virus. In my living room, I don't. The newspaper is packed with grim stories about death tolls and death threats against local authorities who impose masking requirements and long-term effects of COVID and I set the paper down and pick up Dickens and feel better.
Nobody reads books on a patio; the light is too bright. Dim light is conducive to ratiocination.
The newspaper says that the pandemic has made Mr. Bezos richer than rich and is leading to the obsolescence of shopping malls, hundreds of which are closing, and what shall be done with them?
Some say they can become nursing homes. I say they could become arts centers where unemployables like me can go to write, paint, compose, play in a band, and get a sense of self-esteem even if nobody likes our work except friends and family.
Sign up for the daily JWR update. It's free. Just click here.
The indoor shopping mall originated in Minnesota, due to winter and suburbanites' dread of downtown traffic, so along came this miniature Main Street of shops under a roof with acres of asphalt around it, but now Mr. Bezos will sell you anything with a click of your mouse, books or buckets, blankets, bicycles, buckles, bric-a-brac, boxes of buckshot, and one of these days, when he figures out how to do optometry and dentistry and psychiatry online, he will own the world.
He will purchase the U.N. building in New York and, for a reasonable fee, bring about world peace and climate stability. He will own Facebook, Instagram, and the Sirius earbuds that will be implanted in every child at birth. I'm joking, I'm not sirius.
Life will get back to normal in 2021 but it'll be a beautiful new normal. In a society in lockdown, social media has a lot of traction, but when the vaccines get around and life loosens up, we'll get back in the real world of work, friendship, conversation, the arts, travel, church, and the mystical science of baseball.
I expect to get injected in Phase 2, along with incarcerated felons, homeless, K-12 teachers, and critical workers. I am not critical, I'm only skeptical, but I'm an older adult with underlying conditions (depending on which side I lie on), and so by the time June rolls around, I expect to be running loose, shaking hands, eating at Murray's steakhouse, sitting out in right field watching Max Kepler of the Minnesota Twins, one of my favorite players. It isn't only that he is one of the few European guys in the majors, it's also his quickness and readiness, but his Germanness is certainly germane.
A kid growing up in Berlin who chooses baseball over soccer is sort of inspirational. I've been to Berlin and never saw a ballpark. If a Berliner could choose baseball and get good at it, maybe instead of being a paragrapher, I could be an oceanographer or choreographer.
Or ornithologist — as Emily said, "Hope is the thing with feathers." The papers talk about a dark depressing winter but I think about the right-field bleachers and feel hopeful.
Thanks for reading. Be good to yourself.
(COMMENT, BELOW)
Garrison Keillor is an author and radio personality. His latest book is "The Lake Wobegon Virus: A Novel". Buy it at a 33% discount! by clicking here. Sales help fund JWR.