Jewish World Review Dec. 19, 2011 / 23 Kislev, 5772
Merry Christmas, From Satan Claus
By Mark Steyn
http://www.JewishWorldReview.com | Christmas in America is a season of time-honored traditions:
The sacred performance of the annual ACLU lawsuit over the presence of an insufficiently secular "holiday" tree.
The ritual provocations of the atheist displays licensed by pitifully appeasing municipalities to sit between the menorah and the giant Frosty the Snowman.
The familiar strains of every hack columnist's "war on Christmas" column rolling off the keyboard as easily as Richard Clayderman playing "Winter Wonderland" ...
This year has been a choice year. A crucified skeleton Santa Claus was erected as part of the "holiday" display outside the Loudoun County courthouse in Virginia — because, let's face it, nothing cheers the hearts of moppets in the Old Dominion like telling them, "Yes, Virginia, there is a Santa Claus — and he's hanging lifeless in the town square."
Alas, a week ago, some local burghers failed to get into the ecumenical spirit and decapitated him. Who are these killjoys? Christians intolerant of the First Amendment (as some have suggested)? Or perhaps a passing Saudi?
Our friends in Riyadh only the other day beheaded for Amina bin Salem (so to speak) Nasser for "sorcery," and it would surely be grossly discriminatory not to have some Wahhabist holiday traditions on display in Loudoun County. (The Islamic Saudi Academy, after all, is one of the most prestigious educational institutions of neighboring Fairfax County.)
Across the fruitcaked plain in California, the city of Santa Monica allocated permits for "holiday" displays at Palisades Park by means of lottery. Eighteen of the 21 slots went to atheists — for example, the slogan "37 million Americans know a myth when they see one" over portraits of Jesus, Santa, and Satan.
I don't believe I've mentioned the city of Santa Monica in this space since my Christmas offering of 1998, when President Clinton was in the midst of difficulties arising from his mentoring of a certain intern. My column that year began:
"Operator, I'd like to call Santa Monica."
"Why? Just 'cause he's a little overweight?"
Crickets chirping? Ah, how soon they forget. Perhaps Santa Monica should adopt a less theocratic moniker and change its name to Satan Monica, as its interpretation of the separation of church and state seems to have evolved into expressions of public contempt for large numbers of the citizenry augmented by the traumatizing of their children.
Boy, I can't wait to see what those courageous atheists come up with for Ramadan. Or does that set their hearts a-flutter quite as much?
RECEIVE LIBERTY LOVING COLUMNISTS IN YOUR INBOX … FOR FREE!



Every weekday NewsAndOpinion.com publishes what many in the media and Washington consider "must-reading". HUNDREDS of columnists and cartoonists regularly appear. Sign up for the daily update. It's free. Just click here.
One sympathizes, up to a point. As America degenerates from a land of laws to a land of legalisms, much of life is devoted to forestalling litigation. What's less understandable is the faintheartedness of explicitly Christian institutions.
Last year I chanced to see the email exchanges between college administrators over the choice of that season's Christmas card. I will spare their blushes, and identify the academy only as a Catholic college in New England. The thread began by asking the distribution list for "thoughts" on the proposed design. No baby, no manger, no star over Bethlehem, but a line drawing of a dove with a sprig of in its beak. Underneath the image was the following:
"What is Christmas?
It is tenderness for the past, courage for the present, hope for the future.
It is a fervent wish that every cup may overflow with blessings rich and eternal,
and that every path may lead to peace.
Agnes M Pharo."
The Agnes M Pharo? A writer of such eminence that even the otherwise open-to-all-comers Wikipedia has no entry for her. Still, as a purveyor of vacuous pap to America's credentialed class for all-purpose cultural cringe, she's hard to beat.
One unfortunate soul on the distribution list wandered deplorably off message and enquired whether the text "is problematic because the answer to the question 'What is Christmas?' from a Catholic perspective is that it is the celebration of the birth of Christ."
Her colleague patiently responded that, not to worry, all this religious-type meaning was covered by the word "blessings." No need to use any insufficiently inclusive language about births of Saviors and whatnot; we all get the cut of Agnes' jib from the artfully amorphous "blessings".
When an explicitly Catholic institution thinks the meaning of Christmas is "tenderness for the past, vapid generalities for the present, evasive abstractions for the future," it's pretty much over. Suffering no such urge to self-abasement, Muslim students at the Catholic University of America in Washington recently filed a complaint over the lack of Islamic prayer rooms on the campus. They find it offensive to have to pray surrounded by Christian symbols such as crucifixes and paintings of distinguished theologians.
True, this thought might have occurred to them before they applied to an institution called "Catholic University." On the other hand, it's surely not unreasonable for them to have expected Catholic University to muster no more than the nominal rump Christianity of that Catholic college in New England. Why wouldn't you demand Muslim prayer rooms?
As much as belligerent atheists, belligerent Muslims reckon that a decade or so hence "Catholic colleges" will be Catholic mainly in the sense that Istanbul's Hagia Sophia is still a cathedral: that's to say, it's a museum, a heritage site for where once was a believing church. And who could object to the embalming of our inheritance?
Christmas is all about "tenderness for the past," right? When Christian college administrators are sending out cards saying "We believe in nothing", why wouldn't you take them at their word?
Which brings us back in this season of joy to the Republican presidential debates, the European debt crisis and all the other fun stuff. The crisis afflicting the West is not primarily one of unsustainable debt and spending. These are mere symptoms of a deeper identity crisis.
It is not necessary to be a believing Christian to be unnerved by the ease and speed with which we have cast off our inheritance and trampled it into the dust. When American municipalities are proudly displaying the execution of skeleton Santas and giant Satans on public property, it may just be a heartening exercise of the First Amendment, it may be a trivial example of the narcissism of moral frivolity.
Or it could be a sign that eventually societies become too stupid to survive. The fellows building the post-western world figure they know which it is.
Every weekday JewishWorldReview.com publishes what many in the media and Washington consider "must-reading". Sign up for the daily JWR update. It's free. Just click here.
JWR contributor Mark Steyn is a syndicated columnist. Comment by clicking here.
•
ARCHIVES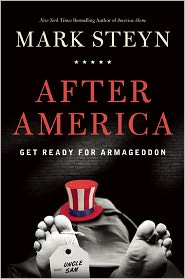 STEYN'S LATEST AT A 44% DISCOUNT
"After America: Get Ready for Armageddon"
In his giant New York Times bestseller, America Alone: The End of the World as We Know It, Mark Steyn predicted collapse for the rest of the Western World. Now, he adds, America has caught up with Europe on the great rush to self-destruction.
It's not just our looming financial collapse; it's not just a culture that seems on a fast track to perdition, full of hapless, indulgent, childish people who think government has the answer for every problem; it's not just America's potential eclipse as a world power because of the drunken sailor policymaking in Washington—no, it's all this and more that spells one word for America: Armageddon.
What will a world without American leadership look like? It won't be pretty—not for you and not for your children. America's decline won't be gradual, like an aging Europe sipping espresso at a café until extinction (and the odd Greek or Islamist riot). No, America's decline will be a wrenching affair marked by violence and possibly secession.
With his trademark wit, Steyn delivers the depressing news with raw and unblinking honesty—but also with the touch of vaudeville stand-up and soft shoe that makes him the most entertaining, yet profound, columnist on the planet. And as an immigrant with nowhere else to go, he offers his own prescription for winning America back from the feckless and arrogant liberal establishment that has done its level best to suffocate the world's last best hope in a miasma of debt, decay, and debility. You will not read a more important—or more alarming, or even funnier—book all year than After America. Sales help fund JWR.
© 2011, Mark Steyn