Jewish World Review Oct. 13, 2004 / 28 Tishrei, 5765

Lenore Skenazy
Where ad they been?
http://www.NewsAndOpinion.com | New Yorkers were recently immersed in what promoters are calling a "week-long celebration of advertising."
As opposed to a celebration of the mute button.
The festival kicked off - this is true - with a parade of famous ad icons in Times Square. But before you cheer these costumed characters, you might want to know what they've been up to since their heyday:
JOLLY GREEN GIANT: Less giant since corporate downsizing. Less jolly since being weaned off MSG. TRAUMA? Once sealed inside a can of yams for three months.
MR. CLEAN: Came out about six years ago. Married longtime companion, the Ty-D-Bol Man. WHAT'S NEXT? Guest appearance on "Queer Eye: Miami."
CHIQUITA BANANA: One-woman crusader against what she calls "the barbaric practice of banana splits." PROUDEST MOMENT: designed revolutionary flag: "Don't Slip on Me."
MR. PEANUT: Ever more brittle since ill-fated affair with a honey-roasted nut he met on a plane.
TRIX RABBIT: Working small clubs and birthday parties. WORST MOMENT: Being called "silly rabbit" in front of (now ex-) fiancée. BIGGEST REGRET: David Copperfield wanted to team up when he was starting out, but Trix told him to disappear.
CALIFORNIA RAISINS: Two missing, presumed eaten. Third raisin, Earl, living in a San Diego assisted shriveling facility. BIGGEST THRILL: Once mistaken for Sherman Hemsley. BIGGEST DISAPPOINTMENT: Autobiography, "Sour Grapes," received devastating reviews ("I'd rather read about bran" - Los Angeles Times).
THE PILLSBURY DOUGHBOY: Still giggling uncontrollably, but now in an all-dough theme park. "Pill Diddy" poses with kids and kisses their moms (harassment charges pending). Heftier than ever, he can no longer pop out of the crescent-roll tube but must slowly pry his way out. HAPPIEST MEMORY: being tickled the first time. WORST MEMORY: being tickled by a trucker at closing time. Joined Michelin Man at local bar to grouse.
RONALD McDONALD: Coming out of retirement to start Kwiki Kardi Kare, a chain of drive-through heart surgery centers. HAPPIEST DAY: Eloped with barely legal sweetheart, Wendy, over corporate objections.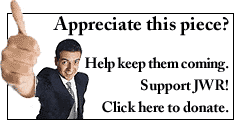 COPPERTONE GIRL: Also known as Candi, Crystal, Tawny, Foxxy, Boom-Boom. Starred in several straight-to-video movies, including "Burning Love," "A Man, a Tan, a Plan" and "Dude, Where's My Bikini?" BIGGEST THRILL: dated Ben Affleck (one night).
CHARLIE THE TUNA: Retired, Miami Beach, under the waves. Being treated for mercury poisoning. Enjoys art, can openings.
McGRUFF THE CRIME DOG: Doing five to 10 at Attica on corruption charges. For every bite taken out of crime, a nibble found its way into his Swiss bark account. WORST BLOW: Learning archrival Taco Bell Chihuahua is in talks to replace him at crime bureau.
Enjoy this writer's work? Why not sign-up for the daily JWR update. It's free. Just click here.


JWR contributor Lenore Skenazy is a columnist for The New York Daily News. Comment by clicking here.

© 2004, New York Daily News