https://www.jewishworldreview.com | Don't blame Dennis Ross for the Oslo peace accords. And don't blame him for the catastrophe that passed for American Middle East policy even though he helped direct it as the U.S. envoy to the Middle East from 1988-2000, a period stretching from the beginning of the first Bush administration to the dying days of the Bill Clinton era.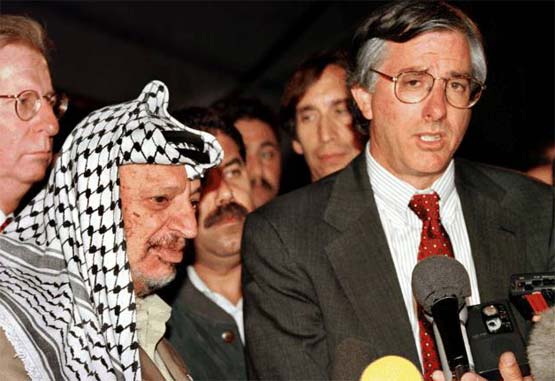 Ross and Arafat

Forces far more powerful and more rooted in the region bear the prime responsibility for these things than the mild-mannered American diplomat. No, don't blame Dennis Ross personally for the thousands of lives sacrificed in the name of the peace process that he championed. He didn't plant any of the bombs, and his good intentions are not really in question.

But the questions for those who delve into Ross' recently published memoir "The Missing Peace" — and even those who don't bother wading through its turgid 800 pages of prose — are the same: Did Ross learn anything from these failures? And what, if anything, would he do differently if he got another chance to play the game?

Given that he is an informal foreign-policy adviser to Democratic presidential candidate John Kerry, this is not an idle question. Many in the know assume Ross will be brought back to the State Department if Kerry wins the election. Unfortunately, the answer to the above is not a lot.

Sure, amidst the hundreds of pages of excruciating play-by-play of every up and down of the process during these years, there are a few nuggets of self-awareness.
ARAFAT IS STILL THE OBSTACLE
In retrospect, Ross admits the cardinal sin of the Clinton administration's attitude toward the accords. He acknowledges that the White House and the State Department did nothing to hold Yasser Arafat and the rest of his merry band of Palestinian Authority henchmen accountable as they used their newfound power. Ross, the supposed arbiter of peace, sanctioned official whitewashes of the P.A. as it built a corrupt dictatorship intent on fomenting hatred of Israel and carrying on a terror war against its existence, rather than fostering peace.

And with the passage of time and the complete collapse of his carefully orchestrated negotiations into the horror of Arafat's blood-spattered intifada, Ross now sees Arafat as the prime obstacle to peace. In interviews and speeches conducted to promote the book, Ross is prepared to concede that Arafat will have to go before peace can arrive.

On this point, Ross' book advances the debate on the demise of Oslo. He refutes the claims put forward by Arafat and his apologists that the offer laid on the table by Israel during the July 2000 Camp David summit was of no value. Ross sets forward the extraordinary concessions made by former Israeli Prime Minister Ehud Barak that would have given the Palestinians a viable state with a capital in Jerusalem.

At least on this point, Ross is clear: Arafat rejected peace and statehood, and instead chose war. The peace was there to be had. The problem was, Arafat didn't want it.

And it is in this nugget of revelation that many of Ross' other conclusions about his 12 years of diplomacy fall apart.


Like many others who have urged more and more concessions from Israel, Ross claims that the conditions outlined by President Clinton, which embraced Barak's plan and added to it, remain the only possible terms of peace.

What he never explains is why Israel's acceptance of these ideas would end the war with the Palestinians. In fact, if there is any reasonable conclusion to be drawn from Ross' career, it is that the Palestinians are at least a generation away from accepting Israel's existence — and any hope of peace. That is why Ariel Sharon's government, with support from the current Bush administration, is unwilling to talk further with Arafat, and prefer instead to unilaterally draw their own borderline without the illusions of past peace deals to prevent them from defending themselves.
WHY DID THEY DO IT?
Although Ross cannot be blamed for Oslo (it was cooked up by Israeli leftist Yossi Beilin and his confederates, not by the Clinton State Department), he, along with Presidents Bush the elder and Clinton, does bear some responsibility for the Palestinian decision to choose terror over statehood.

Why? Because everything that Ross and his masters did during their years in power had convinced Arafat that they would never turn their backs on him, no matter what outrages the Palestinians committed.

No amount of violence or bad will exhibited by the Arabs would deter either Bush I or Clinton via their envoy Ross from pressuring Israel to give more and more. Sold a program of "land for peace," the Israelis got "land for terror" instead.

As it happens, Ross is using his book tour as a platform to make the point that the current Bush administration's decision to cut off Arafat — and its refusal to push negotiations until the Palestinians get their act together — is a mistake that has cost Israeli lives.

This blatant partisan dig isn't merely misleading and unfair. It also shows that four years on the sidelines appears to have sharpened Ross' appetite for power more than his powers of introspection. Ross resents Bush the younger's decision to reverse decades of State Department folly in the Middle East. For all of his hard work and unquestioned desire for peace, it was Ross who convinced the killers that they would face no penalties for their crimes.

George W. Bush and his team have made mistakes, but at least they understand that the policies pushed by the president's father and Clinton were dead-ends that help create the current impasse.

In the event that John Kerry is elected this November, he should think long and hard before he launches Ross back into yet another series of negotiations that can only end in false expectations for the Palestinians and more horror for Israel.

Ross may see his book as an apologia for a career and an argument for continuing it, but Democrats and Republicans alike should view it as a monument to failure.