http://www.NewsAndOpinion.com | Worst political rhetoric ever. Appalling! Un-American! Can you believe it: A candidate's supporter suggests that voting for the other guy might get America nuked.

We're talking about Ted Kennedy, of course. He was pitchforking the red meat to the faithful the other day, insisting that the war against Iraq was a diversion that gave al-Qaida free reign, and now they're going to nuke us. It's a Democratic talking point: The moment the troops started massing in Kuwait, the order went out to our Afghanistan troops, "Drop your guns and look at your shoes until further notice. Do not -- repeat do NOT -- pursue al-Qaida."

This notion suggests that dropping armored divisions into the vast raw maw of the Pakistani outlands would make bin Laden pop up like a gopher whose hole had been flooded. But sending tanks to that theater would be as silly as sending Swift boats. Different fronts have different needs.

In any case, the same week Kennedy made his accusation, coalition forces killed al-Qaida notable Amjad Hussain Farooqi, wanted for his role in the beheading of Daniel Pearl. Pakistani forces were instrumental in the action. (Say what you will, but these coerced and bribed eBay nations come in handy from time to time.) Distracted? If Ted says so.

Perhaps Kennedy was sent out to fire up the base with intemperate alarmism. Perhaps the base is all they have left, and from now on all the Kerry campaign rhetoric will write off the moderate middle. Speaking of the president's disregard for the plight of Americans, Kerry recently used some magic words: "Income's goin' down, and (Bush) just doesn't care. He's still fightin' for Halliburton and Enron."

Enron? What other vital, crucial issue might we be hearing about soon? Teapot Dome? The Copper Trust? Vietnam?

This remark gives you a few ideas why Kerry's poll numbers have fallen down the well. Halliburton occupies a strange place in the minds of Bush-haters, as though they cater all the NeoCon parties where Skull and Bonesmen plot the campaign to annex Mexican oilfields for Zionist Freemasons. For those who think American troops are shaking down Iraqi villagers at gunpoint, demanding that they cough up the Cheney Tax, knocking Halliburton has some traction, but these people are already committed voters. For Nader.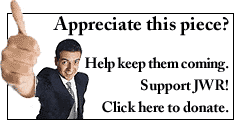 As for Enron, no one cares about that anymore, if they ever did. There are seven people in America who think Bush took the nation to war to divert us from the plight of Ken Lay; while it is rather sweet for Kerry to court their votes, they do not swing elections.

But more to the point: Americans -- specifically American mothers -- are not worried that Enron executives will storm a grade school and shoot the children. These "Security Moms" might well have gone Democratic, if the party had nominated someone who didn't appear to be auditioning for the job of World's Tallest Metrosexual, and who had more excuses for inaction on Iraq than a lazy hungover husband has for not fixing a squeaky door.

Let's recap: Kerry wouldn't have invaded Iraq. He would have done things "differently" and he would have exercised "patience."

Well, patience with Afghanistan and Al-Qaida's Taliban protectors bought us Sept. 11. And "our allies" might just strike the Security Mom demographic as the equivalent of the layabout hubby's two useless friends Pierre and Hans, who might show up to help move the armoire, if they can pry their cans off the stools at the Sports Bar.

Sure, the Security Moms fear a nuke strike. They might also have seen a recent story on Dr. Mahdi Obeidi, a former Iraqi nuclear scientist who said Saddam could have restarted his nuclear weapons program at the snap of a finger. Obeidi also noted that Saddam was quite close to getting a nuke before the 1991 Gulf War.

Security Moms might recall that Kerry was against that war before he was for it, too. Let someone attack American children between now and the election, and they won't want Ted Kennedy or John Kerry. They might want a Putin. But Bush would do.

Every weekday JewishWorldReview.com publishes what many in Washington and in the media consider "must reading." Sign up for the daily JWR update. It's free. Just click here.

JWR contributor James Lileks is a columnist for the Minneapolis Star Tribune. Comment by clicking here.