Jewish World Review Sept. 26, 2003 / 29 Elul, 5763

Bill Steigerwald
Reagan's life in letters
http://www.NewsAndOpinion.com | This will be a crazy week for Kiron Skinner.
For the second time in less than two years, the assistant professor of political science at Carnegie Mellon University will ride the New York-D.C. media merry-go-round and set the historical record straight about Ronald Wilson Reagan, arguably our most under-appreciated president since Coolidge.
Along with co-authors and fellow Hoover Institution research fellows Martin and Annelise Anderson, Skinner will appear on national TV and radio shows to trumpet "Reagan: A Life in Letters," which hits bookstores this week. (To purchase, please click HERE. Sales help dund JWR)
Carefully researched and annotated, the book contains more than 1,000 of the estimated 10,000 personal letters Reagan wrote - in longhand - to everyone from Maggie Thatcher and Frank Sinatra to young pen pals he acquired late in his presidency.
Excerpted in the current Time magazine, it is a sequel of sorts to "Reagan, In His Own Hand," the 2001 best-seller by Skinner and the Andersons that reprinted hundreds of radio commentaries Reagan wrote in the late 1970s.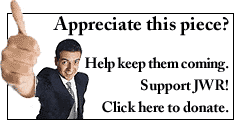 That book, surprise, surprise, amazed Reagan's allies and enemies alike because it proved he was a smart, savvy writer and sophisticated political thinker, not an "empty suit."
Because of an exclusive deal her publisher Free Press made with Time, Skinner can't be interviewed formally about her book by the print media until later this week. But if you have a TV, it'll be hard to miss her (and the Andersons) over the next few days.
She will appear this morning on "This Week With George Stephanopoulos." Tomorrow she's booked on "Good Morning America" and "Hannity and Colmes." Later stops include Wednesday visits with radio's G. Gordon Liddy and Jim Bohannon.
I know how nuts the next few days will be for Skinner, a registered Democrat. In 2001, as part of a feature story on their promotional tour for "In His Own Hand," I tagged along with her and the Andersons as they raced from studio to studio in Washington.
I also witnessed their appearance at a gala Ronald Reagan birthday tribute at the Ronald Reagan Building, a god-awful stone-and-marble temple to Egregious Government that I'd like to think "The Great Communicator" would want to tear down if he ever saw it.
Martin Anderson, a former Reagan adviser, immediately appreciated the irony of the Ronald Reagan Building, but I don't know if many of the Bush people in attendance did. They were too busy celebrating their rise to power to remember why they claimed to have sought it in the first place.
I never voted for Reagan, but I always liked his rhetoric. It had a nice, revolutionary, libertarian ring to it, though in the real world Reagan's administration could only disappoint me and all libertarians. The more I find out about Reagan's character and values, however, the more I appreciate him as a human being.
Skinner and the Andersons' earlier book showed Reagan, contrary to the caricatures of a lazy/biased mass media, had a brain and was no accidental president. "Reagan: A Life in Letters" shows he also had a good heart.
Reading through a lifetime of his private letters - whether he's explaining the roots of his anticommunism to Hugh Hefner in 1960 or announcing he has Alzheimer's in 1994 - tells you a lot.
It shouldn't matter whether you love or hate his politics or his record as president. Reagan's writings show he was an honest, decent, gracious, principled, intelligent and likable man -- a great American and an excellent role model for any politician.
Enjoy this writer's work? Why not sign-up for the daily JWR update. It's free. Just click here.


JWR contributor Bill Steigerwald is an associate editor and columnist at the Pittsburgh Tribune-Review. Comment by clicking here.
09/24/03: Bin Laden and Boy Bill
09/22/03: Dennis Miller makes funny business of politics
09/16/03: Famous 'bad girls' clear the air
09/12/03: Ben Stein gets serious: Davis is a 'thug in a gray flannel suit'
09/09/03: Smart(-Alecky) mag's very different 'swimsuit issue'; Murdoch might not be as bad as we thought
09/02/03: Ex-teacher lambastes our schools
08/25/03: Vanity Fair strives to be more than glamorous
07/22/03: Title IX's original intent … Ten minutes with Eric Pearson
07/11/03: Vanity Fair dishes it out on JFK Jr., N.Y. Times
07/09/03: Why Ben Franklin should be the "Father of Our Country" ... 10 minutes with Walter Isaacson
07/07/03: Honoring nation's first celebrity superstar
06/27/03: Reader's Digest can't help but act its age
06/24/03: Dick Morris, consultant for hire, reveals the inside story
06/20/03: Move over, Hillary. Here comes a better work of fiction
06/10/03: Publications take us away from Middle East
06/03/03: Dear graduates: Work for freedom … 10 minutes with Penn Jillette
05/30/03: National Geographic goes to the top of the world
05/23/03: Editors dabble in history, fiction
05/16/03: The Old Grim Lady gets covered
05/09/03: Political parties fighting over Iraq's wreckage
05/07/03: 10 minutes with a big-city Dem mayor who loathes budget deficits, the federal highway program, taxpayer-funded sports stadiums and the meddling (and aid money) of Washington
05/02/03: Are you sufficiently terrified?
04/29/03: Finally, a president defending American principles in the Middle East ... 10 minutes with Alexander Haig
04/25/03: Newsweeklies starting to lose interest in Iraq war
04/21/03: There's bias, and then there's bias
04/11/03: Planning future of Iraq, world
04/04/03: Newsweeklies come back with graphic look at war
03/28/03: Newsweeklies try to keep up with TV war coverage
03/26/03: Wen Ho Lee whistle-blower says beware of China
03/21/03: America's ready for war ... and peace
03/18/03: Baseball limping, not dead … 10 minutes with author Andrew Zimbalist
03/14/03: Vanity Fair gets us ready for month's big event
03/11/03: A road map for Iraq's liberation devised by James Madison? … 10 minutes with James S. Robbins
03/06/03: Iraq war will come and go before we know it
02/28/03: America takes time out for swimsuits
02/26/03: 'We shall be seen as liberators' .... 10 minutes with noted Brit commentator David Pryce-Jones
02/21/03: Terrorism one of many losing battles
02/14/03: Editors planning for the day after Gulf War II
02/12/03: The 'religiosity' of Ronald Reagan … 10 minutes with author Paul Kengor
02/10/03: Should the shuttle crash be the end of NASA?
02/06/03: Dear Joan ...
01/31/03: Newsweek, Nation ponder pros, cons of Gulf War II
01/24/03: 'Original' ideas follow New Deal philosophy
01/22/03: When handicapping 2004, watch the economy: Ten minutes with … Charlie Cook
01/17/03: New Republic fans hatred for SUVs
01/14/03: 10 minutes with Santorum on ... taxes, steel and Lott
01/10/03: Newsweeklies move on to latest menace
01/07/03: The best of the Q&As
12/30/02: Rosie's demise tops list of 2002 highlights
12/23/02: GOP must stick to its principles: 10 questions for ... Bill Kristol
12/20/02: Lott fiasco uncovers bigger problem
12/18/02: Free markets king in Sweden, at least for a day: Ten minutes with …. Donald Boudreaux
12/13/02: Corruption of Indian casinos no surprise
12/06/02: Giving credit to young philanthropists
12/02/02: Ten minutes with …. Chris Matthews
11/26/02: It's critical to memorialize communism's victims: 10 minutes with … Lee Edwards
11/22/02: JFK's secret health woes are revealed
11/19/02: "It's best to contain Saddam": Ten minutes with … Col. David Hackworth
11/15/02: Brushing up on the affairs of a wild world
11/12/02: Make Dems filibuster … 10 minutes with … Robert L. Bartley
11/08/02: National Geographic: Urban overpopulation is good
11/05/02: The bloody consequences of a broken INS: Ten minutes with … Michelle Malkin
11/01/02: Going to pot; thank heaven for media overkill
10/29/02: It's all about federalism: Ten minutes with … Jonah Goldberg
10/25/02: Frank Sinatra, Kurt Cobain, Mad Magazine will never die
10/22/02: Here's why Orwell matters: Ten minutes with … Christopher Hitchens
10/18/02: The sniper knocks Iraq off the covers
10/15/02: Iraq, oil and war: 10 minutes with ... economist/historian Daniel Yergin
10/11/02: England's gun-control experiment has backfired
10/04/02: Buchanan the media baron?
09/27/02: Analyzing Esquire, GQ is not for the squeamish
09/20/02: CEOs: The rise and fall of American heroes
09/13/02: Skeptics remind U.S. to calm down
09/10/02: 'A failure to recognize a failure': 15 minutes with ... Bill Gertz
09/06/02: Rating the 9-11 mags
08/30/02: Bad trains, bad planes, and bad automobiles
08/28/02: Baseball, broken, can be fixed: 15 minutes with George Will
08/16/02: 9-11 overload has already begun
08/13/02: Tell us what you really think, Ann Coulter
08/09/02: A funny take on a new kind of suburb
08/02/02: It's not the humidity, it's the (media) heat wave; the death of American cities
07/12/02: Colombia's drug lords are all business
07/09/02: If capitalism is 'soulless' then show me something better: 10 minutes with … Alan Reynolds
06/25/02: Origins of a scandal: 10 minutes with … Michael Rose
06/21/02: 9/11 report unearths good, bad and ugly
06/18/02: The FBI is rebounding … 10 Minutes with Ronald Kessler
06/14/02: U.S. News opens closet of Secret Service
06/11/02: 10 minutes with … William Lind: Can America survive in this 'fourth-generation' world?
06/07/02: America, warts and all
05/30/02: FBI saga gets more depressing
05/13/02: The magazine industry's annual exercise in self-puffery
04/30/02: 10 Minutes with ... The New York Sun's Seth Lipsky
04/26/02: Will the American Taliban go free?
04/23/02: 10 minutes with ... Dinesh D'Souza
04/19/02: Saddam starting to show his age
04/12/02: Newsweek puts suicide bombing in perspective
04/09/02: How polls distort the news, change the outcome of elections and encourage legislation that undermines the foundations of the republic
04/05/02: Looking into the state of American greatness
03/25/02: The American President and the Peruvian Shoeshine Boys
03/22/02: Troublemaking intellectual puts Churchill in spotlight
03/20/02: 10 minutes with ... Bill Bennett
03/18/02: Suddenly, it's cool again to be a man
03/12/02: 10 minutes with … Ken Adelman
03/08/02: TIME asks the nation a scary question
03/05/02: 10 minutes with ... Rich Lowry
02/26/02: 10 minutes with ... Tony Snow
02/12/02: Has Soldier of Fortune gone soft?

© 2002, Bill Steigerwald