Jewish World Review June 27, 2003 / 27 Sivan, 5763

Bill Steigerwald
Reader's Digest can't help but act its age
http://www.NewsAndOpinion.com | It's still your grandma's Reader's Digest.
For three years, its owners have been trying desperately to breathe fresh life into a great American institution (and handy bathroom fixture) that used reprints from other magazines and an endless stream of heartwarming tales of bravery and sappy humor to attract 18 million U.S. subscribers by 1974.
But today, at age 81, Reader's Digest is editorially befuddled and hemorrhaging circulation. It's down from 15 million subscribers in 1998 to only 10 million for next year, according to Forbes.com's grim assessment of a death spiral that could make the magazine's corporate parent, the Reader's Digest Association, a takeover target.
What's killing Reader's Digest is obvious to anyone under 50 after a few page flips of its July issue. Despite its struggle to be hipper and youthful and create its own content, it's still mostly aimed at old folks locked in the rec room of the nearest Sunset Acres Rest Home.
Just reading the latest issue can age you 20 years. The first 74 pages are a tough, insipid haul. Among the pitches for Viagra, Pravachol, Vioxx, et al., and the ads touting the excitement of "RVing" (seniors' lingo for spending retirement in a 15-foot Recreational Vehicle) are such worn-out RD trademarks as Word Power and Humor in Uniform.
Short news items such as "A Pill for Alzheimer's," an article about travel-tested toys for family car trips, and even an opinion piece about the idiocy at the United Nations by talented Tucker Carlson, are pure Dullsville.
"Our America," 13 pages of brief stories purporting to show kindness, character and community, is a near total waste, although authors include funny man Garrison Keillor and "youngsters" such as rockers Pat Benatar and Bruce Springsteen.
Reader's Digest still pays its readers generously for contributing original funny stories and jokes found elsewhere, but the laugh well must be running dry. The same person -- E.T. Thompson -- contributed "humor" items on pages 32, 49 and 113.
In nearly 200 pages, Jerry Seinfeld provides the only solid -- and edgy -- ray of humor for the young and ironic: "There's no such thing as fun for the whole family."
Otherwise, the funniest/scariest stuff -- if you take a magnifying glass and read it -- is buried in those 12.5 pages of dense, eye-hurting, full-page disclaimers that follow ads for drugs such as Zoloft, whose common side-effects make them sound like Saddam's missing weapons of mass destruction.
OK, it's not all bad. A piece about how poorly designed intersections and badly maintained roads kill thousands of good drivers a year, written in-house, is OK. So is a reprint about an all-Indian border patrol team in Arizona from Smithsonian magazine, and maybe the Elvis book excerpt, "The King & the Colonel."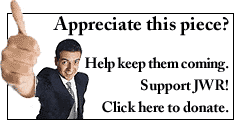 And let's not forget the contribution of the my home paper's own Saturday columnist, Jeanne Marie Laskas, one of the best free-lance magazine writers in the country.
Her tiny paragraph about community being one "of G-d's more mysterious works" couldn't begin to save the "Our America" package. But to see what a good/clever writer she is, and to read an excellent two-part piece showing why Arnold Schwarzenegger will make a great governor for California, pick up the July Esquire.
Enjoy this writer's work? Why not sign-up for the daily JWR update. It's free. Just click here.


JWR contributor Bill Steigerwald is an associate editor and columnist at the Pittsburgh Tribune-Review. Comment by clicking here.
06/24/03: Dick Morris, consultant for hire, reveals the inside story
06/20/03: Move over, Hillary. Here comes a better work of fiction
06/10/03: Publications take us away from Middle East
06/03/03: Dear graduates: Work for freedom … 10 minutes with Penn Jillette
05/30/03: National Geographic goes to the top of the world
05/23/03: Editors dabble in history, fiction
05/16/03: The Old Grim Lady gets covered
05/09/03: Political parties fighting over Iraq's wreckage
05/07/03: 10 minutes with a big-city Dem mayor who loathes budget deficits, the federal highway program, taxpayer-funded sports stadiums and the meddling (and aid money) of Washington
05/02/03: Are you sufficiently terrified?
04/29/03: Finally, a president defending American principles in the Middle East ... 10 minutes with Alexander Haig
04/25/03: Newsweeklies starting to lose interest in Iraq war
04/21/03: There's bias, and then there's bias
04/11/03: Planning future of Iraq, world
04/04/03: Newsweeklies come back with graphic look at war
03/28/03: Newsweeklies try to keep up with TV war coverage
03/26/03: Wen Ho Lee whistle-blower says beware of China
03/21/03: America's ready for war ... and peace
03/18/03: Baseball limping, not dead … 10 minutes with author Andrew Zimbalist
03/14/03: Vanity Fair gets us ready for month's big event
03/11/03: A road map for Iraq's liberation devised by James Madison? … 10 minutes with James S. Robbins
03/06/03: Iraq war will come and go before we know it
02/28/03: America takes time out for swimsuits
02/26/03: 'We shall be seen as liberators' .... 10 minutes with noted Brit commentator David Pryce-Jones
02/21/03: Terrorism one of many losing battles
02/14/03: Editors planning for the day after Gulf War II
02/12/03: The 'religiosity' of Ronald Reagan … 10 minutes with author Paul Kengor
02/10/03: Should the shuttle crash be the end of NASA?
02/06/03: Dear Joan ...
01/31/03: Newsweek, Nation ponder pros, cons of Gulf War II
01/24/03: 'Original' ideas follow New Deal philosophy
01/22/03: When handicapping 2004, watch the economy: Ten minutes with … Charlie Cook
01/17/03: New Republic fans hatred for SUVs
01/14/03: 10 minutes with Santorum on ... taxes, steel and Lott
01/10/03: Newsweeklies move on to latest menace
01/07/03: The best of the Q&As
12/30/02: Rosie's demise tops list of 2002 highlights
12/23/02: GOP must stick to its principles: 10 questions for ... Bill Kristol
12/20/02: Lott fiasco uncovers bigger problem
12/18/02: Free markets king in Sweden, at least for a day: Ten minutes with …. Donald Boudreaux
12/13/02: Corruption of Indian casinos no surprise
12/06/02: Giving credit to young philanthropists
12/02/02: Ten minutes with …. Chris Matthews
11/26/02: It's critical to memorialize communism's victims: 10 minutes with … Lee Edwards
11/22/02: JFK's secret health woes are revealed
11/19/02: "It's best to contain Saddam": Ten minutes with … Col. David Hackworth
11/15/02: Brushing up on the affairs of a wild world
11/12/02: Make Dems filibuster … 10 minutes with … Robert L. Bartley
11/08/02: National Geographic: Urban overpopulation is good
11/05/02: The bloody consequences of a broken INS: Ten minutes with … Michelle Malkin
11/01/02: Going to pot; thank heaven for media overkill
10/29/02: It's all about federalism: Ten minutes with … Jonah Goldberg
10/25/02: Frank Sinatra, Kurt Cobain, Mad Magazine will never die
10/22/02: Here's why Orwell matters: Ten minutes with … Christopher Hitchens
10/18/02: The sniper knocks Iraq off the covers
10/15/02: Iraq, oil and war: 10 minutes with ... economist/historian Daniel Yergin
10/11/02: England's gun-control experiment has backfired
10/04/02: Buchanan the media baron?
09/27/02: Analyzing Esquire, GQ is not for the squeamish
09/20/02: CEOs: The rise and fall of American heroes
09/13/02: Skeptics remind U.S. to calm down
09/10/02: 'A failure to recognize a failure': 15 minutes with ... Bill Gertz
09/06/02: Rating the 9-11 mags
08/30/02: Bad trains, bad planes, and bad automobiles
08/28/02: Baseball, broken, can be fixed: 15 minutes with George Will
08/16/02: 9-11 overload has already begun
08/13/02: Tell us what you really think, Ann Coulter
08/09/02: A funny take on a new kind of suburb
08/02/02: It's not the humidity, it's the (media) heat wave; the death of American cities
07/12/02: Colombia's drug lords are all business
07/09/02: If capitalism is 'soulless' then show me something better: 10 minutes with … Alan Reynolds
06/25/02: Origins of a scandal: 10 minutes with … Michael Rose
06/21/02: 9/11 report unearths good, bad and ugly
06/18/02: The FBI is rebounding … 10 Minutes with Ronald Kessler
06/14/02: U.S. News opens closet of Secret Service
06/11/02: 10 minutes with … William Lind: Can America survive in this 'fourth-generation' world?
06/07/02: America, warts and all
05/30/02: FBI saga gets more depressing
05/13/02: The magazine industry's annual exercise in self-puffery
04/30/02: 10 Minutes with ... The New York Sun's Seth Lipsky
04/26/02: Will the American Taliban go free?
04/23/02: 10 minutes with ... Dinesh D'Souza
04/19/02: Saddam starting to show his age
04/12/02: Newsweek puts suicide bombing in perspective
04/09/02: How polls distort the news, change the outcome of elections and encourage legislation that undermines the foundations of the republic
04/05/02: Looking into the state of American greatness
03/25/02: The American President and the Peruvian Shoeshine Boys
03/22/02: Troublemaking intellectual puts Churchill in spotlight
03/20/02: 10 minutes with ... Bill Bennett
03/18/02: Suddenly, it's cool again to be a man
03/12/02: 10 minutes with … Ken Adelman
03/08/02: TIME asks the nation a scary question
03/05/02: 10 minutes with ... Rich Lowry
02/26/02: 10 minutes with ... Tony Snow
02/12/02: Has Soldier of Fortune gone soft?

© 2002, Bill Steigerwald