Jewish World Review April 19, 2004 / 29 Nissan, 5764

Jack Kelly
Who is behind the Iraq insurgency?
http://www.NewsAndOpinion.com | Much more is happening in Iraq right now than most of us realize. The peril is greater than most of us imagine. Things are likely to get very much better — or very much worse — very soon.

Iran and Syria have committed acts of war against the United States, even if their aggression isn't acknowledged by the Bush administration, or noticed by the news media.

Ralph Peters, a retired military intelligence officer, reported from northern Iraq that on April 10, Iranian agents ambushed an American convoy on the road between Mosul and Akre.

"The attack did not go as planned," Peters noted. "Our troops responded sharply, killing two Iranians, wounding a third and capturing two more. They were carrying their identity documents."

The revolt by radical Shi'ia cleric Muqtada al Sadr was largely financed by Iran. An Iranian defector told the London-based Arabic language daily al Sharq al-Awsat that Iran has been spending $70 million a month on activities in Iraq, and has set up three training camps just across the border from Iraq for members of al Sadr's militia, the "Mehdi Army."

"Haj Sa'idi (allegedly the Iranian intelligence officer in charge of activities in Iraq) told al Sharq al Awsat that the Iranian presence in Iraq is not limited to the cities," the newspaper said. "Rather, it is spread throughout Iraq, from Zakho in the north to Um Qasr in the south. and the infiltration of Iranian Revolutionary Guards and the al Quds Army began long before the war, through hundreds of Iranian intelligence agents, amongst them Iraqi refugees who were expelled by Saddam Hussein in the 1970s and 1980s to Iran, allegedly because of their Iranian origin, and who infiltrated back into Iraq through the Kurdish areas that were out of Baath government control. After the war, Iranian intelligence sent its agents through the Iraq-Iran border; some of them as students and clerics, and others as belonging to the Shi'ite militias," the newspaper said in a story April 3.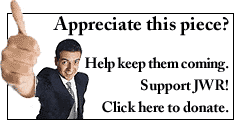 "Haj Saidi also mentioned that more than 300 reporters and technicians who are working now in Iraq for television and radio networks, newspapers, and other media agencies are in fact members of the al Quds Army and Revolutionary Guards intelligence units," al Sharq al Awsat said.

"The direct Iranian presence in the Shi'ite areas of Iraq in the political, security and economic affairs cannot be ignored any more," said another British based Arabic language daily, al-Hayat, in a story April 6. "This presence is accompanied by a vigorous Iranian effort to create bridges with different forces in Iraq." (Translations courtesy of MEMRI, the Middle East Media Research Institute.)

"For months, Iran has been building a secret underground network of miltary and intelligence cells that has put it in a position not only to challenge the U.S. and others, but also gradually to gain control over the reins of power after the June 30th hand over," said Alireza Jafazadeh, an Iranian exile who is president of Strategic Policy Consulting, Inc.

Many of the tens of thousands of pilgrims who traveled from Iran to the holy city of Najaf in southern Iraq for Arbaeen last weekend were in fact Iranian intelligence operatives, Jafazadeh said.

Meanwhile, the U.S. Marines report that many of the "insurgents" they have killed in Fallujah are in fact Syrian. Though Iran's mullahs are militant Shi'ites, and Syria's Baathist regime is secular in a predominantly Sunni country, there has long been strategic cooperation between them. They jointly sponsor and succor the terrorist group Hezbollah, which operates primarily out of (Syrian controlled) southern Lebanon.

The recent rash of kidnappings in Iraq are eerily similar to the kidnappings orchestrated by Hezbollah in Lebanon in the 1980s.

Iran is working as fast as it can to build a nuclear bomb, and the world community, in the form of the International Atomic Energy Agency, isn't doing much to restrain it.

As the web logger "Wretchard" of the Belmont Club put it: "What we are witnessing is not a confrontation between the United States and some nationalist insurgents, but possibly the opening acts of a confrontation with a nuclear armed terrorist state."
Every weekday JewishWorldReview.com publishes what many in Washington and in the media consider "must reading." Sign up for the daily JWR update. It's free. Just click here.


JWR contributor Jack Kelly, a former Marine and Green Beret, was a deputy assistant secretary of the Air Force in the Reagan administration. Comment by clicking here.
© 2003, Jack Kelly