http://www.NewsAndOpinion.com | Why don't we just pencil in a Haiti invasion for 2014? That seems to be the pattern: Every 10 years or so, it's off to Port-au-Prince to clean up the old mess and help the benighted island get a fresh start on an entirely new mess.

Haiti makes everyone go nuts. Exhibit one is John Kerry, who has identified the real threat to American security: Haitian rebels.

"President Kerry would never have allowed that to get where it is," Kerry said, speaking in that odd third-person style used by popes, kings and rap stars. A Kerry administration would have presented the rebels with a 48-hour ultimatum: Make nice, "otherwise, we're coming in," he said.

There you have the Kerry Doctrine. Wherever people struggle against a corrupt and unjust kleptocracy, President Kerry will give them two days to knock it off, or he's sending in American soldiers to shoot them.

Well, maybe not shoot them. A few warning shots over their heads to get their attention. You there! On the ground! Now! Face first! Assemble a coalition government that respects the needs of the disparate factions! Do you commit to a pluralistic solution? I CAN'T HEAR YOU!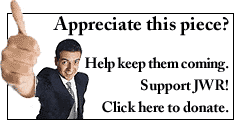 But what if our indispensable allies disapproved? What if France whined that it was their turn to screw up Haiti? What if Russia insisted on sanctions? What if the streets of Europe filled with protesters shouting NO BLOOD FOR SUGAR CANE or whatever it is Haiti makes?

They can all sit down and shut up, please. Kerry said: "I would intervene with the international community, and absent an international force, I'd do it unilaterally." Kerry added that protecting democracy was the most important objective.

So: President Kerry would never have let the situation get that bad, and would act alone. Sounds like the doctrine of pre-emptive unilateralism. Sounds like it, walks like it, quacks like it. But! It's OK, because America has no strategic interests, and thus our troops will know they're bleeding for purely altruistic motives. Does Haiti have anything we need, after all? No. Haiti's prime export is Haitians.

Keep in mind that Kerry voted against the use of force to dislodge Saddam Hussein from Kuwait. When a dictator invades a neighbor, seizes strategic oil fields and consolidates his position as the region's No. 1 flaming carbuncle, Kerry rejects a multilateral response. Ragtag rebels in a perpetually dysfunctional state threaten a U.S.-installed incompetent, and Kerry sends in the Marines.

Perhaps there's a reason not many senators make the leap to the presidency. As we're constantly reminded, that august body is collegial, respectful, suffused with history and utterly besotted with self-importance. That leads to Senatitis, a disease in which otherwise rational men believe that the rest of the country doesn't see through equivocating bloviation in a second. There is no cure.

But Kerry's not alone. Haiti has a way of making people say odd things. Rep. Charles Rangel, D-N.Y., and members of the Congressional Black Caucus said they believed Jean-Bertrand Aristide had been pushed out by George W. Bush.

"Unlike the reports coming out of the State Department," Rangel said, "President Aristide says it was a coup, that he felt he was kidnapped, that he was told by the United States authority that they could no longer protect his life." Hmmm. The United States offers him an armed guard to replace his own armed guard, which ran off to whoop and loot, and it's a coup. It's kidnapping.

Since when is it the United States' responsibility to safeguard Aristide from the consequences of incompetence?

Today the State Department may be stuffed with liars, but put President Kerry in office, and Rangel will suddenly find them an unimpeachable source of intel. Put President Kerry in office, and we'll combine the self-castigating ethos of the Vietnam era with the Meals-on-Wheels nation-building of the '90s.

Take him at his word: In 2004, President Kerry would have known what truly matters to preserve American security. Sanctions for Iraq. Payoffs to North Korea. Olive branches for the Iranian mullahs, new loans for the Palestinian Authority, hard words for Israel.

And 24-7 attention to the crucial Haitian question. Heaven help us if that one boils out of control again.

Every weekday JewishWorldReview.com publishes what many in Washington and in the media consider "must reading." Sign up for the daily JWR update. It's free. Just click here.

JWR contributor James Lileks is a columnist for the Minneapolis Star Tribune. Comment by clicking here.