Jewish World Review June 27, 2006 / 1 Tamuz, 5766
Take 26 Nobel laureates, add hope, stir gently...
By Richard Z. Chesnoff
Well, at least last week's meeting was 'historic'

http://www.JewishWorldReview.com | PETRA, JORDAN — Sounds like a bad idea for a reality show: Gather 26 Nobel Prize laureates (including the Dalai Lama) at one isolated landmark. Add one king, one President, two prime ministers, assorted media and business luminaries and even a movie star (Uma Thurman). Then close the doors, tackle the myriad problems of "A World in Danger," and come up with solutions. All in 48 hours!

Are they kidding?

Actually, no — and since this experiment in wonderland was the brainchild of two rather remarkable men, Jordan's courageous young King Abdullah and 1986 Nobel Peace Prize winner Elie Wiesel, it proved to be far more than an exercise in noble futility. Indeed, while last week's two-day Nobel Laureates' Conference in the desert city of Petra may not have solved all the world's woes, in this participant's humble opinion, it made remarkable headway on at least one major global crisis and helped pinpoint some of our other most pressing problems as well.

Its most immediate success was in bringing together Israeli Prime Minister Ehud Olmert and Palestinian Authority President Mahmoud Abbas. The two hadn't met face-to-face since taking office, and the recent election victory of a Palestinian terrorist regime led by Hamas, Abbas' biggest political foe and Olmert's sworn enemy, made the chance of a meaningful get-together seem increasingly slim.

Both men addressed the conference separately. Then on the last day of the confab, they gathered for a closed breakfast with Abdullah, Wiesel and select others. When it was over, Olmert and Abbas hugged each other for the cameras and agreed to meet formally within the next two weeks or so. Their decision is not going to instantly stop terrorism or Israeli military reprisals — nor may it result in renewed formal peace negotiations. But of such moves, history is made.

Richard Attias of Publicis Events, the New York based media giant that pulled the conference together, summed it up this way "Like this entire gathering, the most important thing was that they met, that it happened".

Other issues tackled were far more global. A health committee chaired by former U.S. Surgeon General David Satcher pointed to the staggering health disparities between developed and developing countries and called to accelerate the development and delivery of affordable vaccines — especially in Africa, where 150 babies die per 1,000 as opposed to three per 1,000 in the West. A Darfur Commission of Nobel Laureates will weigh in soon with recommendations for urgent action to relieve the suffering of the more than 1.8 million people displaced there over the last three years. An education panel urged ways to monitor and revise schoolbooks worldwide so that children are not taught to demonize other peoples.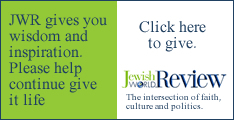 Will these and other proposals have any meaningful impact on global suffering? Some of us recall that old line of Josef Stalin's, when told the Vatican was unhappy with the Soviets. "How many divisions does the Pope have?"

Well the Pope had none — but, over time, he did have sufficient moral impact to help defeat Communism. And I believe the moral superpower of this most prestigious community we call Nobel laureates — scientists, economists, statesmen and writers — can, taken together, raise the divisions needed to help defeat many global problems. Elie Wiesel, whose experiences during the Holocaust have brought him to lead a lifetime battle against injustice and indifference, puts it this way: "Nobel laureates have no right to remain silent."
Every weekday JewishWorldReview.com publishes what many in in the media and Washington consider "must-reading". Sign up for the daily JWR update. It's free. Just click here.
CHESNOFF'S LATEST
The Arrogance of the French
Sean Hannity
This book will open your eyes!

Bill O'Reilly
Why do the French hate America? Richard Chesnoff has figured it out and informs us with entertaining clarity.

Dennis Miller
France sucks, but this book doesn't.

Michael Barone, Co-author, The Almanac of American Politics
Americans-and the French-will learn a lot from this book.

Clifford D. May, President, Foundation for the Defense of Democracies
Richard Z. Chesnoff insightfully-and entertainingly-explores America's most dysfunctional relationship with America's least reliable ally.



JWR contributor and veteran journalist Richard Z. Chesnoff is a contributing correspondent at US News & World Report, a columnist at the NY Daily News and a senior fellow at the Washington-based Foundation for the Defense of Demoracies. A two-time winner of the Overseas Press Club Award and a recipient of the National Press Club Award, he was formerly executive editor of Newsweek International. His latest book, is "The Arrogance of the French: Why They Can't Stand Us & Why The Feeling Is Mutual". (Click on cover above to purchase. Sales help fund JWR. )
To comment, please click here.
© 2005, Richard Z. Chesnoff