Jewish World Review August 6, 2003 / 8 Menachem-Av, 5763

Bush should learn from Clinton's errors

By Mortimer B. Zuckerman

http://www.jewishworldreview.com | Is George Bush about to fall into the trap that ended Bill Clinton's hopes of a permanent settlement in the Middle East? The trap is that men of goodwill presume there is at least an element of good faith and enlightened self-interest among all the parties--and that is not a prudent assumption with the Palestinian leadership.

When Bush first made Middle East peace an issue, he brought to it the same moral clarity that informs his response to terrorism, creating thereby a strategic and diplomatic clarity. He would, he declared, have no dealings with Yasser Arafat. He saw him clearly as a terrorist who sabotaged the best settlement offer the Palestinians ever had. The president has stuck to his resolve about Arafat, but his administration is failing to demonstrate the same clarity of purpose with the new Palestinian prime minister, Mahmoud Abbas, known as Abu Mazen, who says he can deliver no more than a temporary cease-fire and not the arrest of the terrorists and the closure of their bomb factories.

The Bush administration is misreading the situation in treating Abu Mazen as if he were a victim of Arafat instead of Arafat's longtime colleague and supporter. In the Palestinian community and in Arabic he speaks of his total loyalty to Arafat, and in America he speaks as a victim of Arafat who must be supported by Israeli concessions, some of which would put Israeli lives at risk. This two-tongued approach has been a baleful feature of Palestinian politics for decades, a hypocrisy that has deceived many moderates, as it is designed to do.

No compromise. Abu Mazen's argument for inertia is that given time he will grow strong enough to arrest the killers and shut down their bomb factories. History is instructive here. In its 10 cease-fires since 1993, Hamas used the time to regroup and rearm after an exhausting confrontation with a more powerful foe, usually Israel but on one occasion the Palestinian Authority. Hamas and Islamic Jihad have never accepted Israel. Hamas leader Abdul Aziz Rantissi recently said: "We reject the two-state solution proposed by Bush. There are no ifs and buts about our position. . . . There can be no compromise."
(W)E-THE PEOPLE
Let your voice be heard! To express your concerns about the administration's plan for the Holy Land, you may contact

President George W. Bush by fax: (202) 456-2461, (Andrew Card, Chief of Staff) or by e-mail.

Dr. Condoleeza Rice, National Security Advisor, FAX (202) 456-2883, PHONE (202) 456-9491

Mr. Elliot Abrams, the Director for Near East and North African Affairs, at FAX (202) 456-9120, and by phone through his secretary Joanna, (202) 456-9121

Donald H. Rumsfeld, Secretary of Defense, 1000 Defense Pentagon, Washington, DC 20301-1000 or by e-mail form: http://www.defenselink.mil/

Paul Wolfowitz, Deputy Secretary of Defense, 1010 Defense Pentagon, Washington, DC 20301-1010 or by e-mail form http://www.defenselink.mil
Taking him at his word, Israelis are right to believe that left with their arms the terrorists will sooner or later use them to kill innocent Israeli citizens and will use the temporary cease-fire to regroup, rearm, and re-enlist new suicide bombers. An endorsement of this view comes in a sinister interpretation of Abu Mazen's behavior by no less than Arafat's henchman Saeb Erekat, a Palestinian legislator, who said Abu Mazen is aiming to get Hamas and Islamic Jihad to agree to wait until the Palestinian state is declared before attacking Israeli targets. The sad reality is that Arafat remains the power--the rais--the undisputed ruler with the same kaffiyeh and olive uniform, while Abu Mazen is seen as a lightweight leader imposed from the outside.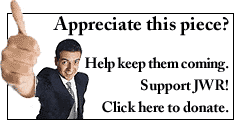 Arafat works publicly and behind the scenes to undermine Abu Mazen to prove that nothing can happen without Arafat. Arafat retains control, as noted here before, of most of the government institutions, such as the Palestine Liberation Organization's Executive Committee and the Fatah Central Committee, five of the seven security organizations, including the Army and its commanders, and the fighters of Tanzim, Fatah, and the al-Aqsa Martyrs Brigade, and most of the administrators in the region. As one Israeli analyst put it, when Abu Mazen's government was born, Arafat made sure "it would be castrated." No one should doubt that Arafat's means to his political ends include terrorism.
The Israelis have bent to American pressure and accepted the temporary cease-fire, but only as a prelude to a showdown between Abu Mazen and the terrorists. It is understandable that the Bush administration is willing to give Abu Mazen this chance, but it must be with eyes wide open. If the Bush administration lulls itself into accepting the current calm as the equivalent of confronting terrorism, it will reap the whirlwind of an even bloodier scene when the terrorists have recovered their strength.
Another disturbing feature of the administration's current stance is that as well as indulging Abu Mazen, it is exhibiting a lack of understanding about why the Israelis are building a security fence. Bush recently said, "It is very difficult to develop confidence between Palestinians and Israelis, with a wall snaking through the West Bank." What could this mean? Let us make another statement: It is very difficult to develop confidence between the Israelis and the Palestinians when Abu Mazen says that even if the terrorists break their commitment to a temporary cease-fire he will not confront them, search their houses, or take their weapons. Surely the history of violence and treachery supports Israeli prudence. The Palestinians have never lived up to their promises to confront terrorism. In this, they are supported by popular opinion. More than 60 percent of the Palestinians support violence, and in a recent survey by the Pew Global Attitudes Project, 80 percent asserted they don't believe "that a way can be found for the State of Israel to exist so that the rights and needs of the Palestinian people are met."
The security fence is no more than a response by the Israelis to a thousand days of terrorism with over 800 civilians killed--the vast majority women and children. It symbolizes Israeli revulsion at a Palestinian society that turns young people into time bombs and delights in the murder of Jews. Such a fence is hardly unusual. A similar fence has existed at the Gaza Strip, and to date, not one suicide bomber from this area has infiltrated, compared with 300 that over the past three years have simply been able to walk or drive into Israel from the West Bank. Along most of this frontier there are virtually no barriers of any kind. Israel has found it necessary also to fence its frontiers with Lebanon, Syria, and Jordan. America has fenced off many parts of the Mexican border to deter illegal immigrants. There is a wall between the Greek and Turkish Cypriots, etc.
The Palestinians have challenged this fence as a "racist, Berlin Wall." It is an absurd comparison. The Berlin Wall was imposed on one people, Germans, by an alien power to stop East Germans from fleeing to freedom and democracy in West Germany. The Israeli fence will separate two warring people in order to protect citizens of Israel from being murdered and maimed by Palestinian terrorists. It is a defensive weapon and will undoubtedly be needed whether or not the end of conflict is reached.
And what is this fence? It is a combination of chain-link, barbed wire, and concrete barriers, plus a high-tech system of ground sensors, unmanned aerial vehicles, trenches, land mines, and old-fashioned dirt paths that will be swept clean each day so footsteps will show. Where Jewish and Palestinian population centers are close to each other, it will take the form of a high, concrete wall, not only to prevent infiltration by terrorists but also to give protection against light gunfire from Palestinian towns. Throughout, there will be passages permitted through guarded gates for legitimate Palestinian workers and farmers.
This fence will not be built exclusively along the 1967 borders, for many reasons. Security first: Every Israeli prime minister, from Yitzhak Rabin on, and every military and national security official have agreed that Israel can never go back to the June 4, 1967, borders. Those proved too fatally often that they did not meet the standard of either secure or defensible borders--as called for in United Nations Resolutions 242 and 338.
The political reason for the fence line is that if it followed the 1967 borders, that fact would then become a source of international pressure on Israel in the determination of the final borders. Paradoxically, the Israeli right has long objected to such a fence because it might also convey the political message that Israel is willing to accept a final border quite close to the 1967 "green line," which would leave many Israeli settlements on the wrong side of the fence, vulnerable to Palestinian attacks.
But this may be the best last resort. Every leading Israeli points out that this fence can be moved or torn down in the framework of a permanent agreement. Should the Palestinians choose to live in peace with the Jewish state, Palestinian people and goods could move freely back and forth. But if they remain committed to violence and unwilling to coexist, then the barrier could be sealed. Simultaneously, it might well induce Israeli settlers in isolated settlements on the wrong side of the fence to yield their homes voluntarily, given the new vulnerability these settlements would be facing. Polls show many Israelis are already uneasy with the costs and benefits of these outlying settlements.
Trade-offs. The fence thus imposes security benefits and political costs for the Israelis and some political and diplomatic costs for the Palestinians. The Palestinians have forfeited the right to object since it is no more than the minimum penalty for their unwillingness to live in peace with their neighbor. Far from being criticized by America, the fence deserves U.S. support. President Bush has promised to support Israel's efforts to defend the security of its people. Is it not preferable to the justified but more damaging policy of Israeli counterattack to acts of Palestinian terror? Is it not preferable to Israeli military occupation as the only other alternative to containing Palestinian terrorism? Ten years of funerals are surely enough.
What else is Israel to do?
President Bush has been viewed by many, including this writer, as the best friend Israel ever had in the White House. President Bush's June 24, 2002, Middle East speech, so widely praised as the basis for his policy, has been substantially reversed by the State Department in its "road map" for Mideast peace. A key part of Bush's speech was an unwavering demand for each side to acknowledge the sovereignty of the other. Israel has already accepted Palestinian statehood. But there has been no corresponding acceptance by the Palestinians of a Jewish state.
Where's the reciprocity? Until their right to exist is made clear, the Israelis have a right to be wary. Given the history of the Middle East, Mr. President, whom would you trust with your safety: the Palestinian Authority or an Israeli security fence?
Every weekday JewishWorldReview.com publishes what many in Washington and in the media consider "must reading." Sign up for the daily JWR update. It's free. Just click here.
JWR contributor Mort Zuckerman is editor-in-chief and publisher of U.S. News and World Report. Click here to comment on this column.
© 2003, Morton B. Zuckerman