Jewish World Review Sept. 22, 2003 / 25 Elul , 5763
What the 'peaceniks' have yet to learn
By Jonathan Gurwitz
Yesterday, Shimon Peres celebrated his 80th birthday. Bill Clinton, who along with the guest of honor, Yasser Arafat and Yitzchak Rabin, gave us "Oslo," attended. So did Mikhail Gorbachev and, yes, Ariel Sharon. Video testimonials came from Jerry Seinfeld, Henry Kissinger, Barbra Streisand and Woody Allen.
Our columnist remembers a revealing conversation that he had with Peres following the "handshake heard 'round the world."
http://www.jewishworldreview.com | During the heady days of the Oslo process — when concord between Israelis and Palestinians seemed inevitable and the memory of the handshake on the White House lawn between PLO Chairman Yasser Arafat and Israeli Prime Minister Yitzhak Rabin was still fresh — I had the opportunity to ask former Israeli Foreign Minister Shimon Peres whether he trusted Arafat.
I was thinking not only of Arafat's long history as the mastermind behind a terrorist organization that murdered American diplomats and Israeli Olympic athletes and intentionally targeted civilians — men, women and children.
I was also thinking of Arafat's duplicity as a leader, recounted by Ion Mihai Pacepa, the former head of Romanian intelligence, in the book "Red Horizons." I was thinking of his willingness to publicly feign one position while privately advocating another for personal benefit and his predilection to murder Palestinian leaders he sensed had become too moderate or independent.
How, I asked Peres, could Arafat be a true partner for peace and the founding father of a nation with meaningful elections and some sort of separation of powers?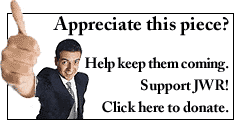 Peres, who shared the 1994 Nobel Peace Prize with Rabin and Arafat, answered in his sophisticated and urbane way. As the head of a Palestinian state, Arafat would have to act rationally and in the best interests of his people. The world was watching, his own people were watching, and he would have to deliver on the promise of peace and abandon the illusion that Israel could be destroyed.
When I questioned again what compelled Peres to believe that Arafat, the terrorist, had changed, he delivered a brief, gruff response: "We have no other choice."
Therein lies the tragedy, not only for Israelis for whom riding a bus or eating at a restaurant has become a life-threatening act of faith, but also for the Palestinian people who hoped for an end to the poverty and isolation that are the handmaidens of Arafat's rejectionism, the Palestinian parents who dreamed of better lives for their children, an education and a state they could call their own.
International aid disappeared into Swiss banks and lined the pockets of Arafat henchmen. Palestinian schools became factories of hate and indoctrination centers for the cult of martyrdom. And at the moment of truth, Arafat rejected an offer of peace — with a Palestinian state and its capital in Jerusalem — to pursue his own violent, final solution.
In a report from the Jerusalem Post on the 10th anniversary of the Declaration of Principles and that famous handshake, the horrifying consequence of giving Arafat legitimacy was displayed by the first generation of Palestinians to grow up under his necrotic rule:
"'We want to defend Arafat and kill the Jews wherever they are,' said 10-year-old schoolgirl Aysheh Muhammad as she gripped a poster of Arafat outside his battered office Sunday, chanting slogans in his support along with her classmates. 'Show us your face, with our blood and souls, we will redeem you,' they screamed until they were hoarse."
While Arafat is content to send "millions of martyrs" to Jerusalem, raise Palestinian children in squalor and wean them on hate, his own wife and daughter live a life of luxury in Paris, drawing on millions of dollars pilfered from the Palestinian treasury.
Mahmoud Abbas, the first Palestinian prime minister, is now gone, undermined by Arafat, having achieved nothing. His replacement, Ahmed Qureia, who was handpicked by Arafat, will achieve no more.
Commenting on the possibility that Israel might expel or kill Arafat as a material supporter of terrorism, U.S. Secretary of State Colin Powell said it would ignite "rage throughout the Arab world" and would not "serve the cause of moving forward on the road map."
Powell, of course, is correct that such a move by Israel would have disastrous consequences.
But Powell is perversely wrong to suggest that any peace is possible with Arafat, that any road map can avoid a dead end at his Ramallah headquarters. And that will always be the case, as long as Israelis and Palestinians who long for peace have no other choice.
Every weekday JewishWorldReview.com publishes what many in Washington and in the media consider "must reading." Sign up for the daily JWR update. It's free. Just click here.
JWR contributor Jonathan Gurwitz, a columnist for the San Antonio Express-News, is a co-founder and twice served as Director General of the Future Leaders of the Alliance program at NATO Headquarters in Brussels, Belgium. In 1986 he was placed on the Foreign Service Register of the U.S. State Department. Comment by clicking here.
© 2003, Jonathan Gurwitz