When walking away from your mortgage is both economically sound and makes ethical sense
By Rabbi Dr. Asher Meir






Dear Jewish Ethicist readers,
In this space I wrote a column on the topic of "strategic default" in states which explicitly forbid lenders to pursue borrowers who abandon the property.
After receiving a large number of very thoughtful and reasoned responses from readers, I have reached the conclusion that this is a highly complex topic which is far beyond my expertise. I have asked the editors to remove the column from the site. For those of you who already read it, I ask that you view it as the starting point for an informed ethical discussion on this involved topic.
This is not the first time that I have retracted a column and if I maintain my intellectual honesty I imagine it will not be the last. My occasional retractions demonstrate an important ethical principle: that just as my readers have the weekly opportunity to learn from me, so do I have the weekly opportunity to learn from my readers, to be informed by their wide knowledge and be inspired by their demanding ethical standards.
My column is a weekly and popular column, and it is self-evident that I cannot be an expert on every topic. That is OK as long as I don't begin to imagine that I am an expert in everything. This experience will teach me to avoid "Wizard of Oz syndrome": the tendency to think that just because everyone views me as an expert in ethics that I do in fact have expertise in every ethical issue. The most recent column reminds me that this is not the case.
I am grateful for the many readers who wrote to express their point of view.
Interested in a private Judaic studies instructor — for free? Let us know by clicking here.
Every weekday JewishWorldReview.com publishes inspiring articles. Sign up for our daily update. It's free. Just click here.
To comment or pose a question, please click here.
---
JWR contributor Rabbi Dr. Asher Meir, formerly of the Council of Economic Advisers in the Reagan administration, is Research Director of the Business Ethics Center of Jerusalem, Jerusalem College of Technology.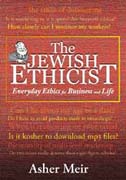 THE JEWISH ETHICIST, NOW IN BOOK FORM
You've enjoyed his columns on JWR for years. Now the Jewish Ethicist has culled his most intriguing — and controversial — offerings in book form.
HARDCOVER
PAPERBACK
Sales help fund JWR.

© 2009, The Jewish Ethicist is produced by the JCT Center for Business Ethics