Jewish World Review August 12, 2009 / 22 Menachem-Av 5769
Some practical applications of how animals may be used to benefit man
By Rabbi Dr. Asher Meir






http://www.JewishWorldReview.com | Recent columns explained the religious and ethical basis of Judaism's approach to animal welfare. According to the book of Genesis, man was created in G-d's image and he was given domination over the animals, but this domination creates obligations as well as rights. Mankind is authorized to use animals for its benefit, but this very right creates obligations to treat animals in a humane way.

In this column, we will turn to some recent examples of rabbinical decisions which show how this principle is applied. It may be that there are dissenting opinions as well, but what is most important here is how the principles are applied.

Rabbi Moshe Feinstein was asked about the permissibility of raising veal. The situation as described to him in the early 1980s was one where the calf was confined to a narrow pen and fed a deficient diet so that the meat would be white instead of red. Rabbi Feinstein affirms that animals may be used for any human need, even if it involves causing them suffering, but he asserts that making the meat white instead of red is not considered a human need, insofar as it serves no valid purpose. The meat is not better tasting or healthier, so the suffering caused the calf cannot be justified.

Rabbi David Bardigo was asked about horse racing. He cites an earlier responsum by Rabbi Ovadiah Yosef in which he categorically forbids taking part in bullfights or viewing them, because of the cruelty to the bull. In fact, taking part and viewing bullfights was already forbidden by the sages of the Talmud for this very reason. (2) He acknowledges that although horse racing is not exactly comparable, because the spectators enjoy seeing the horses run fast and not seeing them be tormented per se as is the case with bullfights. However, he concludes that the spectacle of horse racing, particularly for the purpose of gambling, which is frowned upon by the sages, cannot be considered a legitimate human need. This would not forbid horse racing in and of itself, but insofar as Rabbi Bardigo considered that great suffering is caused to the horses he explains that this is not a "need" that can justify animal suffering. (3)

Rabbi Yitzchak Weiss was asked about a technique whereby hens are starved for a period of weeks, during which they suffer hunger and shed their feathers. As a result, the period of time during which they lay eggs is considerably extended. Rabbi Weiss concludes that increasing the yield of hens is certainly a legitimate human need, given that the increase is quite significant. He does however state that while the technique is not forbidden, it is proper to consider carefully if the animal suffering is truly justified. (4)

Rabbi Eliezer Waldenberg rules conclusively that using animals for medical experiments, in order to help identify the cause of disease that strikes humans, is permissible. Healing is an important mitzvah (commandment) in Judaism; using animals in a way that will help us fulfill this mitzvah is certainly proper, even if this inevitably causes some suffering to the animals.

From these responsa, we see that while mankind's divine image justifies our use of animals for our needs, even if this necessitates animal suffering, it is only justified for needs that are an appropriate expression of this image - needs that advance our service of G-d rather than impeding it.
SOURCES: (1) Responsa Igros Moshe, EHE IV:92 (2) Babylonian Talmud, Avodah Zarah 18b. (3) Responsum published by the Office of the Chief Rabbi. (4) Responsa Minchas Yitzchak X:145. (5) Responsa Tzitz Eliezer XIV:68
Every weekday JewishWorldReview.com publishes inspiring articles. Sign up for our daily update. It's free. Just click here.
---
JWR contributor Rabbi Dr. Asher Meir, formerly of the Council of Economic Advisers in the Reagan administration, is Research Director of the Business Ethics Center of Jerusalem, Jerusalem College of Technology. To comment or pose a question, please click here.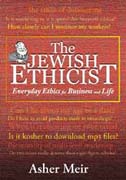 THE JEWISH ETHICIST, NOW IN BOOK FORM
You've enjoyed his columns on JWR for years. Now the Jewish Ethicist has culled his most intriguing — and controversial — offerings in book form.
HARDCOVER
PAPERBACK
Sales help fund JWR.

© 2009, The Jewish Ethicist is produced by the JCT Center for Business Ethics