Jewish World Review Oct. 23, 2006 / 1 Mar-Cheshvan, 5767
Judaism and the afterlife
By Rabbi Dr. Asher Meir
Reincarnation, heaven and hell

http://www.JewishWorldReview.com | Following last week's column on on the Jewish belief in resurrection of the dead and how it affects how we will live in the here and now, many readers asked about Judaism's view on reincarnation. This concept is beyond the usual scope of my column, since it is not given any prominence in the works of the Talmudic era and the great early authorities. However, the concept is prominent in some Hasidic works, and it too has ethical significance. The concept of reincarnation must also be understood in the context of the "bundle of life."

If each individual is totally solitary and atomistic, then reincarnation just means that one isolated soul returns to the world in a new body. But this is not the approach of Hasidic thought. Rather, Hasidism explains that the entire Jewish people are hewn from a large number of foundational or primeval souls. (Conventionally, these are numbered 600,000, corresponding to the census in the desert.) Each human being is a compound of these basic traits. (1)

It follows from this approach that each person is reincarnated, since each of us has a human nature made up of basic human characteristics. Yet each person is unique, because never before has this particular combination of characteristics walked on the earth, and every such combination has its unique beauty and unique contribution. This Hasidic concept of a "reservoir" of interconnected souls is in fact closely parallel to the idea of the "bundle of life" which we can glimpse in this world and fully experience in the World of Truth.

Another question asked by many readers is whether Judaism believes in heaven and hell. This question too could fill a book, but a brief answer is possible. In Jewish belief, spiritual growth does not end with death. On the contrary, we believe that the soul continues to grow and develop even after death. It is universal custom to do good deeds in the memory of a departed person in order to effect an "elevation of the soul" (iluy neshoma).(2) Spiritual growth is impossible without some degree of torment and catharsis for misdeeds. So Judaism certainly believes that after death there is judgment for sins and torment for the soul. But this judgment, often denoted Gehinnom, is not conceived as a place of eternal torment and punishment but rather as a place of measured and commensurate punishment for sin which enables the soul to obtain atonement and catharsis and thus move on to even greater heights of closeness to G-d.

This too is intimately connected to the idea of the bundle of life. Unethical acts divide and separate us from our fellow man, thus inhibiting our assimilation into the "bundle of life." The atonement provided by Gehinnom enables us to break down these barriers. One way of understanding this concept is that the torment of Gehinnom is in effect the remorse we feel when we obtain an adequate understanding of the gravity of our sins.

Judaism believes in life after death, where spiritual growth continues as we strengthen our consciousness of our connection to all life and our responsibility to cultivate it. Our reward there is our acute consciousness of all we have done to improve the lot of all mankind, and our atonement for our sins is in our awareness of and remorse for all we have done to harm others and to make a false and artificial separation between our private good and the good of all.

SOURCES: (1) A typical example is Kuntress Hispaalus of Admor Emtzai, pg. 66. (2) See for example Bava Metzia 85b, which describes the spiritual ascent of some of the great Talmudic sages
Every weekday JewishWorldReview.com publishes inspiring articles. Sign up for our daily update. It's free. Just click here.
---
JWR contributor Rabbi Dr. Asher Meir, formerly of the Council of Economic Advisers in the Reagan administration, is Research Director of the Business Ethics Center of Jerusalem, Jerusalem College of Technology. To comment or pose a question, please click here.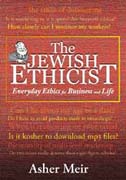 THE JEWISH ETHICIST, NOW IN BOOK FORM
You've enjoyed his columns on JWR for years. Now the Jewish Ethicist has culled his most intriguing — and controversial — offerings in book form.
HARDCOVER
PAPERBACK
Sales help fund JWR.

Previously:
The Jewish belief in resurrection of the dead affects how will live in the here and now
Ethical guidelines on what to say and what's proper to keep to yourself
Is it wrong to get credit for something you didn't do?
Ethics and sportsmanship
The ethics of forwarding email
Must a supplier honor a discount offered by a rogue sales representative?
Should I boycott my daughter's fashion show?
Should you respond to all those annoying email pop-up requests?
Do I have to reimburse someone who tried to do me a favor?
Seeking credit card debt settlement
Can I threaten to spread the word about someone who cheated me?
How can the terminally ill tap into their life insurance?
Is there value in an unhappy marriage?
Where does the Almighty fit into your corporation's mission statement?
Does an expert witness have to be impartial?
Should I give recognition to a modest man who did a great deed?
In representing my firm, can I tell a white lie?
Defrauding insurance to save a life
Can top level management unilaterally give away money to corporate dollars to charity?
Loans to Family Members
How much worker supervision is too much?
Should I turn in a colleague for inappropriate acts?
Priority in charitable giving
Trolls and ogres
How many hours of work is too many?
Can I promote my product by having it unobtrusively written into a story?
He's not heavy he's my brother
All's fair in war?, II
All's fair in war?
Girth vs. worth
Is it proper to tax bequests?
Ethics of Being Overweight
Penalized for working swiftly
When is it a bluff?
'Rate and switch'
My paycheck is late!
Should schools cater to an elite?
All's fair in love?
Comfort and Competition
Do I need the caller's permission to put a call on the speakerphone?
Overtime for lost time
Is it unethical to play suppliers against each other to get the lowest bid possible?
Do family members have precedence in charity allotments?
What the world of business can teach us about our annual process of repentance and renewal
Are religious leaders subject to criticism?
Vindictive Vendor: How can I punish an abusive competitor?
Blogging Ethics: Is the blogger responsible for defamatory posts?


© 2005, The Jewish Ethicist is produced by the JCT Center for Business Ethics