Jewish World Review July 28, 2003 / 28 Tamuz, 5763
An ugly idea whose time has come
By Hillel Halkin


http://www.jewishworldreview.com | I'm embarrassed to admit that I haven't been to see The Fence yet. Now that it has become a tourist attraction, with busloads of American Jewish leaders being taken to see it go up, one might think that an ordinary Israeli would want to have a look at it too.

But I don't, not really. It's an ugly idea — a fence several meters high and several hundred kilometers long that cuts our country in two — and it has to be an even uglier sight. Had I been a tourist in Berlin in the old days, I'm sure I wouldn't have wanted to miss the Wall, but I can easily imagine that Berliners felt differently.

There's not much to like about fences. They tell you that you're poorer than you thought. Try running into one when you're on a hike in open country. There you are, with the hills and fields all around you, the sky overhead, the earth beneath your feet — it's all yours — and suddenly there's this nasty bit of wire saying, "Stop! You're mistaken. Just who do you think you are?"

We're Jews in the land of Israel, that's who we are. And we'll be less so with a monster fence running through it.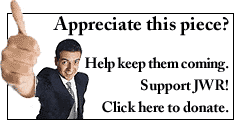 It will diminish us all, The Fence; Israelis and Palestinians alike. It will tear the land apart. It will prevent normal travel, commerce, and relations. It is a desperate measure, a last resort, and the question is whether it makes any sense.

There are two different scenarios in which it does make sense.

The first involves never finishing it and never using it. The logic behind this is the logic of the old Roman saying: "If you want peace, prepare for war." Just as only an enemy who knows that you're ready and able to fight understands that he shouldn't provoke you, so, it can be claimed, only when the Palestinians know that we have the means to live apart from them will they realize that they mustn't encourage us to do so. The Fence is a threat, a way of saying: "Look, we may like the idea of fences no better than you do, but if you can't offer us acceptable terms, you need to realize that we have an alternative. We'd rather find a way of living together rather than retreating to a barrier. But time and our patience are running out. The Fence is there, it's going up, we can finish it in a few months and get behind it and be reasonably safe from any harm you can do to us - and now make up your minds: Is this what you want?"

It is of course what the Palestinians do not want. The Fence will be a disaster for them, far more than it will be for us. It will cut them off from the Israeli economy and job market, which are their best hope for economic development and capital accumulation. It will cut them off from contact with Israeli society, which is their most promising chance for modernization and democratization. It will cut them off from their own kin, the Palestinians who are Israeli citizens. And it will cut them off from the greater part of Palestine, which is now Israel and for which they profess to long.

The prospect of an Israeli redeployment behind The Fence is a powerful reason for the Palestinians to make concessions that will prevent this from happening - more powerful than all the battalions and brigades that can be thrown into Nablus or Jenin. It's why we need to go on building it at full speed, even if our ultimate goal is to tear it down again.

THE SECOND scenario in which The Fence would make sense is the opposite of the first. It is one in which we do not want to live together with the Palestinians at all, but rather to be separated as much as possible from them and the Arab world, if not permanently and forever, at least for a very long time — as long, say, as East Germany was separated from West Germany between 1948 and 1990, or perhaps even as China was separated from the Mongols for hundred of years after the building of the Great Wall.

There is little doubt that most Israelis today feel this way. After three years of Palestinian violence, the prevalent attitude among Jews in this country is that the less Palestinians have to be seen, heard from and dealt with, the better. No wall that keeps them out can be too high, no obstacle too thick. Let's draw a curtain on the Arab world, turn our backs to it, and face across the sea to Europe and the West: Put that in a petition and you could get a million signatures in a month.

There is something to be said for this. The Middle East has not, in the 125 years since Zionist settlers first tried striking roots in it, been very hospitable to us. It continues to be one of the most backward regions of the world, ruled by despotic regimes and fundamentalist clerics. We Jews, on the other hand, have been, for the past century and a half, at the cutting edge of Western civilization. Backs to the Arab world and faces to the West seems a natural posture for us — at least until that world undergoes basic changes that are not in the offing right now.

And yet think of the price, the diminishment.

The real question we now have to answer — that we have not answered since 1967 — as prepared or unprepared for answering it as we may be, is quite simply this: Do we, assuming a degree of choice exists, want to live with the Palestinians in a Land of Israel or Palestine that is open to us all, or do we want to live without them and in only part of it?

Curiously, as I have said, the immediate logic of both a "yes" and a "no" answer to this question is the same: Get on with The Fence, as awful and ugly as it is, and go on building it as fast as possible. Only as it nears completion will we and the Palestinians have to decide. But the decision, when it comes, will be radical and drastic. Both sides had better start thinking, as hard and deeply as we can, about its implications right now.
Every weekday JewishWorldReview.com publishes what many in Washington and in the media consider "must reading." Sign up for the daily JWR update. It's free. Just click here.
JWR contributor Hillel Halkin is an Israel-based translator and author, most recently of Across the Sabbath River: In Search of a Lost Tribe of Israel." (Sales help fund JWR.) Comment by clicking here.
02/21/03: The immorality of losing
12/17/02: You don't have to be Orthodox to cherish the Sabbath
© 2003, Hillel Halkin