http://www.jewishworldreview.com | Several years ago I was dispatched by my wife to the grocery store for a last minute item. It was the eve of Rosh Hashanah. Time was tight. Tasks piled up. I ran to the store and quickly found the item. My luck: the line is the longest line I'd ever seen there. Rosh Hashanah eve, and I'm stuck behind 16 people.

This was a very efficient store — what went wrong?

I asked the clerk just that when I finally reached the check-out counter.

A black lady looked at me uncomprehendingly and said, "Don'tcha know, buddy? It's a Jewish holiday!"

Shortly after last Sukkos (Tabernacles), I was deplaning from Israel at Newark Airport. The plane was 90 minutes late. I had only 30 minutes to deplane, clear customs, get to another terminal, clear security and rush to the plane. every second counted.

I had no checked baggage, sped out of the plane and headed to customs. In good conscience I could check "no" on the customs form for every item but one. "Are you carrying fruit?" I was sorely tempted to check no, but I was carrying a couple of esrogs, which I like for Havdalah spices.

"Citron" is English for "esrog" and I needed to get through the line without a second's delay. I jotted down, under fruit, "citrons."

My luck. The customs agent, instead of passing me through, has to get to the bottom of my "yes" for fruits.

"What's a citron?" he asks.

"Well . . . "

The truth is, I don't know how to explain it. I am a little flustered due to the time crunch.

"Kinda of a yellow fruit," I manage.

The agent looks skeptical.

"Let me see it."

Just what I need — a lengthy baggage search.

I open my carry-on and can't find the citron.

The agent takes over. With excruciatingly slow hands, he starts shuffling through my packed items.

I briefly explain why I'm rushed.

He doesn't want to hear.

Finally, he finds the citron.

I'm counting the seconds.

"What's this?" he asks.

I still stumble, trying to explain a citron.

Suddenly, a light goes on. Not mine. His.

"Is this an esrog?" he asks.

"Yes," I say.

"Well, why didn't you say so! Go right through."

When the obvious stares us in the face, we often fail to see it. Consider this week's Torah portion. Pharaoh has suffered 10 plagues. Why doesn't he get it? Why does it take the 10th plague, the killing of the firstborn, before he lets the Jews leave Egypt? Wasn't one disastrous plague enough?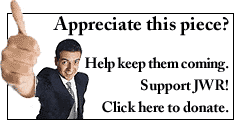 Indeed, after nine plagues, Pharaoh is more stubborn than ever. For the first time he throws Moses out and even threatens him with death. "Go from me! Beware — do not see my face any more, for on the day you see my face you shall die!" (Ex. 10:28).

Isn't this odd? Had not the reality of a Divine force been made abundantly clear to Pharaoh? How did he miss the signals, becoming more clueless than ever?

I stare at a long line at the grocery store; it never dawns on me that the line is long because of Rosh Hashanah eve — the very reason I am there to begin with.

I stutter over "citrons," when tens of thousands of "esrogs" pass through US customs each Sukkos.

Pharaoh's failure to absorb his own reality was catastrophic. During the first five plagues, he hardened his own heart. Then, during the last five plagues, the Torah says that G-d hardened Pharaoh's heart. Maimonides explains the shift:

G-d punished Pharaoh's earlier, freely chosen stubbornness. When Pharaoh first hardened his heart, this was his sin. For this, G-d punished Pharaoh, such that he was robbed of the ability to see his own sin and to repent.

Rabbi Israel Salanter developed this idea in psychological terms. A sin, he observed, is more than an objective wrong. I steal $10 — it's a sin. The remedy, one would think, would be to return the $10. Not so simple, said Rabbi Israel. A sin leaves a residue; it decreases my spiritual capacity. A sin has two consequences: one objective and one spiritual. The objective one, in most cases, may easily be remedied. I may return the $10. This takes courage, but it is easier than removing the spiritual stain on my soul, left by my sin.

The stain on the soul is twofold. First, if I steal once, it's easier to steal again. Second, I become impure. I have soiled myself. The return of the money cannot remove the stain. That requires separate, spiritual effort.

Pharaoh could not see the obvious after nine plagues because the stains on his soul accumulated and deepened with each additional sin. After refusing the Jews' request to be freed as slaves and then suffering one plague, Pharaoh did more than oppress his people. He deepened his spiritual blindness, he let his soul atrophy. He densitized himself. He found it easier to refuse the Jews again.

Pharaoh needed to do more than let the Jews go. He needed to repent the damage he had done to his own people, due to the damage his sin had done to his own soul. By the time he got to the ninth plague, Pharaoh had become so atrophied that he couldn't begin to see himself, or the reality of G-d's and Moses' power. He lashed out against Moses, without understanding that he was lashing out against himself.

Sin is like any other mistaken path — the longer you travel it, the harder it is to return. The sooner you begin to return, the shorter the ultimate journey.

The ultimate goal is clarity. A person who properly sees the reality of G-d and the spiritual requirements of the Torah always sees the obvious. No one ever trips him up.
JWR contributor Rabbi Hillel Goldberg is executive editor of the Intermountain Jewish News. To comment, please click here.
© 2004, Rabbi Hillel Goldberg