Jewish World Review Jan. 9, 2004 /15 Teves, 5764
What is important in prayer?
By Rabbi Hillel Goldberg
How is a sword a metaphor for prayer?
http://www.jewishworldreview.com | Yonason Alpren of Jerusalem spoke in Denver on Sept. 4, 2003.

Born in Birmingham, England, he practiced law in his native country before moving to Israel in 1980. He is a teacher by profession, but in Jerusalem, he has studied in the Mir yeshiva (rabbinical seminary) for the past 23 years.

Why would a professional spend 23 years studying in a yeshiva? I would venture to say that in virtually any American city this is unheard of. The goal of "Torah study for its own sake" is carried out with much more seriousness in Israel than elsewhere.
A physicist, a well respected professor at The Hebrew University, has spent every afternoon studying Torah in the Mir yeshiva for the past 30 years. He is not studying to be a rabbi. He is not preparing to be a teacher. He is not trying to make a name for himself. He already has a profession. Simply, he is buoyed and joyed by daily contact with words of Torah, with the link to G-d they provide.
Someone else in Jerusalem, a successful building contractor, attends a one-hour lecture in Torah every weekday morning, no matter what, at 10 a.m. Anyone in business can appreciate the discipline this involves.

It would be impossible to calculate how many people in Jerusalem aspire to study Torah on a serious, steady basis. I refer not to those who study Torah full time, but, as you see, to professionals, from building contractors to professors.

Rabbi Alpren is a lecturer in Torah, but he has not spent half days in the Mir yeshiva for 23 years preparing his lectures. Rather, he increases his general knowledge there; he studies Torah for its own sake. It is during the rest of his day that he prepares his lectures — and a popular lecturer he is. He delivers three lectures weekly for women in Har Nof, Jerusalem, and teaches in several seminaries. He has prepared hundreds of tapes of his talks.

After having heard him in person, I understand why his tapes are popular. He is fluent and concise; his mastery of biblical commentary is impressive; his ideas are stimulating; his stories are pertinent and original.

In Denver, Rabbi Alpren cited Genesis 48:22, from this week's Torah portion. The speaker is Jacob on his deathbed. He addresses his son Joseph: "I have given you Nablus, one portion more than your brothers, which I took from the hand of the Emorite with my sword and with my bow."

Given the reference to a sword and a bow, Jacob's context might be the military conquest of Nablus by his sons Simeon and Levy (Gen. 34). Rashi cites this as a possibility. However, Rashi goes on to cite a very different possibility, perhaps because Jacob did not participate in the conquest of Nablus and, in fact, strongly disapproved of his two sons' militarism (34:30). So when Jacob referred to this conquest as his own, he did not refer to the conquest of Nablus.

Problem: There is no reference anywhere in the Torah to a battle between Jacob and "the Emorite." Under Rashi's second possibility, "the Emorite" refers to Esau, specifically, to Jacob's acquisition of the birthright from Esau.

This was not a physical battle. What, then, did Jacob mean by taking something from Esau "with my sword and with my bow"?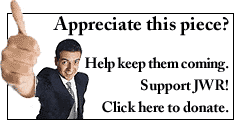 We may profitably consult the translation of the Hebrew Bible into Aramaic by Onkeles. Translations expand our understanding. Now Onkeles, next to Ruth, is probably the most famous convert in all of Jewish history. He wrote history's most authoritative translation of the Hebrew Bible. It is printed in many standard editions, right alongside the Hebrew text.

Onkeles translates "with my sword and with my bow" as "with my prayer and with my supplication." Rabbi Alpren explained the link between sword and prayer, and bow and supplication, with a comment by the late Rabbi David Pinkus.

Rabbi Pinkus cited a puzzling yet alluring passage in the Talmud (Berachos 34a). It records two incidents. No doubt, they will be all too familiar to people who have spent time in a synagogue or temple.

The first incident: Someone gets up to lead the prayers and goes on and on — really dragging things out. This occurs in the presence of the sage Rabbi Eliezer. His students lodge a complaint. He responds: Did he prolong the service as long as Moses, who prayed for 40 days and 40 nights, seeking forgiveness for the sin of the Golden Calf? (Deut. 9:25).

The second incident: Someone leads the prayers, and is finished before the proverbial blink of the eye. This, too, occurs in the presence of Rabbi Eliezer and again his students lodge a complaint. He responds: Was he as fast as Moses, who prayed for his sister in a mere five words? ("Please, L-rd, please heal her"; Num. 12:13).

Prayers, too long, too short — what is the point of this exchange? Said Rabbi Alpren in Rabbi Pinkus' name:

An effective prayer is a sword, an effective supplication is a bow. Both of them cut right through. They have a goal, an intention, a purpose. The person uttering the prayer or supplication knows what he wants, knows where's he's going. The power of prayer is a function of its focus.

Rabbi Eliezer meant that prayer, if properly focused, can be short — as short as five words. Or it can be long — as long as 40 days and 40 nights. The point is neither to shorten nor to lengthen one's prayer, but to focus it. If it is focused, it may be incredibly short, or extraordinarily lengthy.

The hazard of prayer is that one can get lost. Lost in the words or lost in the setting. One can lose focus. If so, one can pray at great length — and achieve nothing. A focused prayer, a short prayer — a sword and a bow — can pierce the barrier between man and G-d.

Likewise, one can pray very quickly — and achieve nothing. A focused prayer, a long prayer — bringing into cohesive understanding all of one's burdens and aspirations — can become a sword, a bow, piercing the barrier.

After he concluded his formal lecture, Rabbi Alpren mentioned another proof of the idea that the essence of prayer is focus. In Psalm 142, King David says: "My voice, I cried out to G-d; my voice, I begged to G-d."

The key word in this verse, said Rabbi Alpern, is to. When a person cries out directly to G-d — directly; no confusion, no distraction, no unclarity — this is prayer. A sword and a bow reach their target directly. They are most appropriate metaphors for prayer.
Sign up for the daily JWR update. It's free. Just click here.
JWR contributor Rabbi Hillel Goldberg is executive editor of the Intermountain Jewish News. To comment, please click here.
© 2004, Rabbi Hillel Goldberg