Jewish World Review Jan. 2, 2004 /8 Teves, 5764
What is a 'significant encounter'?
By Rabbi Hillel Goldberg
A truly powerful article
http://www.jewishworldreview.com | In about 1882, the wife of Rabbi Joseph J. Hurvitz died in childbirth. He had been gripped in spiritual struggle, and his wife's death sent him . . . some said, over the edge. He said, into profound search.

A young Talmud scholar, Rabbi Hurvitz had thought he would study Torah after he married. However, his prospective father-in-law died shortly before the wedding. Instead of father-in-law supporting son-in-law, the son-in-law decided to support his mother-in-law and her eight children, plus his wife.

The Hurvitz family could have broken the engagement. But he and his family stayed with the original match. A deal is a deal, they said, notwithstanding the heavy family burdens the marriage would place on Rabbi Hurvitz.

He was ripe for an inner revolution. An older, seasoned pietist, Rabbi Isaac Blazer, noticed him energetically conducting his trade in textiles. The young man exuded alacrity, strength, intelligence. The senior rabbi questioned, "Why do you not devote more time to your Talmud studies?" "What will I live on?" the young man responded. "The question is," came back the older man, "What will you die with?"

This triggered inner turmoil. With Rabbi Hurvitz's wife's death, something inside him broke. No more would he be a man of the world. No more would he, in his twenties, support ten people (actually more, for he had a couple of children of his own by then). No more would he make a name for himself in the textile trade. He asked friends to take in his children; he sold his lucrative trade and set up an endowment for his first wife's family; then locked himself up in a cabin.

He would study Torah in isolation. He would dig out of himself the negative spiritual effects of wasted years in business. He would try to purify his soul. He would be fed by a kindly lay person who provided him with a small cabin, a "house of isolation." It had two holes, one for meat meals, the other for milk meals.

He remained in isolation for 18 months. He would have stayed longer had he not been ratted on by Jewish enlighteners who, scandalized by his asceticism, fabricated a case before the tsarist authorities that he was fomenting a revolution from inside his cabin.

When he came out, he remarried. Known as a tzaddik, saintly, he could have married into a rabbinically connected family. He could have demanded a princely dowry. But he had not worked on himself in order to achieve that. He had not tried to extirpate the desire for goods and for a reputation in order to seek status. He had worked on bitachon, trust in G-d, by which he could live without any apparent means of support, and in complete indifference to public opinion. So he married the simple daughter of the unlettered lay person who had supplied his cabin and fed him for 18 months.

In about 1884, Rabbi Hurvitz and his second wife had a child, a daughter.

This is the story of an encounter with that daughter, almost 100 years later.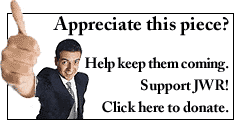 Rebbetzin Sarah Joffen died in Jerusalem in 1984 after roughly a century of life. Her father, Rabbi Hurvitz, who later became well known as the "Elder of Novorodock," after the name of the city in which he founded his first yeshiva, rabbinical seminary,never did take a job. He reached perhaps the highest level of trust in G-d of any pietist in recent generations. He opened yeshivas with no business plan; he persuaded young men (older teenagers, actually) to ride the rails to small towns, without a penny in their pockets, and trust to G-d that they, too, would be successful in opening yeshivas there.

His daughter grew up with all this lore and radical spiritual striving implanted in her blood, so to speak. She was short. She was indomitable.

She herself survived the pogroms of World War I and escaped the Nazis via Siberia, reaching the US in 1941, finally ascending to Jerusalem in 1964. After her husband died in 1969 (a pietist in his own right), she continued to raise funds for the kollel insitute he had founded in Jerusalem. When Rebbetzin Joffen called, donors and politicians responded. She was irresistible. She had acquired her father's tenacity and purity of spirit, his singleminded vision.

This is the encounter:

In the late 1970s, I was asked by Rabbi Eliezer Ben Zion Bruk (d. 1985), head of the Novorodock yeshiva in Jerusalem, whether I would mind driving him and his wife to visit Rebbetzin Joffen, whose husband had been Rabbi Bruk's mentor. Mind? It would be a privilege to be with him and his wife, and to see Rebbetzin Joffen.

It was a winter evening. The sun fell early. The rebbetzin could barely move. In her mid-nineties, all she could do now was to lie down and sit up. She was lying in bed when the Bruks entered, her head propped up on a pillow. A small lamp highlighted her head against the generally dark room. Rabbi Bruk sat next to the bed on one side, Mrs. Bruk on the other. I was in the background.

The scene was straight out of a Rembrandt. The dim lighting and the sharply lit face. The matriarch, small, weak, bedridden, yet completely in control. The visitors gathered around, reverential and loving.

The Bruks had come to pay a visit. They made small talk. Everything was friendly. Suddenly, out of nowhere, Rabbi Bruk was sobbing. He was conscience-stricken. He had already reached Palestine in the 1930s, when the Joffens were still in Europe, and then in Siberia. He had had the opportunity to help, and had done so. He had sent packages to Siberia to his starved mentor and family. But these were desperate times in Palestine, too. Not like Siberia, but certainly the Bruks had very little discretionary income. Still, they were free, the Joffens were not. Rabbi Bruk was stricken: Perhaps he had not fulfilled his obligation. Perhaps he had not done enough. Perhaps he had not properly honored his mentor. Perhaps he could have sent more packages. Would she forgive him?

He wept.

I did not hear what Rebbetzin Joffen responded.

I was sore amazed.

This . . . was a significant encounter.

What is a significant encounter? When words dance around the main story, when words function more like symbols, hints at emotions too deep or delicate to say straight out. A significant encounter is when something is rumbling beneath the surface placidities, when the conversation goes one way, but the meaning another. A significant encounter happens on two levels.

This week's Torah portion has two such encounters.
Joseph and Judah
Joseph has manipulated his brothers to the point of bending them to his mercy. He has hidden the king's goblet in his brother Benjamin's sack, with which Benjamin is caught red-handed. Joseph demands his brother's punishment. This is the setting for the encounter as Judah approaches Joseph.

Judah, from out of submission to Egypt's powerful regent, his brother Joseph, must find a way to persuade Joseph not to imprison Benjamin, lest their father Jacob die from sorrow. Judah sets down arguments. Judah struggles. His task is formidable. He keeps his dignity. Joseph reigns supreme. Will he become vulnerable to Judah's pleas?

Such are the surface coordinates of the encounter. It is a negotiation, a struggle between power and mercy. It is Judah's detailed summary of the dialogue between Joseph and his brothers on their recent journeys to Egypt. Yet, it is none of this. When Judah ceases speaking and the meaning of the encounter is revealed, Joseph does not even speak to Judah's words. Joseph pierces them, disclosing them for the evasion they are.

"And Joseph said to his brothers: I am Joseph. Is my father still alive?" (Gen. 45:3). Joseph's brothers can do nothing but stand silenced, for "they were overwhelmed before him" (45:3).

The surface encounter was a negotiation. With only two Hebrew words, "Ani Yosef, I am Joseph," Joseph turned the encounter into a frontal excavation of everything that had stood between him and his brothers back to the days of their youth. The surface encounter was Judah highlighting the entire history of their family; really, it was denial. Judah's eloquent appeal, 112 words long, smothered a two-word phrase, a skeleton in the closet, a lie. These two Hebrew words of Judah, achiv met, translate as "his [Benjamin's] brother [Joseph] is dead" (44:20). But Judah could not know that. It was a convenient fiction. A family cover-up. A plausible story. This lie was the heart of the Joseph-Judah encounter. To Judah's entire appeal — his whole speech — Joseph responds to only two words, with two words of his own: "I am Joseph."

Two words stripped away the myth of Joseph's death, the mask in which Judah had so carefully encased his eloquence.

The brothers' shock was not just surprise. It represented the resuscitation and the beginning of the repair of everything that had gone wrong between the brothers.

This . . . was a significant encounter.
Joseph and Jacob
Joseph has revealed himself to his brothers and forgiven them. He has risen above, telling them that G-d had a reason for their selling him down to Egypt. In Egypt he rescued an entire nation. Of course, Joseph does not imprison Benjamin, but sends him and his brothers back to Canaan with abundant provisions.

Needless to say, they bring news of their brother's survival back to Jacob, whose "heart runs cold" when he first hears it. It is unbelievable, literally. His heart revives when he sees the wagons of provisions Joseph has sent, for, according to midrash, Jacob took these wagons to be a code for the last Torah topic that he and Joseph had studied before Joseph's disappearance decades ago. Only Joseph could have known the topic; it was incontrovertible proof that Joseph was, indeed, alive.

So now Jacob, an old man, must go down to Egypt to see his son Joseph before he (Jacob) dies. What an encounter this will be! What a reunion. One can only imagine the emotions, the weeping, the two falling into each other's arms — long lost son, long unseen father. Jacob brings his entire family to Egypt for the occasion, "his sons and grandsons, his daughters and granddaughters and all his offspring" (46:7).

From the other end, Joseph prepares to meet his father. Jacob has send Joseph's brother Judah ahead to help prepare Joseph. "Joseph harnessed his chariot and went up to meet his father Israel [Jacob] in Goshen, and he saw him and fell on his neck and wept copiously on his neck" (46:29).

Joseph is weeping on Jacob's neck exactly as predicted. But what is Jacob doing?

Jacob is not falling on Joseph's neck, nor is he kissing Joseph. The emotional outburst is all his son's. Jacob is elsewhere. His mind and soul are racing, focused on the Shema, according to the Sages. Jacob is reciting, "Hear, O Israel: the L-rd is our G-d, the L-rd is One."

Jacob is attuned to a meaning far beyond the surface of the actual reunion.

For all intents and purpose, that reunion — the surface reunion — took place for Jacob the moment he believed that Joseph was actually alive. That belief, not Joseph's flesh and blood, sent Jacob soaring with gratitude. Then, upon actually seeing Joseph, Jacob was transported by G-d's unity and all it implies: the continuity of G-d's people, which, remember, is the continuity of Jacob's family. Jacob is the one who founded the family of Israel, whose integrity depended on the survival of every one of his sons. Jacob's work was incomplete if even one of his son's were missing. Jacob, seeing Joseph in the flesh, peered beyond it, seeing the generations that would unfold not just from his long lost son but from his total Jewish family. His family had to be whole for the Jewish people to be founded, to be redeemed, and to redeem humanity. There had to be a unity within the Jewish family, in order to reflect the Divine unity, and once it did — once Joseph was rediscovered alive — Jacob recited, "Hear, O Israel: the L-rd is our G-d, the L-rd is One."

This . . . was a significant encounter.
Sign up for the daily JWR update. It's free. Just click here.
JWR contributor Rabbi Hillel Goldberg is executive editor of the Intermountain Jewish News. To comment, please click here.
© 2004, Rabbi Hillel Goldberg