Jewish World Review Dec. 19, 2003 /1 Teves, 5764
Is there absolute objectivity?
By Rabbi Hillel Goldberg
The need to create a perfectly balanced set of 'soul forces'
http://www.jewishworldreview.com | When I was in college, I was often doing what I wasn't supposed to. Do you know people who need to study for a test and can sit for four hours straight, methodically reviewing one fact after the next, never taking their mind off their notes? Their attention never wavers.

My attention always wavered. Whenever I went to the library to get the book I needed, I was fascinated by the book next to it, or a few books over. Suddenly they seemed much more important than the book I was supposed to read. When I was supposed to be studying for a test, I suddenly felt the need to peruse a different subject — how narrow the test seemed! Why was I limiting myself? I must broaden my horizons! Never was the impulse stronger than when I was studying for a test.

One day, I was sitting in the Jerusalem Public Library reviewing for a doctoral exam. The reading list was heavy, very heavy. I wandered over to the shelves and noticed a copy of Harry A. Wolfson's Crescas' Critique of Aristotle — it had precisely nothing to do with my upcoming exam. But I pulled it off the shelf. Nothing could be more important at that moment than to brush up on Wolfson (1887-1974).

I had been introduced to this eminent, indeed legendary historian of philosophy by the late Prof. Alexander Altmann when I was a resident graduate student in Jewish studies at Brandeis. I had been interested in Judah Halevi and Altmann told me to read an article on him by Wolfson. I was amazed. As I soon came to learn, everyone who reads Wolfson is amazed. He is a beautiful stylist, a master of Arabic, Hebrew, Greek, Latin and all the European languages. His linguistic wizardry allows him to see connections, meanings and influences as no one before him.

So here I am, delaying the inevitable — the return to my doctoral drudgery — reading Wolfson, whose level of knowledge I will never begin to approach anyway, convincing myself that just now, right now, it's a necessity to read him. I notice in Wolfson's footnotes (I'm jumping around, not really reading with any discipline) certain Hebrew terms that jump out at me.

These terms in the writings of Rabbi Israel Salanter (1810-1883) had long puzzled me. My doctoral thesis was slated to be on Rabbi Israel's writings, some of which seemed impenetrable. Suddenly, I became utterly focused on Wolfson; I was no longer dabbling. He was unraveling the meaning of Rabbi Israel's puzzles by showing their roots in medieval philosophic texts. Everyone knew that Rabbi Israel was a polymath, but no one ever suspected that he read medieval Hebrew philosophy. Wolfson was unlocking the Salanterian texts. He was writing my doctorate. He was giving me the key. He was telling me: Follow through on these terms.

He was showing me: On occasion, goofing off can pay off.

Is there any such thing as absolute objectivity? Once I penetrated Rabbi Israel's texts, thanks in part to Wolfson, I found that he addressed the topic profoundly. So does this week's Torah (Bible) portion — as does Einstein.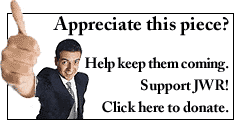 Joseph is a dream interpreter. As this Torah portion opens, Pharaoh has two dreams. Joseph is delivered from prison in order to interpret them. Seven emaciated cows eat seven fat cows. Seven scorched ears of grain swallow up seven good ears. Joseph says: There will be seven good years, then seven years of famine. For his wisdom Joseph is promoted to second-in-command to Pharaoh.

Most everybody has dreams. Is there any objectivity in them? In truth, our experience may be broken down into four realms: dreams, ideas, emotions and the physical world. In none of them is there absolute objectivity.

The Talmud makes a remarkable statement, "All dreams follow the mouth (the words of the dream interpreter)." This does not merely mean that different people interpret the same dream differently. It means much more. The Talmud (Berachos 55b-56a) relates a story that could be read on many levels. I stick to the literal meaning simply because it best conveys the elusiveness of objectivity. This is the story:
Bar Hadaya made a living interpreting dreams. Abbaye, a sage, paid Bar Hadaya to interpret his dreams. Rava, another sage, did not pay. Bar Hadaya interpreted Abbaye's dreams in a positive light and Rava's dreams in a negative light, and the negative predictions came true. Bar Hadaya did not merely interpret a dream; rather, it was his interpretation that determined what happened to the dreamer.


After Bar Hadaya's bad predictions befell Rava, Rava decided to pay Bar Hadaya, whose interpretation of Rava's dreams turned positive. Rava's fate got better. Rava told Bar Hadaya: "Wretch! It was in your hands and you caused me so much pain!"

The subjectivity of dreams is obvious, but that their meaning is determined by their interpreter is a radical statement! Here is lack of objectivity with a vengeance.

Under this view, Joseph's interpretation of the dreams played a key role in the coming events — Egypt's rescue, Joseph's rise, his ability to manipulate his brothers.

No event in a dream is inevitable; "all dreams follow the mouth."
IDEAS
Can an idea be grasped objectively? This is a critical question for Jews, such as Rabbi Israel Salanter, who believe that the Torah is objective truth. For the Torah to be objectively true is not enough; it must be able to be objectively grasped by human beings.

The barrier to intellectual objectivity, writes Rabbi Israel, are one's biases. It is the pivotal duty of a Torah scholar to purify his intellect of biases. Can this be done? Rabbi Israel writes that there are two levels of objectivity: disembodiment of the intellect, and purification of the intellect.

Disembodiment of the intellect is impossible for a human being. Angels are disembodied; human beings, by definition, consist of intellect commingled with emotions and biases that impinge on the intellect and de-objectify it to one extent or another.

However, a human being — granted, a very special one — can balance what Rabbi Israel calls the "soul forces," i.e., the psyche, everything in a human mind besides his rational capacity. Perfectly balanced, a critical level of intellectual objectivity is possible. The intent of G-d's will in the Torah can be apprehended. (Needless to say, enormous learning is also required.)

The thing is, even in perfect balance, a person's soul forces still constitute a temperament, and this temperament still colors, to an extent, interpretation of the Torah. There is no bias, no prejudice, in the preeminent Torah scholar's interpretation of the Torah; there remains, however, something of his very humanity.

Objectivity, then, is that which is both G-d's and man's. For when Torah, as adjudicated by the preeminent scholar, does not correspond to the preexistent Torah, the humanly adjudicated Torah is still termed "the Torah of G-d."

Indeed, after G-d's revelation at Mount Sinai and in the Sinai desert, it was left to the unbiased Torah scholar to apprehend the Torah for the Jewish people. The Torah is "not in Heaven" (Deut. 30:12).
EMOTIONS
Can a human being understand himself — his own emotions and psychological makeup — objectively? Here, Rabbi Israel is quite skeptical. In fact, he sounds like the Einstein of Relativity transposed to psychology.

There is a methodological Catch 22 in a human being achieving self-objectivity. In Rabbi Israel's terms, it is excruciatingly difficult to balance the soul forces because the very act of examining oneself arouses an emotion or bias. A person cannot simply package his psyche, sit it somewhere outside himself on a shelf, and then ponder it. His very act of pondering his emotions and biases arouses them and distorts his self-analysis, whether little or much.

This is a key element of post-Einsteinian thought: The participant changes reality. There is no unchanging, objective reality "out there." Similarly, says Rabbi Israel, inside the psyche there is no unchanging, objective reality.

The best a human being can hope for is a very high approximation of self-objectivity, or, as Rabbi Israel puts it, an almost perfectly balanced set of soul forces.
PHYSICAL REALITY
Essentially, the Heisenberg principle states that the momentum and the position of a subatomic particle cannot both be known precisely. For the only way to measure either is to use some kind of illumination, which changes either the velocity or the position. The participant changes reality.

This is not a technical difficulty that some new technology will eliminate. It is in the nature of subatomic reality.

Under Einstein's special theory of relativity, no two observers moving through space at different speeds — and we are all moving through space — see things the same way. For example, observers moving at different speeds will measure the length of a stick differently. They will also measure the time it takes for the stick to pass by differently. Time is relative to the speed and position of the observer. On earth, we are all moving through space at the same speed, so reality seems objective. It is not this way.

All this is another way of pointing out the contingent nature of the human being as he or she strives to become like, to apprehend and to communicate with the one objective reality, G-d.
Sign up for the daily JWR update. It's free. Just click here.
JWR contributor Rabbi Hillel Goldberg is executive editor of the Intermountain Jewish News. To comment, please click here.
© 2003, Rabbi Hillel Goldberg