Jewish World Review Dec. 19, 2003 /24 Kislev, 5764
What is a spiritual high?
By Rabbi Hillel Goldberg
How to get from here to There
http://www.jewishworldreview.com | Some of my favorite authors are people I did not have time to read when I first heard of them. I filed them away for years, sometimes even decades. I believe it was in 1988 or 1989 that I first heard of Shem Mishmuel, a Hebrew-language commentary on the Torah (Bible) by a Polish Chasidic master, Rabbi Shmuel Bornstein, the Rebbe of Sochaczev, a town in Poland west of Warsaw. His father wrote the famed work in Jewish law, Avnei Nezer.

In 1988 and 1989, our family spent Rosh Hashanah in Santa Fe, New Mexico. There, at a meal hosted by the Mishory family (now in Denver), we heard a word of Torah from Yehudis Fishman (now in Boulder). She cited Shem Mishmuel. I do not remember what she said; I do remember being impressed. I made a mental note: Look into the Shem Mishmuel.

Like many people, I carry around a lot of mental notes, with little or no time to act on them. Some 15 years later — about a month ago — I ran across Shem Mishmuel: Selections on the Weekly Parashah and Festivals, rendered into English by Rabbi Zvi Belovski. (Click HERE to purchase. Sales help fund JWR.)

Many translations of Hebrew sacred works are awkward or inaccurate. I have not looked into Shem Mishmuel in the original Hebrew, so I cannot comment on the accuracy of Belovski's volume. I suspect it is very high, however, since Belovski's presentation is flowing, coherent, substantive, indeed elegant. I cannot recall another volume of this type so compelling and captivating.

The following comment on this week's Torah portion, by the late Rabbi Bornstein, is taken from Belovski's rendition.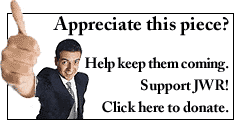 What is a spiritual high? The answer in Shem Mishmuel is surprising. Here is what he does not list: Yom Kippur, one's wedding, the Passover seder, a penetrating insight into the Torah, hearing an inspirational sermon, becoming a parent or grandparent, dancing on the Simchas Torah holy day, special kavvanah (intention) in prayer or the resolution of a spiritual doubt. None of this qualifies, according to the Rebbe of Sochaczev, author of Shem Mishmuel.

He asks a question. When Joseph has his first dream, he strains his relationship with his brothers. It doesn't take an expert in dream interpretation to see why. In the dream, Joseph and his brothers are binding sheaves in the field. The brothers' sheaves remain on the ground. Joseph's sheaf stands straight up. "Behold, we were binding sheaves in the middle of the field, when, behold! — my sheaf stood upright and also remained erect" (Gen. 37:7). Obviously, Joseph sees himself as the leader of all the brothers. The question in Shem Mishmuel is this: After Genesis records that Joseph's sheaf stood straight up, why does the verse continue, "and also remained erect"?

In the Rebbe of Sochaczev's type of commentary, questions do not prompt answers. Questions prompt more questions, more verses, more topics. These must be analyzed in order to answer the original question. So rather than turn directly to the metaphor of the sheaves, the rebbe cites a verse from Psalms, asks a question about it, turns to someone else for an answer and only then returns to the sheaves.

The rebbe cites Psalms 24:3, "Who will go up to the mountain of G-d, and who will stand in His holy place?" His question is: Why the two parts to the verse? What is the difference between "going up" to the mountain of G-d and "standing" there?

Another Chasidic master, the Maggid of Koznitz, answers: First, one has to get up the mountain. First, one has to accomplish spiritually. That's hard. But then one has to stay on the mountain. To maintain one's spiritual level on a long-term basis is even more difficult than to achieve it to start with. People change. Circumstances change. Ideals seems to change. The forces that work against maintaining one's spiritual level over time are very great.

Who best retains his level? The pinnacle of humanity, the tzaddik, the pious. He (or she) is steady. Without deviation, his (or her) every word, thought and gesture reflect a high spiritual level. The soul, emanating from higher worlds, is unchanging; it is his soul that governs his life. That's why he does not change in the face of changing circumstances and temptations.

With this the rebbe returns to Joseph. His sheaf stood upright. Joseph achieved a high spiritual level. Good, but not good enough. Now, Joseph must remain there. He must maintain his spiritual high. This is what the second half of the verse indicates — "and [his sheaf] also remained erect."

What is a spiritual high?

Not getting there, but staying there.

A key is Shabbes, the Sabbath. It is, say the kabbalists, "the day of the soul," which is unchanging. Hence, Sabbath is the day on which we can sustain a spiritual high. If we really allow Sabbath to penetrate, it can also infuse the rest of the days of the week with sustained spirituality.

The rebbe again takes us back to the metaphor of the sheaves: "The brothers' sheaves bowed to Joseph's sheaf — when all of the week bows to Sabbath, its holy influence can permeate even the mundane weekdays, enabling us to go up the mountain of G-d and stand in His holy place throughout our lives."
Sign up for the daily JWR update. It's free. Just click here.
JWR contributor Rabbi Hillel Goldberg is executive editor of the Intermountain Jewish News. To comment, please click here.
© 2003, Rabbi Hillel Goldberg