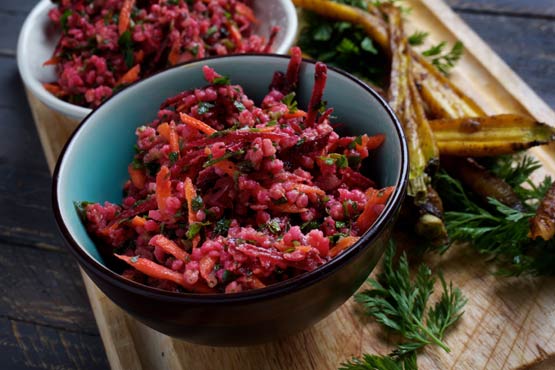 Tabbouleh, the Middle Eastern bulgur, vegetable and herb salad traditionally made with fresh ripe tomatoes, is best in the summer, when tomatoes are in peak season. But the dish lends itself to the flavors and textures of autumn, too, as the accompanying recipe so beautifully proves.
The core basics are here: bulgur, a whole-grain wheat that has been parboiled, dried and cracked so it is extremely quick-cooking; fresh parsley and mint, used bountifully as main ingredients rather than as herbal accents; and, I think, one of the best and simplest salad dressings possible, fresh lemon juice and extra-virgin olive oil. But instead of the usual summery tomatoes, here colorful root vegetables -- carrot and beet -- take the stage.
They are both shredded raw so they lend a chewy crunch and subtle, earthy-sweet flavor to the dish. Even those who don't typically like the taste of beets are likely to enjoy them here, since they have a very mild taste uncooked.
The beets' royal hue infuses the whole salad, which could rightfully be dubbed "purple tabbouleh," as my daughter likes to call it. Whichever name you go with, I know you will call it delicious.

AUTUMN TABBOULEH
MAKES: 6 servings (makes 6 cups)
MAKE AHEAD: The dressed tabbouleh needs to be refrigerated in an airtight container for at least 1 hour and up to 4 days.
Ingredients:
• 1 cup medium-coarse bulgur
• 1 1/2 cups finely chopped fresh flat-leaf parsley
• 1 large carrot, peeled and shredded (about 1 cup)
• 1 medium raw beet, peeled and shredded (about 3/4 cup)
• 1/3 cup diced red onion
• 1/3 cup finely chopped fresh mint
• 1/4 cup extra-virgin olive oil
• 1/4 cup fresh lemon juice (from 1 or 2 lemons)
• 1/2 to 3/4 teaspoon salt
• 1/2 teaspoon freshly ground black pepper

Steps

Cook the bulgur according to the package directions. Drain off any excess liquid, then allow the bulgur to cool. (You can prep the remaining ingredients in the meantime.)
Transfer the bulgur to a large bowl. Add the parsley, carrot, beet, onion and mint; toss to incorporate.
Whisk together the oil, lemon juice, salt (to taste) and pepper in a small bowl to form an emulsified dressing. Pour it over the bulgur mixture and toss well to coat. Cover and refrigerate for at least 1 hour (and up to 4 days) to allow the flavors to meld.
Serve chilled or at room temperature.
Nutrition | Per serving: 190 calories, 4 g protein, 24 g carbohydrates, 10 g fat, 2 g saturated fat, 0 mg cholesterol, 230 mg sodium, 6 g dietary fiber, 3 g sugar
Comment by clicking here.
Krieger's most recent cookbook is "Weeknight Wonders: Delicious Healthy Dinners in 30 Minutes or Less" (Houghton Mifflin Harcourt, 2013)