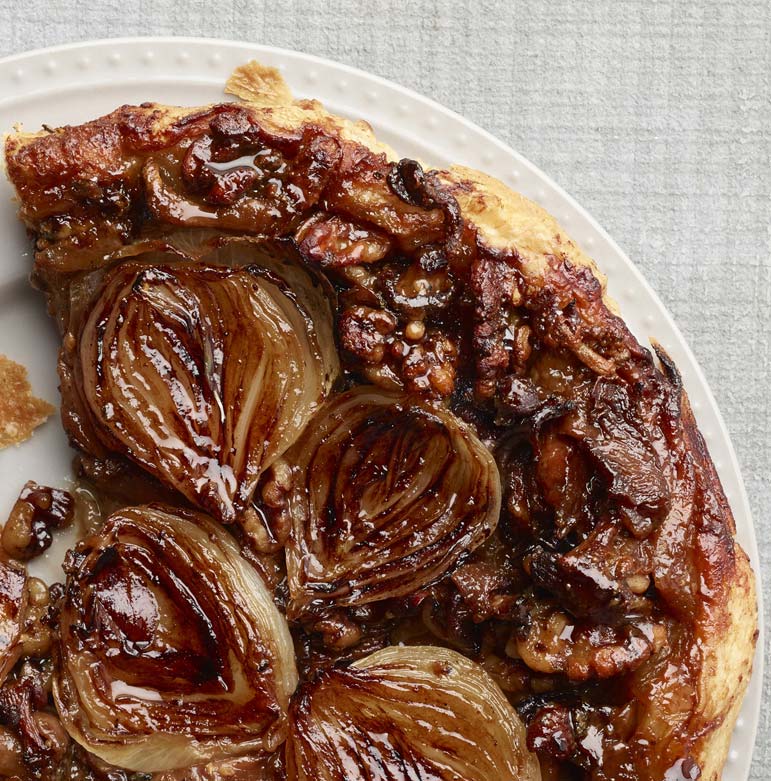 Here's an ease-into-fall appetizer that will make you look like a culinary rock star - even with eTntry-level skills and not much time to spend in the kitchen.

You build the dish from the bottom up, starting the caramelization of onions on the stove top.

Pinches of pungent cheese nestle into the background of sweet, meaty walnuts and mushrooms under a blanket of pufHe Washington Postf pastry that becomes the crisped, golden base once you invert the tart for serving.

ONION MUSHROOM TARTE TATIN
SERVINGS: 4 to 6
If you're serving this as a main course, pair it with a green salad.er a day's refrigeration. Cover with its sauce. Discard any congealed fat and reheat on the stove-top over medium-low heat, until warmed through.
Ingredients
• 3 tablespoons extra-virgin olive oil
• 4 or 5 small yellow onions, halved lengthwise
• 8 ounces frozen/defrosted puff pastry dough, such as Dufour (about half a package; see tip)
• 1 1/2 tablespoons dark brown sugar
• Kosher salt
• 8 ounces mushrooms, preferably a mix, such as chanterelles, king trumpet and oyster, stemmed, rinsed well and chopped if large
• 1/2 cup walnut halves
• 6 ounces blue cheese
Steps
Heat the oil in a 9-inch heavy, ovenproof skillet over medium heat. Arrange the onion halves around the pan, cut sides down. Reduce the heat to medium-low; cook for about 20 minutes, until softened and colored slightly on the bottom.
Preheat the oven to 375 degrees. Unfold the pastry dough and roll out between parchment paper to a thin, 10-inch round; it's OK if the dough has creases.
Sprinkle the brown sugar around the pan with the onions, then season lightly with salt. Once the brown sugar looks like it is melting into the oil, distribute the mushroom pieces and walnuts around, using them to fill in nooks and crannies. Cook for 5 to 7 minutes, then remove from the heat.
Dot the pan with pinches of the cheese.
Invert the dough over the contents of the pan. Press and tuck the dough around the edges of the filling. Transfer to the middle rack of the oven; roast for 25 to 35 minutes, rotating the pan halfway through to promote even browning. Transfer to a wire rack for 5 minutes, then invert a serving plate over the pastry.
Carefully invert the pan to transfer the tarte Tatin onto the plate; if some pieces do not make the transfer, pop them back into place. The components should be nicely caramelized; if not, slide the tart onto a foil-lined baking sheet and roast for another 5 minutes or so.
Cut into wedges; serve warm.
---
TIP
Dufour brand puff pastry is made with butter and works best in this recipe. It is available at Balducci's stores and at Whole Foods Markets.