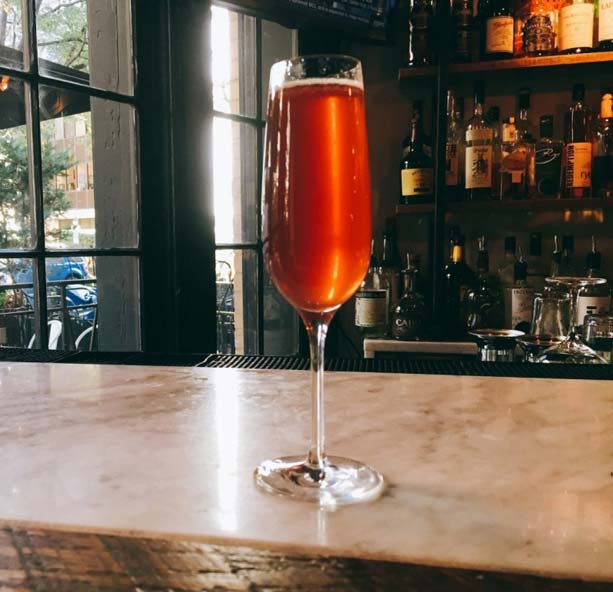 In what will be perhaps the last great moment of comedy this campaign season has given us, Donald Trump surrogate Scottie Nell Hughes criticized Jay Z after the rapper performed in Cleveland on Friday in support of Hillary Clinton.

"One of his main videos starts out with a crowd throwing mazel tov cocktails at the police," said Hughes, referencing the "Run This Town" video.

Except: The explosive is called a molotov cocktail. "Mazel tov" is a celebratory phrase in Hebrew - something you say when a baby is born, or a happy couple gets married. It's not the first time a Republican has confused the two terms - when Wisconsin Gov. Scott Walker was a county executive, he wrote "molotov" as a greeting to a Jewish constituent. So while Jewish people were laughing at Hughes' malapropism, everyone else began to wonder: What is a mazel tov cocktail, and, more importantly, how can I make one for my election watch party?

Actually, there's been a Mazel Tov cocktail on the menu at DGS, a modern delicatessen in Washington, for several years. Partner Brian Zipin invented it when the restaurant first opened.

"That's a mitzvah," he said, when informed that the phrase "mazel tov cocktail" was going viral.

"This is not what you're thinking when you're creating cocktails for restaurants," Zipin said. "But this has been such an insane campaign, I guess I can't be surprised at anything anymore."

His recipe, below, calls for plum gin liqueur, because "Plums are really important in Jewish heritage and culture." He wanted to use sparkling wine, because "when you say mazel tov, it's kind of a toast." The cocktail is "great with passed hors d'oeuvres. It's great with anything salty."

Adam Bernbach, beverage director at 2 Birds, 1 Stone, a D.C. cocktail bar, said that if he had to invent a mazel tov cocktail, his first impulse would be to make it nonalcoholic.

"I feel like it's something you should serve kids at a bar mitzvah. It should be a variation of a Shirley Temple," he said. But if he had to make an alcoholic one that would be easy for election partygoers to re-create at home, "Doing a sangria with Manischewitz in it is the most obvious thing you can do," he said.

He recommends taking your favorite sangria recipe and subbing out the red wine for concord grape Manischewitz. "Manischewitz is real sweet. You have to cut it a bit," he said, so he recommends adding a very dry sparkling white wine, and Slivovitz, a plum brandy that is "fairly common with the eastern European Ashkenazi Jews." For the fruit in the sangria, he recommends apples, another symbolic ingredient in Judaism.

"I can't believe this is a thing," Bernbach added.

The cocktail is on the menu at DGS, where he says it has been a good seller over the years.

Here's Zipin's recipe, which was first published in Washingtonian magazine:

MAZEL TOV COCKTAIL
Ingredients
1/4 ounce lavender syrup (recipe below)
1 ounce quality sloe gin
Splash of fresh lemon juice
4 ounces Champagne or sparkling wine
Lavender syrup
• 2 ounces dried lavender buds
• 2 cups water
• 1 1/2 cup sugar
Make the lavender syrup: Pour two cups of water in a saucepan and soak lavender buds for 5 minutes. Add sugar and then bring to a simmer for 7 minutes over medium heat, stirring occasionally. Cool and strain. The syrup will last 3 to 4 weeks in the refrigerator.
When you're ready to serve, pour lavender syrup, gin and lemon in a mixing glass over ice, stir briefly and strain into Champagne flute. Top with chilled Champagne and serve.