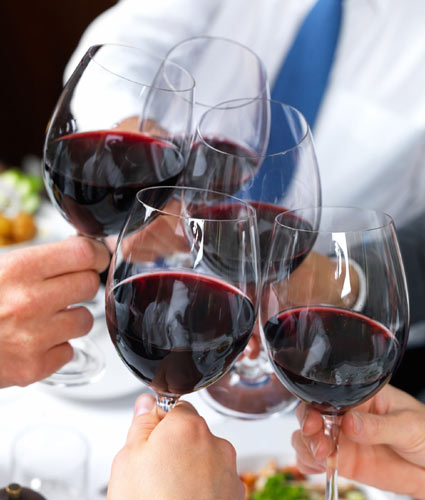 Though relatively late to the fight as a wine producer, one of the heroes of the kosher-wine battle against the entrenched anti-kosher wine bias is Jeff Morgan, owner and winemaker at the Covenant Winery in Berkeley, California.
Morgan is not only crafting some of the world's finest wines that just so happen to also be certified kosher.
Morgan grew up without religion (a "bagel and lox Jew") in NY, later moving to Europe to play music, eventually returning to the US to work at a Long Island winery. He began occasionally writing about wines on the side too.
In 1992 he took an assignment to write about kosher wines, a subject he knew nothing about at the time. He soon got more writing assignments, eventually becoming the West Coast editor for Wine Spectator. In 2002, at a tasting of the wines from Israel's Domaine du Castel, Morgan and Leslie Rudd, who was then the owner of the Dean and DeLuca chain and the well-regarded Rudd Oakville Estate Winery, decided to make the "greatest kosher wine in five thousand years."
Since beginning the Covenant Winery, Jeff and his wife Jodie, and even his partner, Leslie Rudd, have formed a new and meaningful relationship with their Jewish heritage, as well as with the State of Israel, where they have also recently begun making wine (not yet commercially available). They even relocated from Napa, their home of twenty years, to Berkley, to be nearer a more vibrant, local Jewish community.
Covenant's first vintage was a critical and consumer triumph. He credits a large part of his subsequent success to his relationship with his religiously observant associate winemaker, the hugely talented Jonathan Hajdu. Morgan and Hajdu are together establishing a new standard for kosher wines, marked by innovation (utilizing a novel flash-détente technique for their mevushal wines) and creativity.
We recently had an opportunity to taste some Covenant wines with Jeff and Jodie Morgan who were visiting The Wine Harvest in Potomac, MD, during their tour to promote their recently published kosher cookbook, "The Covenant Kitchen."
In lieu of our usual wine and spirits dichotomy and since Passover is just around the bend, we thought we'd focused here just on the Covenant Wines (all are also kosher for Passover):
Covenant Red C Sauvignon Blanc 2013 ($24): This well-balanced beauty opens with grapefruit and apple aromas which accent the juicy lemon, lime, lychee and straw flavors. The finish is bright and persistent.
The Tribe Chardonnay 2014 ($32; mevushal): This is a well-balanced, crisp effort that is built on a citrus frame. The predominant aromas and flavors include quince, apple, guava and peach, with some spice and minerals noted during the long finish.
Covenant Lavan Chardonnay 2012 ($38): This begins with scents of white flowers and apples that extend into a medium frame of pear, fig, and citrus, along with hints of minerals, anise and toast, all following through the poised and polished finish.
The Tribe Red 2013 ($38; mevushal): Created by co-fermenting Syrah, Petite Sirah and Zinfandel, this well-composed blend is rich and spicy, displaying layers of cherry, blueberry, and black fruit flavors with herbal and slight pepper notes.
Covenant Red C Cabernet Sauvignon 2013 ($44): Drinking very well now; starting with lush cassis and plum scents, it has pleasingly integrated currant, red berry, dark plum and blackberry flavors with some savory notes, along with vanilla and cedar in the medium finish.
Covenant Cabernet Sauvignon 2010 ($87): We first tasted this in 2013 and it has only gotten better and more integrated. Cassis, black cherry and chocolate aromas and flavors flow smoothly and persist in this full-bodied, velvety-smooth beauty, along with red currants, coffee, graphite, mint and oak, all leading to a prolonged finish. Anyone looking to splurge a little on wine for their Passover celebrations, should most certainly consider these California gems.
L'Chaim!
Comment by clicking here.
JWR contributor Joshua E. London is a wine and spirits columnist who regularly speaks and leads tutored tastings on kosher wines, whisk(e)y, tequila, and other unique spirits.

Previously:
• On Purim, with a religious duty to imbibe, do it right!
• Why not enjoy all of that holiday wine?
• Fungus among us produces a distinctive dessert wine
• A classic curative cocktail --- Hot toddy: A remedy for a, or the, cold
• The growing population -- and popularity -- of sweet reds + the World Whisky Of The Year
• This year, give the gift of booze
• What you should drink for Thanksgiving
• Some atypical wine blends --- and a whisky-tourism trip
• A wine bargain, and Johnnie Walker goes platinum!