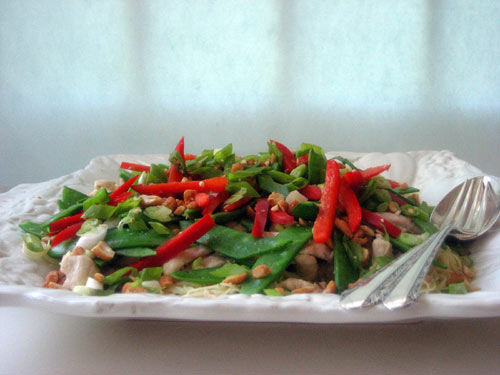 One of my culinary assistants mentioned recently that, when summer arrives, the dish she turns to for easy entertaining is a colorful, Chinese-style layered chicken salad. It is, she explained, so light and refreshing that she often makes it the centerpiece of warm weather lunches and suppers.
Its multiple layers start with cooked noodles such as capellini. The thin pasta strands are topped with delicately stir-fried julienned chicken. Next blanched snow peas and sliced red peppers are added, topped with a final layer of chopped green onions and peanuts. Arranged in a shallow dish or on a platter, these inviting ingredients are napped with a delectable dressing seasoned with fresh ginger and hoisin sauce.
Although the salad can be assembled in advance, the dressing should be poured over it at serving time. Since this is an all-in-one main course, simply serve a crusty baguette or artisan bread as a side. Bowls of fresh peaches and strawberries drizzled with honey would make a fine dessert.

LAYERED CHINESE CHICKEN SALAD
SERVES: 6
.
Dressing:
1/3 cup peanut oil

1/2 cup hoisin sauce

2 tablespoons rice wine vinegar

2 tablespoons toasted sesame oil

1 tablespoon minced fresh gingerroot (peeled)
Salad:
4 ounces thin pasta, such as capellini, broken in half

3 tablespoons peanut oil, divided

1/2 pound snow peas, ends trimmed

2 tablespoons cornstarch

2 egg whites

1-1/2 pounds boneless, skinless chicken breasts cut into strips 2-inches long by 1/4-inch

1/3 cup chicken stock

2 tablespoons dry sherry

1 teaspoon toasted sesame oil

1 large red bell pepper, seeded and cut into very thin julienne strips

3/4 cup chopped green onions (4 to 6 green onions including 2 inches of green stems)

1/2 cup honey-roasted peanuts, coarsely chopped
For the dressing, whisk together all ingredients in a medium, nonreactive bowl; set aside. (Dressing can be prepared 2 hours ahead; leave at room temperature.) Cook pasta according to package directions; rinse in cold water and drain well. Toss pasta with 1 tablespoon of the peanut oil, then spread in an even layer on a large serving platter or in a large, shallow bowl.
Cook snow peas in boiling water to cover until just tender, about 3 minutes; rinse with cold water, drain, and pat dry.
In a large bowl, whisk together cornstarch and egg whites. Add the chicken strips and toss to coat well. In a large skillet set over medium-high heat, add remaining 2 tablespoons peanut oil. When hot, add all the chicken and cook, stirring constantly, until opaque and no traces of pink remain, 5 to 6 minutes. Add chicken stock and dry sherry, and stir 2 minutes more. Stir in 1teaspoon sesame oil, and remove from heat.
With a slotted spoon, remove chicken from pan and spread on top of pasta. Cover with snow peas and red peppers. Sprinkle with green onions, then peanuts. (Salad can be prepared 1 hour ahead; leave, uncovered, at cool room temperature.
To serve, pour dressing over the salad, but do not toss. .
Comment by clicking here.
Betty Rosbottom is a food writer, cookbook author and former culinary school director.