Jewish World Review May 25, 2005 /15 Iyar, 5765
Lag B'Omer Picnic
By Ethel G. Hofman


http://www.JewishWorldReview.com | Lag B'Omer is a joyous holiday. Families get together to go hiking in the hills or picnic in the park. In the evening there is singing and dancing around a campfire. It's a day of celebration in the midst of the solemnity of the counting of the Omer, which occurs in the seven weeks between Passover and Shavuos.

According to Kabbalists, Rabbi Shimon bar Yochai, the author of the Zohar, the basic book of Kabbalism , died on Lag B'Omer and requested that his death be celebrated, not mourned. Thus, Lag B'Omer is the one day during that time that weddings can take place. In our family, it's our anniversary.

Lag B'Omer is the perfect time for that first picnic of the year or go back-packing on nearby hiking trails. Just the two of you (and don't forget the bubbly) or make it a family outing. The menu below travels well. Just store each course in tight-lidded plastic containers and tuck a couple small freezer packs in between. Pack the vinaigrette dressing in a small container and pour over the chicken before serving. Dining in the backyard? Invite neighbors, double the recipes and make everything ahead.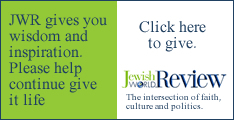 Because it's said that a carob tree grew outside the cave dwelling of the Rabbi, it is customary to eat sweets made with carob, the long leathery pods which contain a sweet, dark pulp. Menu below includes two desserts — one with carob powder, the other with pareve chocolate. Kids will love the pizza.

MENU

Crimson-Fruit Gazpacho
Chicken in Vinaigrette Jacket
Jicama Coleslaw
Sweet Potato Salad
Lag B'Omer Fig Cake
Apple Chocolate Pizza

CRIMSON FRUIT GAZPACHO (PAREVE)
Serves 4
1/2 cup crushed pineapple, undrained
1/2 cup fresh or thawed frozen raspberries
1/2 cup diced strawberries
1 cup sliced seedless red grapes
1 cup fresh or thawed frozen blueberries
1 cup unsweetened apple juice
1/2 cup orange juice
1 tablespoon fresh lemon juice
2 tablespoons finely shredded fresh mint
1/4 teaspoon freshly ground pepper
2 tablespoons toasted shredded coconut (optional)
Combine the pineapple, raspberries, strawberries, grapes, blueberries in a bowl. Stir in the juices, mint and pepper. Cover and chill
To serve: divide fruit mixture evenly into four bowls. Garnish with toasted coconut (optional).

Approx. nutrients per serving: Calories - 122 protein - 1g carbohydrates - 30g fat - 1g cholesterol - 0mg sodium - 6mg
CHICKEN IN GREEN VINAIGRETTE JACKET

SERVES 4
4 (about 1 1/2 pounds) boneless chicken breasts
1 small onion, quartered
1 bay leaf
3-4 peppercorns
Vinaigrette sauce
1/4 cup cider vinegar
1/4 cup parsley sprigs, packed
1 hard-cooked egg, quartered
1 small scallion, sliced
1 teaspoon Dijon mustard
1-teaspoon capers, rinsed
1/2 dill pickle, cut up
1/3 cup olive oil
Salt and pepper to taste
Endive, cherry tomatoes and black olives for garnish

Place the chicken in a shallow saucepan. Add the onion, bay leaf, peppercorns and enough boiling water to cover. Bring to boil over high heat. Cover and reduce to simmer. Cook 15 minutes or until chicken is opaque when pierced with a sharp knife in thickest part. Place chicken in a serving dish. Pour 1/3 cup cooking liquid around. Cover and refrigerate.

Prepare sauce: Place all the ingredients except the olive oil, salt and pepper in blender jar or food processor. Whirl for 15 seconds or until smooth. With motor running, slowly pour the olive oil through the opening in lid of blender jar or through the food processor funnel. Season to taste with salt and pepper. Use at room temperature. To serve: Remove chicken from refrigerator. Pour off any liquid. Pour enough sauce over chicken to coat evenly. Pass remaining sauce in a sauceboat. Garnish with endive, cherry tomatoes and black olives.

Aapprox. nutrients per serving: calories - 473 protein - 37g carbohydrates - 1g fat - 35g cholesterol - 162mg sodium - 269mg
JICAMA COLESLAW (PAREVE)
SERVES 4
Dressing




1/4 cup olive oil vinaigrette
3 tablespoons orange juice
2 tablespoons olive oil
1/2 teaspoon garlic powder


Salad


1 large jicama (about 1 pound), peeled
1 medium red bell pepper, seeded and diced
2 cups packaged shredded cabbage
1/4 cup snipped cilantro
2 tablespoons snipped dill
4 red cabbage leaves (optional)
In a small bowl, whisk together the oil vinaigrette, orange juice, olive oil and garlic powder. Set aside. Cut the jicama into chunks. Grate in the food processor using the grater blade. Transfer to a bowl. Add the red pepper, cabbage, cilantro and dill. Pour the dressing over and toss gently to mix. Spoon into red cabbage leaves (optional). Serve at room temperature.

approx. nutrients per serving: calories - 154 protein - 2g carbohydrates - 17g fat - 10g cholesterol - 0mg sodium - 137mg

SWEET POTATO SALAD (PAREVE)
SERVES 4 - 6
2 (about 1 pound) sweet potatoes, peeled and cut in 3/4-inch cubes
3 tablespoons olive oil
1 1/2 teaspoons lemon pepper seasoning
3 tablespoons chopped parsley
1 tablespoon balsamic vinegar
1 tablespoon Dijon mustard
2 teaspoons honey, warmed
1 cup canned black beans, rinsed and drained
Preheat oven to 350F. Line a baking sheet with aluminum foil and spray with non-stick cooking spray. Toss the potatoes in olive oil and spread on prepared baking sheet. Sprinkle lightly with lemon pepper seasoning. Bake for 20 minutes or until tender but firm in preheated oven.

While potatoes are cooking, whisk together 2 tablespoons water, parsley, vinegar, mustard and honey in a large bowl. Add the cooked potatoes and black beans. Toss gently to mix. Serve chilled or at room temperature.

Approx. nutrients per serving: calories - 230 protein - 5g carbohydrates - 29g fat - 11g cholesterol - 0mg sodium - 314mg
LAG B'OMER FIG CAKE (PAREVE)
MAKES 12 SLICES
Carob powder may be found in health food stores and markets such as Whole Foods. Used as a chocolate substitute.
1/2 cup all-purpose flour
6 tablespoons carob powder
1 teaspoon baking powder
1 stick (1/2 cup) margarine at room temperature
1/2 cup granulated sugar
1/2 cup dark brown sugar, packed
1/2 teaspoon orange extract
3 eggs
4 tablespoons cold brewed coffee
3/4 cup chopped dried figs
Orange glaze (optional)
Preheat oven to 350F. Spray a 9-inch round cake pan with non-stick cooking spray. In a bowl, combine the flour, carob powder and baking powder. Set aside. Beat the margarine, sugars and orange extract until fluffy. Beat in the eggs, one at a time with a little flour mixture and a tablespoon coffee. Beat in any remaining flour and coffee. Fold in the figs. Pour into prepared cake pan. Bake in preheated oven 25 minutes or until a toothpick inserted in center comes out clean. Finish with orange glaze poured over. (optional) Cool and cut into wedges.

Orange Glaze : Melt 3 tablespoons margarine in a small saucepan. Blend in 1 1/2 cups confectioners sugar and 1 tablespoon grated orange rind (or 1 teaspoon dried). Stir in 1-2 tablespoons orange juice to make a pouring consistency. Use as above.

Approx nutrients per slice (without glaze): calories - 248 protein - 3g carbohydrates - 41g fat - 9g cholesterol - 53mg sodium - 162mg.

APPLE CHOCOLATE PIZZA (PAREVE)
SERVES 8
1 large apple, cored and thinly sliced
3 tablespoons sugar
1 1/2 teaspoons cinnamon
1 tablespoon grated lemon rind
1 sheet (about 8 1/2 ounces) frozen puff pastry, thawed
3 tablespoons apricot preserves, melted
2 tablespoons chopped pareve chocolate
Preheat oven to 400F. In a small bowl, toss together the apple, sugar, cinnamon and lemon rind. Set aside.

With your fingers, press out the perforations in the pastry sheet so that the sheet is smooth. Fold in the edges of pastry sheet to form an unstructured 9-inch circle with raised rim. Spread bottom with the apricot preserves. Arrange apple slices on top. Sprinkle with chopped chocolate. Sprinkle with 1 teaspoon water and any remaining cinnamon sugar. Bake in preheated oven 25-30 minutes until pastry is risen and golden brown. Cool slightly before cutting into wedges to serve.

Approx. nutrients per serving: calories - 230 protein - 2g carbohydrates - 29g fat - 12g cholesterol - 0mg sodium - 78mg
Sign up for the daily JWR update. It's free. Just click here.
WANT MORE GREAT RECIPES?
"Everyday Cooking for the Jewish Home: More Than 350 Delectable Recipes"
From the former president of the International Association of Culinary Professionals comes a beautifully designed, accessible and uniquely comprehensive guide to Jewish home cooking. Unlike many Jewish cookbooks that are limited to the traditional dishes of Eastern Europe, Everyday Cooking for the Jewish Home gives readers a truly international sample of what the world of Jewish cooking has to offer. Structured from soup to nuts, and including a special Passover section, it presents a spectacular array of dishes such as Peppered Chickpeas (Arbis), Sweet and Sour Meatballs, Beef and Barley Soup with Kale, Homestyle Gefilte Fish, Potato Chicken Cutlets, Shabbat Beef and Eggs, Cholent, Steamed Beef Greens, Israeli Salad, Poppyseed Noodles, Kasha and Bow Ties, Glick's Colossal Butternut Latkas, Shabbat Wine Mold with Cherries and Walnuts, Springtime Kugel with White and Sweet Potatoes and Matzoh Brie. Sales help fund JWR.
JWR contributor Ethel G. Hofman is the former president of the International Association of Culinary Professionals, whose members include the likes of Julia Child. To comment, please click here.
© 2005, Ethel G. Hofman