A Sephardi-Ashkenazi Seder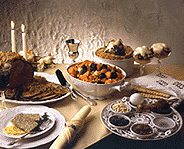 By Ethel G. Hofman
http://www.jewishworldreview.com -- This year, Jews all over the world will celebrate the first Passover seder on the evening of March 27. The eight-day holiday commemorates the liberation of the Jews under the leadership of Moses from Egyptian bondage more than 3,000 years ago. It is a celebration of freedom, and at the seder, the story of the Exodus from Egypt is recalled and read from the Haggadah.
Passover food customs are probably the most complex of all Jewish holidays. Besides keeping to the kosher laws, no leavening (chametz) or leavened products may be used. Baked goods are prepared with matzah cake meal and matzah meal, or potato starch and entirely different sets of dishes and utensils are used.
The menu below incorporates Ashkenazic dishes, familiar and traditional to most American Jews, with Sephardic dishes, reminiscent of a Spanish Moroccan cuisine that uses fresh produce and is fragrant with aromatic spices. On the Greek island of Rhodes, charoses was prepared with dates as well as apples, cooked down to a pulp, with a splash of vinegar added.

Slow-cooked, Sephardic Seder Brown Eggs should be cut in half to serve as whole eggs are used only during mourning. Honeyed Melon Trio is scented with cardamom, a member of the ginger family, imparting the melons with a warm, sweet-spicy flavor. A springtime fresh herb stuffing lightly laced with cumin is loosely packed into the pocket of a veal breast (ask the butcher to cut a pocket in the veal).
You may add or substitute any vegetables of your choice for the Mixed-Vegetable Kugel - grated carrots or broccoli from the supermarket produce section, diced eggplant or grated sweet potatoes. Everything with the exception of the iceberg lettuce wedges and the Mandarin Chocolate Roll may be prepared two or three days ahead of time.
All ingredients used should be labeled kosher for Passover.
GREEK CHAROSES (PAREVE)
MAKES 1 1/2 CUPS

3 Granny Smith apples, peeled and cored
1/2 cup apple juice
1/2 cup water
8 oz. pitted dates
1 1/4 cups walnut pieces
1 Tbsp. grated fresh ginger
1 Tbsp. cider vinegar
1/4 cup sweet wine or to taste
2 Tbsps. honey or to taste
Cut apples into 3/4 -inch chunks and place in a heavy-bottomed saucepan. Add the apple juice, water and dates. Bring to a boil.
Partially cover and reduce to simmer. Cook 20 minutes, stirring often, or until apples are softened and liquid is reduced to about 3 tablespoons. Cool.
Place in a food processor with the walnuts, ginger and vinegar. Process to coarsely chop the walnuts. Transfer to a bowl. Stir in sweet wine and honey to taste.
Prepare ahead to allow the flavors to blend. May be refrigerated up to one week.
SEPHARDIC SEDER BROWN EGGS (PAREVE)

SERVES 12
12 eggs
1 large yellow onion with skin, halved
1 1/2 cups cold strong coffee
1/2 cup vegetable oil
chopped parsley or cilantro for garnish (optional)
Place eggs in a large saucepan with enough water to cover by about 2-inches. Add the onion, coffee, and vegetable oil.
Bring to a boil over medium-high heat. Reduce to low. Cover and simmer for about 21/2 hours. Peel eggs under cold running water.
To serve, cut eggs in half and sprinkle with chopped parsley or cilantro.
Note: The oil helps keep the water from evaporating.
MIXED-VEGETABLE KUGEL (PAREVE)
SERVES 8
1/4 cup plus 2 Tbsps. peanut oil
2 medium red bell peppers, diced
1 medium onion, coarsely chopped
2 cups sliced mushrooms
4 large green zucchini (about 1 1/2 pounds), coarsely grated
1/4 cup chopped fresh parsley
4 eggs, lightly beaten
1/3 cup matzo meal
1 1/2 teaspoons salt or to taste
3/4 teaspoon pepper or to taste
Preheat oven to 375 degrees.
Spray a 9-inch square baking dish with nonstick Passover vegetable spray.
In a large skillet, heat 1/4 cup oil over medium-high heat. Add the peppers, onion and mushrooms.
Sauté 2 to 3 minutes until onions are beginning to wilt. Transfer to a large bowl. Add the zucchini, parsley, eggs, matzah meal, salt and pepper. Mix well.
Pour into prepared baking dish. Drizzle 2 tablespoons oil over the top. Bake until nicely browned and set in center, about 50 minutes. Cool 5 minutes before cutting into squares to serve.
HERB-STUFFED VEAL BREAST (MEAT)

SERVES 8
1 package vegetable kishke mix
1/2 cup peanut oil
1 1/3 cups warm water
1 cup coarsely chopped Italian parsley
3 scallions, thinly sliced
2 Tbsps. chopped chives
1 Tbsp. chopped sage leaves
1 Tbsp. grated lemon rind
1 tsp. ground cumin pepper, paprika and salt to taste
4 1/2 lb. veal breast with pocket
11/2 cups beef broth
2 cups cold water
Preheat oven to 450 degrees.
Pour the kishke mix into a bowl. Add the oil and warm water; mix well. Add parsley, scallions, chives, sage, lemon rind and cumin. Season with pepper and salt to taste. Cool.
Spoon enough of the mixture into the veal-breast pocket to fill loosely. Secure with poultry picks. Set aside remaining kishke mixture to use as below.
Place the veal breast in a roasting pan. Sprinkle with salt, pepper and paprika. Pour 1 cup beef broth and 1 cup cold water around veal. Roast uncovered for 30 minutes.
Add remaining broth and cold water to roasting pan. Cover tightly with foil. Reduce heat to 350 degrees.
Bake 2 hours longer, basting often. Meat should be tender when pierced with a sharp knife. Let stand 10 minutes before slicing.
To use extra kishke mixture, spoon onto a 12-inch square of aluminum foil. Shape into a roll about 11/2 -inches in diameter. Wrap and roll in the foil, sealing ends.
Bake along with the veal for 1 hour. Slice and serve hot.
HONEYED MELON TRIO (PAREVE)

SERVES 6-8
1/2 cup honey
1/2 cup apricot juice
3 tablespoons lemon juice
3/4 teaspoon ground cardamom
4 cups honeydew melon, cut in bite size pieces
4 cups cantaloupe, cut in bite size pieces
2 cups watermelon, seeded and cut in bite size pieces
Shredded mint for garnish (optional)
In a small saucepan, combine the honey, apricot and lemonjuices and cardamom. Bring to boil, stirring to blend. Set aside to cool. In alarge bowl, toss the cut up melons. Pour the cooled honey mixture over. Stirlightly to mix. Refrigerate for at least 4 hours. Garnish with shreddedmint before serving.
MANDARIN CHOCOLATE ROLL (PAREVE)
SERVES 8-10
4 eggs, separated
3/4 cup plus 1 tablespoon sugar
1 tablespoon fresh lemon juice
1/3 cup potato starch
1 tablespoon matzoh cake meal
1 cup non-dairy whipped topping
1/4 cup plus 3 tablespoonschopped pareve semisweet chocolate
1 (8 ounce) can mandarin orangesegments, well-drained and patted dry
Preheat oven to 350 degrees.
Line a 151/2 x10-inch jelly-roll pan with wax paper. Coat with nonstick Passover vegetable spray. Whisk egg whites until stiff. Set aside.
Whisk yolks with 3/4 cup sugar until pale. Beat in the lemon juice. Sift the potato starch and cake meal, and gradually fold into the egg-yolk mixture. Fold in the beaten egg whites.
Spread batter into prepared jelly-roll pan. Bake until cake springs back when touched lightly with finger, 18 to 20 minutes.
Turn out onto wax paper sprinkled with 1 tablespoon sugar. Immediately peel the wax paper from cake, then roll up as for jelly roll. Let cool.
Mix the whipped topping with 1/4 cup chopped chocolate. Unroll and remove sugared wax paper from the cake roll. Spread the chocolate mixture over the cake to within 1/4 -inch of the edges.
Scatter the orange segments over and roll up again. Melt remaining chocolate in the microwave, about 30 seconds at high.
Drizzle melted chocolate over the roll. Slice with a serrated knife.