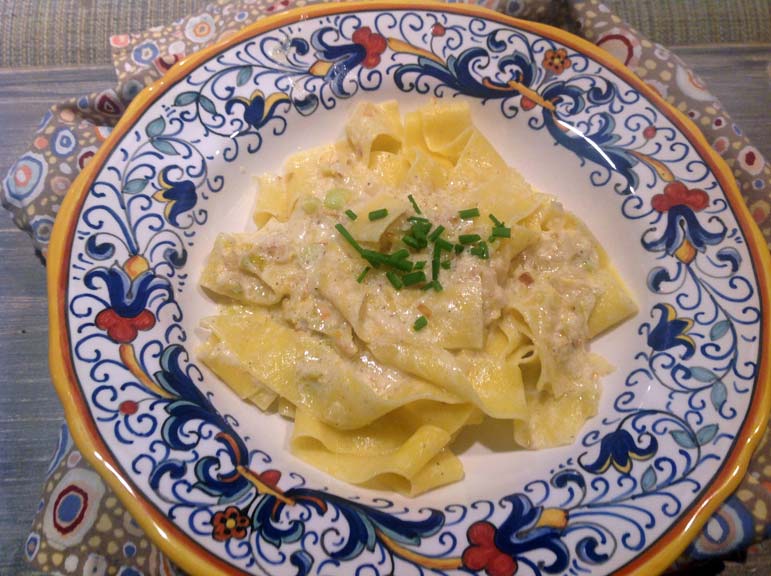 When I travel, I try and find recommendations for great restaurants. On a recent trip to Venice, I visited a suggested trattoria that serves an amazing lemon pasta dish. It wasn't on the menu that day, but I asked if the chef could prepare it for me.

When it arrived, the sweet lemon fragrance was overwhelming. Biting into it, I experienced perfectly cooked al dente pasta enrobed with an ethereal citrus cream. It is one of those dishes that has been permanently engraved in my memory. Those wide ribbons of pasta cloaked with a fragrant and citrus-flavored light cream sauce was a taste memory I wouldn't forget.

I recently had a hankering to recreate that pasta and wanted a sauce that would easily cling to the pasta strands. Mascarpone seemed to be a good solution. It offers a creamy texture with a faint cheese flavor and mingles beautifully with the lemon and leeks.

You could use fresh pasta, if you prefer, but I tested it with De Cecco pappardelle and it was excellent.

This is a perfect Sunday brunch or light dinner. I like to serve this beginning with an arugula salad featuring spring radishes, avocado and toasted almonds. A chilled Italian pinot grigio, Spanish Albino or a red like a simple Valpolicella would be a lovely accompaniment.

PAPPARDELLE WITH LEMON MASCARPONE CREAM AND CARAMELIZED LEEKS
Serves 2 for main course, 4 for appetizer
2 tablespoons olive oil
2 medium leeks, white and light green parts only, cleaned and finely chopped
2 medium garlic cloves minced
Zest of 2 lemons
1/4 cup lemon juice
8 ounces mascarpone, softened
1/4 teaspoon freshly ground nutmeg
Salt
Freshly ground black pepper
2 tablespoons finely chopped Italian parsley
8 ounces dried pappardelle
2 tablespoons finely chopped chives, for garnish
1. In a large saute pan, heat 2 tablespoons oil over medium heat and saute the leeks for 5 to 6 minutes, or until soft and golden brown. Add the garlic and saute another minute. Lower heat and add the lemon zest, juice, mascarpone, nutmeg and salt and pepper, and stir until mascarpone mixture because sauce-like. Add the parsley and set aside.
2. Cook the pasta according to the directions on the package (about 6 minutes) until al dente. Reserve 1/2 cup of pasta water and drain pasta. Transfer to the saute pan with the sauce and use tongs to combine the pasta until completely coated. Taste for seasoning.
3. Arrange pasta equally in shallow pasta bowls and garnish with chives. Serve immediately.
Diane Rossen Worthington is an authority on new American cooking. She is the author of 18 cookbooks, including "Seriously Simple Holidays," and also a James Beard award-winning radio show host.