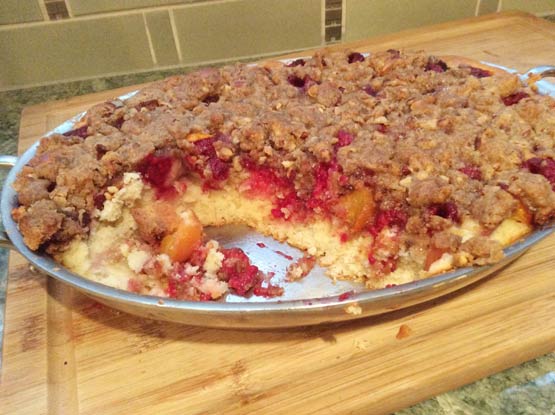 A buckle is one of those early American country desserts (similar to a pandowdy, grunt or cobbler) that combines fruit with biscuits or cake. The source for this recipe idea is Florida chef Clair Epting, who prepared a blood peach raspberry buckle for dessert one evening at the Cakebread Cellars winery in Napa Valley. This buckle combines juicy nectarines with raspberries, a spiced cake and a toasted almond streusel-like topping.
Nectarines are almost identical to peaches, but they have a smooth skin rather than skin with fuzz. I like to use nectarines because you don't need to peel them for this recipe. If you prefer them peeled, a serrated peeler works great.
Feel free to use other berries if you prefer. I have made this with blackberries and blueberries, both delicious.
This is one of those sweets that can be served not only as a dessert but also for breakfast or teatime. The spiced streusel offsets the not-too-sweet cake and complements the fruit flavors. Pecans can be substituted for the almonds, if you prefer.

NECTARINE RASPBERRY BUCKLE
SERVES: 6 to 8
For the streusel:
1/4 cup olive oil

1/2 cup coarsely chopped almonds
1/2 cup all-purpose flour
1/2 cup dark brown sugar
1/4 cup granulated sugar
1/2 teaspoon ground cinnamon
Pinch of freshly grated nutmeg
Pinch of ground ginger
1/2 cup unsalted butter, cut into small pieces


For the cake:

1/2 cup unsalted butter
3/4 cup sugar
1 large egg at room temperature
2 cups all-purpose flour
2 teaspoons baking powder
1/2 teaspoon ground ginger
1/2 cup milk
1 pint fresh raspberries, cleaned and picked over
3 medium nectarines, pitted, and cut into 1/4-inch pieces


1. For the topping, preheat the oven to 350 F and toast the almonds on a baking sheet for about 7 to 10 minutes or until lightly browned. Cool. Don't turn the oven off. Butter and flour a 9-by-12-inch baking dish.

2. In a medium mixing bowl, combine the almonds, flour, sugars, and spices. Add the butter and mix together until the mixture is crumbly. Set aside.

3. For the cake, combine the butter and sugar in a large bowl with an electric mixer and cream them together on medium speed until the mixture is light and fluffy. Beat in the egg.

4. Sift together the flour, baking powder and ginger; add them to the butter mixture alternately with the milk, making sure that the ingredients are well blended.

5. Spread the batter evenly in the prepared baking pan. Sprinkle the raspberries and peach pieces over the batter in an even layer. Sprinkle the streusel over the fruit.

6. Bake for about 45 to 55 minutes or until the top is golden brown and bubbling and a toothpick inserted in the center comes out clean. Serve with French vanilla ice cream if desired.

Advance preparation: The buckle can be prepared up to eight hours ahead and kept at room temperature.

Comment by clicking here.

Diane Rossen Worthington is an authority on new American cooking. She is the author of 18 cookbooks, including "Seriously Simple Holidays," and also a James Beard award-winning radio show host.