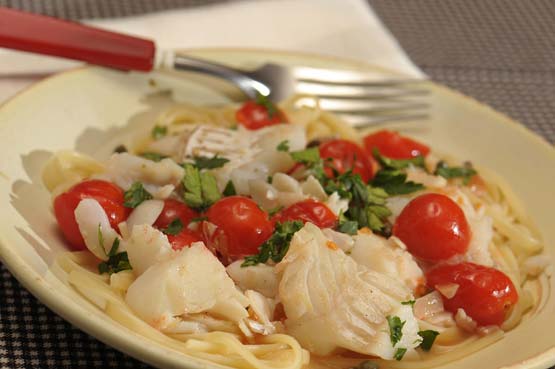 Take an unlikely blend of salty, tangy and sweet flavors, shake with a potent shot of tequila, and you've got the margarita, an appealing cocktail whether you're entertaining friends or enjoying drinks for two.
If you believe the lore, the margarita either pays homage to actress Rita Hayworth or to some other Hollywood lovely who imbibed tequila. It could just as easily have been the inspiration of a bartender with too many bottles of tequila on the shelf.
As romantic as the myth is, though, the drink wouldn't have endured if it weren't easy to make and elegant to sip. Margaritas for two are a delightful way to start the weekend.
But beyond their appeal in a cocktail, tequila and limejuice combination add a flavor punch to mild-tasting fish such as tilapia and cod. You won't taste the alcohol, but the tequila's smoky, herbal flavor will shine through.
When you're cooking the following recipe for Margarita Cod, choose the same brand of tequila you'd want to drink. Use fresh juice, not bottled, for a sprightly zing to the recipe.
And, in case your cocktail file doesn't include a margarita, here's how you make one:
Place a small amount of coarse salt on a plate, arranging it in a circle the diameter of margarita glass rims. Wet the rims of the glasses. Dip rim-side down in the salt. Turn the glasses upright and set aside to dry.
Meanwhile fill a cocktail shaker half full with ice. Add 4 ounces tequila, 3 tablespoons Triple Sec and the juice of 1 large lime in the shaker. If you want a tangier drink, add a little more limejuice. Cover the shaker and shake vigorously for 30 second. Strain into the glasses and garnish each with a lime wedge.

MARGARITA COD
Serve immediately to 2
1 tablespoon olive oil
1 large garlic clove, minced
1 large shallot, finely chopped
1 (10-ounce) piece cod, about 1-inch thick, cut into bite-size pieces
1/4 cup tequila
1 teaspoon limejuice
2 small-medium tomatoes, cored and diced small
1/4 teaspoon salt
1/4 teaspoon pepper
2 teaspoons capers
2 tablespoons finely chopped Italian parsley
2 cups cooked linguine
Heat oil in large skillet over medium heat. Add garlic and shallot, and cook for 3 to 5 minutes, or until shallot is translucent. Increase heat to high. Add cod and cook 1 minute per side, gently turning over. Pour in tequila and limejuice, and scrape up any browned bits. Liquid will cook off. Add tomatoes, salt, pepper and capers. Reduce heat to low; stir gently and simmer for 5 minutes or until cod is completely cooked and sauce is slightly thickened. Sprinkle with parsley.
Serve over linguine.
Each serving has: 475 calories; 8.5 grams total fat; 33 grams protein; 47 grams carbohydrates; 60 milligrams cholesterol; 442.5 milligrams sodium and 5 grams dietary fiber. r.
Comment by clicking here.
Bev Bennett is the author of, among others, "30 Minute Meals for Dummies."