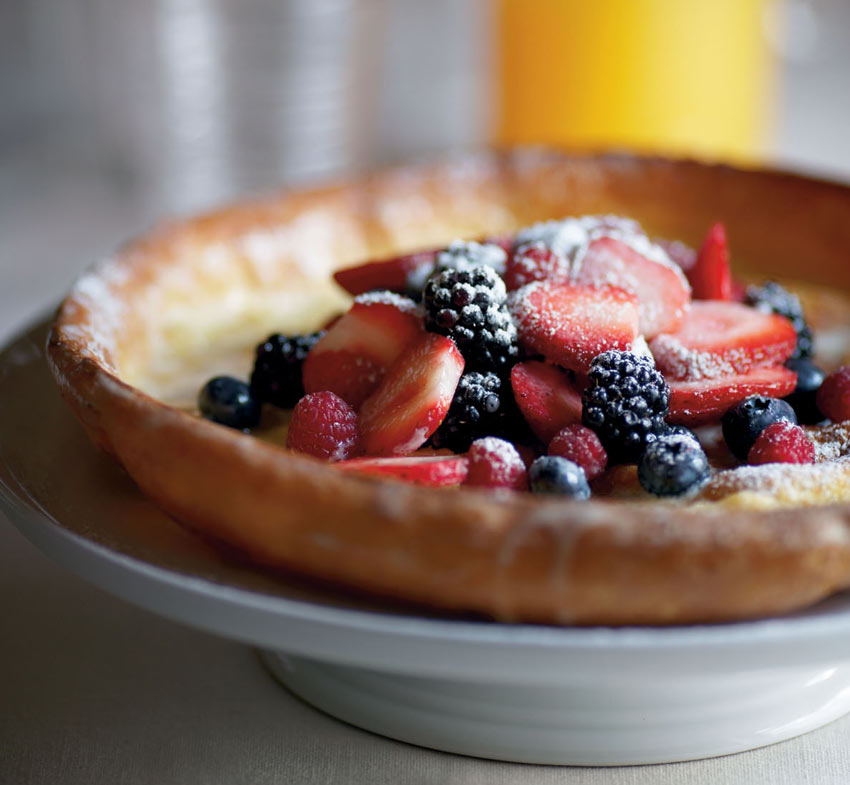 Dutch baby pancakes, sometimes called German pancakes, are baked rather than cooked on a griddle. They are best made just before serving because they will deflate quickly. The pan is heated in the oven with some butter until it is just melted, and then the batter is poured in.
Like a popover, this over-sized lemon- and orange-scented pancake magically puffs up into a light yet satisfying breakfast or brunch main course. Easier than making individual pancakes, this big puffy pancake makes a dazzling presentation. Italian mascarpone cheese melts into the pancake and powdered sugar dissolves into the creamy cheese, creating a light glaze. Colorful berries add welcome sweet fruit flavor and brilliant red colors.
Serve this pancake with grilled assorted vegan sausages or crisp pareve bacon. You can also serve it as a breakfast side dish, sliced and served on bread plates. Make sure to spoon over the pretty berries just before serving.
Help is on the Way
• To adjust the portions: For a larger crowd, double all the ingredients and bake in 2 pie plates. Cook as directed.
• For a fruity flavor, add 1 cup peeled and chopped pear or apple to the batter.
• For a rustic presentation serve right out of the pan or pie plate

CITRUS POPOVER PANCAKE WITH MASCARPONE AND BERRIES
SERVES: 2 to 4
3/4 cup milk
1/2 cup all-purpose flour
2 large eggs
2 tablespoons sugar
1 teaspoon vanilla extract
1 teaspoon finely chopped lemon zest
1 teaspoon finely chopped orange zest
2 tablespoons unsalted butter

Garnish:
2 tablespoons softened mascarpone
Powdered sugar
2 cups fresh sliced strawberries or one 12-ounce bag frozen mixed berries, defrosted
1. Preheat the oven to 450 F. Combine the milk, flour, eggs, sugar, vanilla and citrus zests in a food processor fitted with the metal blade, a blender, or in a bowl, and whisk or process until smooth.
2. Place the butter in a 10-inch pie plate or ovenproof skillet and put it in the oven to melt, about 3 minutes. Swirl the inside of the pan to coat it evenly with butter.
3. Pour the batter into the pan and bake for 15 minutes. Reduce the heat to 350 F and bake for about 15 minutes longer or until the pancake is nicely browned, cooked in the center and well puffed. Remove from the oven and slide onto a round platter, using a spatula. Spread the pancake with the mascarpone and sprinkle powdered sugar generously on top. Accompany with the berries and serve immediately.
Comment by clicking here.
Diane Rossen Worthington is an authority on new American cooking. She is the author of 18 cookbooks, including "Seriously Simple Holidays," and also a James Beard award-winning radio show host.