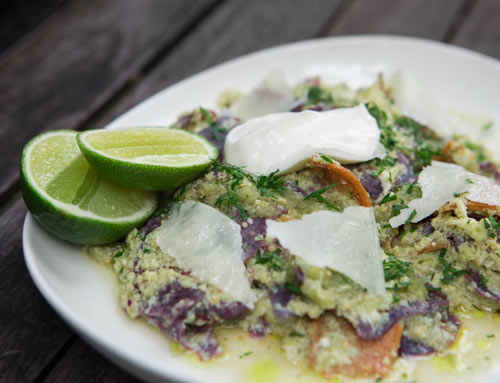 Well into autumn hearty greens are still coming from the ground, and tomatillos are a season-finishing ingredients you should be cooking with. Also called "tomate verde," tomatillos are essential in green salsas of Mexican cuisine. Not to be confused with a green tomato as we know it in America, the tomatillo is a citrusy, sweet-flavored husked fruit, related to the husk cherry.
Encased in this daintily paper-thin husk lays a bright fruit packing fresh punch in its green and white flesh. Before cooking, the inedible husks should be removed and the fruit's sticky coating rinsed under running water. When I peel back those layers, I know it's salsa time, and there is something that makes me giddy about homemade Chilaquiles with Tomatillo Salsa.
Though the fruit is comparable in size to an extra large cherry tomato, the inside is much meatier. A member of the nightshade family, tomatillos now grow everywhere in the Western Hemisphere and are common especially in Texas gardens. While this species is a mere field weed in Mexico, I'd say it's the most delicious weed I've ever encountered ... in the last 10 years (wink, wink).
When buying tomatillos, look for small, firm fruits with tight-fitting husks. If you're lucky enough to find them at a nearby farmers' market in season, they are especially cheap. Their season is a long one, from May through November. I load up on dozens of tomatillos and store them in the freezer to retain the same flavors they had when dangling from the plant's branches.
If you don't want to use freezer space, store tomatillos in a paper bag in the refrigerator for no more than a month. Tomatillos have the same seasonality as hatch chilies, which pair incredibly well with this dish, so stock up on these spicy powerhouses at the farmers' market as well. Tomatillos can also spruce up stews if you love Mexican flavors in bone-warming broths throughout fall as much as I do.

CHILAQUILES WITH TOMATILLO SALSA
MAKES: 4 to 6 servings
4 tablespoon extra virgin olive oil
6 corn tortillas (3 yellow and 3 blue)
4 tablespoon unsalted butter
6 large eggs (lightly beaten)
2 cups Tomatillo Salsa (see recipe below)
Salt and pepper to taste
1 1/2 cup white cheddar cheese (grated)
1/2 cup sour cream
Chopped cilantro leaves for garnish
Lime wedges for garnish
In a 10-inch nonstick pan over medium-high heat, heat the oil until smoking. Cut the tortillas into 8 pieces each, like a pie. Toss the tortilla pieces into oil and cook until crisp, stirring constantly, and then remove pieces to a paper towel to drain.
Reduce heat to medium. Add butter to pan and swirl until light golden brown. Add the eggs and the tomatillo salsa, season with salt and pepper and cook slowly, stirring constantly with a whisk, until soft curds form. Add the cooked tortillas and half of the cheese and stir through until just set.
To serve, place some of the eggs on each plate and sprinkle with 2 tablespoons of the cheddar cheese. Top with a dollop of the sour cream and garnish each serving with a tablespoon of the chopped cilantro leaves and a lime wedge.
TOMATILLO SALSA
1 1/2 pounds tomatillos (husked and rinsed)
3 garlic cloves
1/2 bunch of cilantro
1 Serrano chili
2 limes (juiced)
1 orange (juiced)
Salt and pepper to taste
Roughly chop all of the ingredients except for the orange.
Add tomatillos to a blender, along with the garlic, cilantro and Serrano chili (use half the chili if you don't like too much spice). Squeeze in half the lime juice, the orange juice and add a generous pinch of salt.
Blend until almost smooth but leave a bit of texture to the sauce. Squeeze in the rest of the lime juice and adjust seasoning.
Comment by clicking here.
Mario Batali is the award-winning chef behind twenty-four restaurants including Eataly, DelPosto, and his flagship Greenwich Village enoteca, Babbo.