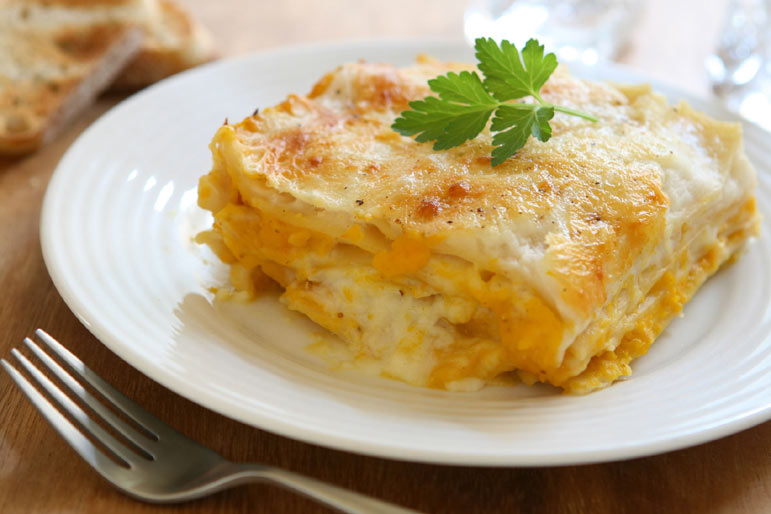 Lasagna usually feels like too much work for the Seriously Simple cook. However, using no-cook noodles and already peeled and cubed squash make this dish is a snap to put together. An elegant first course, main course or side dish on a buffet, this lasagna is an upscale version of the famed tomato and meat classic. And it showcases seasonal squash beautifully.
Here, creamy sweet butternut squash is enriched with mascarpone for the filling. A simple white sauce is sparked with a bit of Dijon and nutmeg, and the combination of cheeses adds a piquant finish to create a new twist on this culinary classic.
You can make this a few days ahead and just pop it in the oven before serving.
To drink? Light reds such as pinot noir, Sangiovese or Chianti make fantastic partners, as they beautifully cut through the richness of the cheese and the sweet squash. So will a crisp, barrel-aged sauvignon blanc. For the adventurous, a bottle of rosé bubbly will be a hit.

BUTTERNUT SQUASH LASAGNA
SERVES: 10 to 16
2 tablespoons olive oil
Two 1-pound bags peeled, seeded and cubed butternut squash, or one 3-pound butternut squash, peeled, seeded and cut into 1 1/2-inch cubes
Seasoning salt
Freshly ground black pepper
Pinch freshly ground nutmeg
1/4 teaspoon ground sage
1 cup vegetable broth or water
1/2 cup mascarpone cheese

White Sauce:
6 tablespoons unsalted butter
6 tablespoons all-purpose flour
4 cups milk
2 teaspoons Dijon mustard
Salt and ground white pepper
Pinch freshly ground nutmeg
1 pound no-boil noodles
2 1/2 cups shredded mozzarella or combination of Italian cheese, or Gruyère
1 1/3 cups freshly grated Parmesan cheese

1. In a large skillet, heat the oil over medium-high heat. Add the squash, salt and pepper to taste, nutmeg and sage, and stir for about 2 minutes, or until evenly coated. Add the broth, cover, reduce the heat to medium, and cook for about 15 minutes, or until very soft. Uncover and, with the back of a large spoon or a potato masher, mash the squash. Add the mascarpone and mix to blend well.
2. To make the white sauce, in a medium saucepan, melt the butter over medium heat. Add the flour and whisk well until combined. Slowly pour in the milk and continue whisking until no lumps remain. Cook, whisking continually, for 5 to 7 minutes, or until the sauce coats a spoon. Add the mustard, salt and pepper to taste, and nutmeg; whisk to combine.
3. Oil a 9-by-13-inch baking dish. Preheat the oven to 375 F.
4. Assemble the lasagna: Spoon about 3/4 cup of the white sauce evenly over the bottom of the dish. Top with a layer of noodles and then spread one-third of the squash mixture on top of the noodles. Sprinkle with 1/2 cup of the mozzarella and 1/3 cup of the Parmesan. Drizzle 1/2 cup of the white sauce over the cheese. Repeat the layers of noodles, squash mixture, cheese, and white sauce 2 more times, and finish with a layer of noodles (for a total of 4 noodle layers). Spread the remaining white sauce on top and then sprinkle evenly with the remaining 1 cup mozzarella and 1/3 cup Parmesan. Cover the dish tightly with aluminum foil and place on a baking sheet.
5. Bake the lasagna for 45 minutes. Turn on the broiler. Remove the foil and place the lasagna about 6 inches from the heat source. Broil for 2 minutes, or until the top is golden brown and the sauce is bubbling. Let rest for about 20 minutes and then cut into squares and serve immediately.
Advance Preparation: Make up to 2 days ahead through step 4, cover, and refrigerate. Remove from the refrigerator 1 hour before baking. The lasagna may be frozen after baking; defrost and reheat for about 20 minutes in a 350 F oven.
Comment by clicking here.
Diane Rossen Worthington is an authority on new American cooking. She is the author of 18 cookbooks, including "Seriously Simple Holidays," and also a James Beard award-winning radio show host.