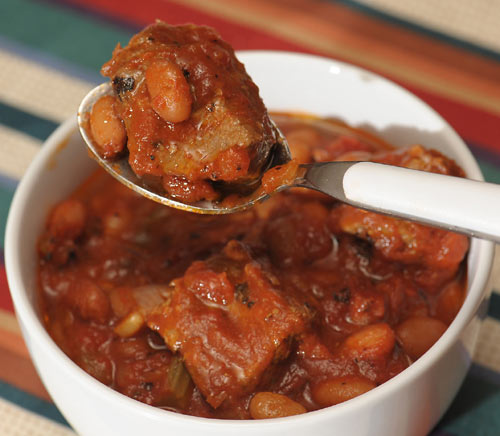 Knowing your meal has been lurking in the refrigerator for days is the downside of cooking for two but following a recipe designed for twice that number.
However, there are times when the second-day meal is a great advantage.
This is different from leftovers.
Intentionally cooking ahead for the convenience of having dinner ready for the next night when you'll be rushed is the idea behind the second-day meal.
Not every recipe qualifies.
Avoid delicate fish, veal or chicken breast, which become dry or tough with reheating. Likewise, take a pass on fried foods that lose their crunch if not served immediately.
Stews and hearty non-dairy soups are your better bets.
Stews not only maintain their texture but also improve in flavor with a 24-hour rest.
Vegetables soak up the seasoning in the soup base and become tastier. Cream-based soups, which could separate if reheated on too high a temperature, aren't recommended.
The following recipe for beef and bean chili is on the top of the do-ahead list because it doesn't need tending once you've got the ingredients in the pot.
You can make this beef and bean chili on the stovetop or in a slow cooker, which spares even more of your attention.

BEEF AND BEAN CHILI
MAKES: 2 generous servings
Preparation time: 15 minutes
Cooking time: 2 hours
1 tablespoon vegetable oil
1 large garlic clove, minced (or 2 small cloves)
1 large shallot, minced
1 celery rib, finely chopped
1 small jalapeno chili, cored, seeded and minced
1/2 pound flanken, cut in bite-size pieces
1 (15-ounce) can pinto beans, drained and rinsed
1 (14.5-ounce) can fire-roasted crushed tomatoes
1/4 cup tomato paste
3/8 teaspoon ground cumin
1/4 teaspoon dried crushed oregano
1/4 teaspoon chipotle chili powder
1/4 teaspoon pepper
1/2 cup beef broth
Salt to taste
Heat oil over medium heat in Dutch oven. Add garlic, shallot, celery and chili. Cook for 10 minutes or until vegetables are tender, stirring occasionally. Push vegetables to the side. Add beef and brown on both sides, about 2 minutes per side. Stir in beans, crushed tomatoes, tomato paste, cumin, oregano, chili powder and pepper. Stir well. Add broth. Stir again. Cover Dutch oven, reduce heat to low and simmer chili for 1 to 1 1/2 hours. Season with salt to taste.
Note: If desired, remove the meat and vegetables to a slow cooker after browning. Add remaining ingredients. Cover and cook at low setting for 6 to 8 hours.
Each serving (without salt) has: 600 calories; 22 grams total fat; 49 grams protein; 46 grams carbohydrates; 102 milligrams cholesterol; 800 milligrams sodium and 5.5 grams dietary fiber.
Comment by clicking here.
Bev Bennett is the author of, among others, "30 Minute Meals for Dummies."