Jewish World Review Dec. 17, 2003 / 22 Kislev, 5764
'Joan of Arcadia': The latest TV show to cheapen — and abuse — religion
By Elliot B. Gertel


http://www.jewishworldreview.com | Joan of Arcadia is CBS' replacement saint for Touched By An Angel. Joan has finer writers and a more versatile cast than Touched ever had, but it is monotheism's worst nightmare.
Not surprisingly, the new series has been hailed as a masterpiece by critics and writers on religion who want to see religion represented "positively" in the media. But no one has considered the cost to religion that will be exacted by every episode of this show that runs. My prayer is that it will not run for long. Maybe the rhetoric of those who put down religion in the name of "spirituality" needs to be heard ad nauseum until it is recognized for the trite and misleading nonsense that it is.
In the series' debut episode, written by producer Barbara Hall, sixteen-year-old Joan (played by Amber Tamblyn, an expressive and thoughtful young actress) receives an epiphany from the Divine in the form of a heart-throb a few years her senior whom she eyes on the bus to school.
At first, she walks away from him when he tries to divert her from the schoolyard and tells her that he is the Almighty. After all, he looks like her "dream date," and she has trouble trusting someone who makes such claims. She asks him if he is really the "Tower of Babel, burning bush, Ten Commandments G-d." He proves it by recalling promises she made when she prayed for her older brother (now a paraplegic) to live after a car accident. (But who wouldn't assume that she would have prayed for her brother and probably made promises?)
Right away we are introduced to the character of the Divine in the Gospel According to Ms. Hall. "So you let my brother live and now you're here to collect?" Joan asks. The Divine gets the best lines: "I don't bargain. That would be cruel." When asked by Joan if she will be struck by lightning if she refuses to obey the Deity, the Almighty asks, "Where do you people get this stuff? Have I ever made anybody burst into flames."
Yet the Divine does have an opinion on Hebrew Scriptures: "I come off a little friendlier in the New Testament and the Koran," He says.
The series' first episode was recently rebroadcast, and I was told that some Jewish teens who watched it recognized immediately the assault on the Scriptures that they had recently spent time learning and growing to love in preparation for their bar and bat mitzvahs. I admire their perceptiveness. But where are the sensibilities of the show's writing staff?
Joan of Arcadia tells us quite clearly, and from the outset, that it purports to be television scripture, and fires shots instantly and nastily on the earliest scriptures of the three major monotheistic faiths.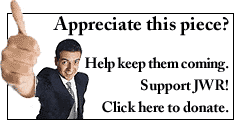 The series' laid back deity who is embarrassed by Hebrew Scriptures does seem, at first, to adopt a biblical stance on representation of the Creator. "I'm beyond your experience," He tells Joan. "I take this form because you're comfortable with it. I don't look like this. I don't look like anything you'd recognize. I don't sound like this. I don't sound like anything you'd recognize. You see, I'm beyond your experience. I take this form because you're comfortable with it. And if I'm snippy, it's because you understand snippy. I'm really not snippy. I've got a great personality. You'd like me."
Yet, in the very first episode writer Hall, representing the staff concept of the show, primes the Friday night audience to conceive of the Almighty as a deity that uses human beings as avatars or incarnations. Joan relates to her divine pal that it is "kind of weird" that she has a crush on him. "I'm not going to look like this the next time. I'm going to be dropping in on you. I need you to do some errands." This deity appears as cafeteria workers and children, line workers and delivery people. Men and women and boys and girls start appearing to Joan and "talking G-d" with her. "I'm not appearing to you," the first manifestation, the heart-throb one, says, in language obviously intended to appease the orthodox. "You are seeing me."
The writers go to great lengths to give "scientific" basis to the many-walking-incarnations (or avatars)-of-deity approach. In the first episode, Hall has Joan go to her slightly younger science whiz brother who validates her multi-oracular experience by observing: "Everything is energy, and energy can manifest itself in any form, depending on its rate of vibration."
What we have here is a god who is restless energy and who wants to connect with certain individuals in order, writer Hart Hanson tells us in the second episode, to set into motion a chain reaction of good connections that can catch criminals (as in the first episode), get youngsters to realize their potential (second episode) and own up to the consequences of their actions (third episode) and, perhaps, quickly redeem the world (the first reunion movie?). G-d, we are told, is "making connections."
Particularly irksome is the way the series writers latch on to religious concepts in order to undermine biblical language and teachings. "Just because I speak," G-d says at the beginning of the second episode, written by Hart Hanson, "doesn't mean that anyone will listen." We are told that this divine-incarnation-du-jour has such a cavalier attitude toward Divine revelation out of deference to "free will." Yet biblical literature is filled with references to prophets called against their will.
The Joan-deity observes later that it does not even resort to favoritism in choosing prophets. But what about the famous — and perplexing — but classical Divine statement in Scripture: "I will favor [or show grace to] whom I will favor" (Exodus 33:19)?
Had the writers tried to grapple creatively with these (admittedly) difficult and, at first blush, even troublesome concepts, and not simply replaced them with New Age fluff, they might have opened an authentic discussion. But their multi-personal deity is a self-help parrot, doling out this advice (which I quote verbatim): "Stop underachieving. Stop squandering the potential I gave you. Have some pride in order to be humble because 'Humility isn't actually humility unless you're good enough to be humble.'" In other words, one cannot even be humble until one is successful (by Hollywood standards?).
Needless to say, such a deity has no interest in religion whatsoever. When Joan protests in the first episode, "I'm not religious, you know," Barbara Hall has G-d respond: "It's not about religion. It's about fulfilling your nature." In the third episode, Hall has an incarnation tell Joan that the best metaphor for life is chess. There are consequences for one's choices, especially if one wants to get in with the "cool" crowd. One should not play another person's game, but rather one's own game. What about the biblical demand that G-d's will be done above one's own?
Joan does not come across as good at playing her own game, especially in the way she responds to the Divine. She is more like Noah than Abraham. She never cries out against injustice. She does not stick up for others, and certainly does not take every opportunity to advocate for her brother's recovery.
In its present, nascent form, the series is locked in a struggle between New Age claptrap and attachment to (or at least nostalgia for) classical biblical religion. The struggle is actually represented well in Joan's mother's encounters with a priest at outdoor church events. The writers make it clear that she will never meet him in the church, whether in his office or in the confessional booth, because her "upbringing" was Catholic but not her current faith.
Writer Hall's priest scenes are good and thoughtful, and each one obviously represents some last ditch, desperate effort to reconnect with the old faith. Thinking of her paraplegic son, the mother asks: "Is it wrong to pray for a personal miracle?" She has already collected a slew of material on "chakra energy" healing" and the like. The priest responds: "I think prayer can never hurt, as long as you understand you may not recognize the answer right away. Most miracles occur in hindsight." The priest is not depicted as a double talker; he gets some thoughtful lines. Yet Mom always responds with something like: How come I never feel better after talking to you? She always stuffs money into the nearest charity receptacle and runs, as if to hedge her bets.
In the same episode, however, police chief dad is forced to work with a psychic during a kidnapping case and is convinced that he has success with the case using standard police procedures, even though a couple of facts, but far from all, match the psychic's visions. Joan's older, disabled brother jokes that the psychic whispered in his ear that he would dance at his wedding, but that, then again, the same psychic said that "Joan has a special conection to the universe, so go figure." Does writer/producer Barbara Hall wink to the audience here that psychics and god-people are comparable phenomena? After all, she has the resident wise man, Joan's younger science whiz brother, suggest, using that old chess metaphor, that a psychic may just be several moves ahead of most of us and read the chess board better than we do.
Joan of Arcadia is really two series. It is, as family drama, one of the best acted and best written ever. How could acting go wrong with a cast like Joe Mantegna and Mary Steenburgen? The teen actors, Tamblyn as Joan, Jason Ritter as her nineteen-year-old wheelchair-bound brother Kevin, and Michael Welch as her fifteen-year-old intellectual brother Luke, are also phenomenal. Steenburgen achieves levels of maternal tenderness and warmth, especially in her scenes with Ritter, that are among the best ever presented in the television or film media. Her talents have never been as well-utilized in any role. The touch of having her character work at the high school, where Mother can eye her children in their interactions with others, is a stroke of writing genius that brings even more versatility to Steenburgen's performance. The story lines related to Joe Mantegna's father/police chief are top grade. Particularly sweet are the scenes in which Mom tells her oldest, paralyzed son that "walking is over-rated," and gets him a car. These scenes were written by Hart Hanson, who is also a producer.
But, and it pains me, as clergy, to say it, the G-d-stuff in this show is dreadful. The theme song asks, "What if G-d was one of us, just a slob like one of us, just a stranger on the bus trying to make his way home?" In the second episode, written by Hanson, a god-person corrects Joan for using the expression "anti-climatic" instead of the word, "anti-climactic," observing that the former term means being against the weather. Yet the series sends a bad grammatical message in the theme song, where the subjunctive, "What if G-d were one of us," is expunged. Far worse, however, is the very notion that the Divine could be several "slobs" among us, for that would imply that some slobs were divine — that is, superior, at least for a while — and some were not.
Joan of Arcadia makes a large general audience amenable (and even "Amen"-able) to New Age doctrines. It is as effective a pictorial assault on the monotheistic faiths--Jewish, Christian and Islamic--as Alice Bailey could have hoped for. Alice Bailey was a founder of the New Age Movement in the early twentieth century who preached that the monotheistic religions, and especially the Jews, were holding back a new astrological age. Humanity, she taught, must look to a "hierarchy of liberated souls" or avatars instead of to the old G-d of the Hebrews (and Christians and Muslims). In America, these avatar doctrines have been adapted by both white and black racist groups.
Joan of Arcadia makes such doctrines palatable in its images of god-avatars and in its use of New Age rhetoric about "energy" to explain their proliferation. It cushions mischievous and undermining theological rhetoric in an affecting and engaging family drama. The public has, of late, been ambivalent about family dramas, ignoring them by and large, but declaring a need for them. Will substitute religion guide them to this drama? Or will they recognize the exploitation of religious terminology? And if they don't recognize the danger signals here, what will that do to the religious climate of our society? How far will this show go, literally, toward altering the state of religious discourse in America?
Every weekday JewishWorldReview.com publishes uplifting articles. Sign up for the daily JWR update. It's free. Just click here.
Contributing writer Elliot B. Gertel, JWR's resident media maven, is a Conservative rabbi based in Chicago. His latest book is "Over the Top Judaism: Precedents and Trends in the Depiction of Jewish Beliefs and Observances in Film and Television". (Click HERE to purchase. Sales help fund JWR.) Comment by clicking here.
© 2003, Elliot B. Gertel